Uber's Super-Sexist Mistake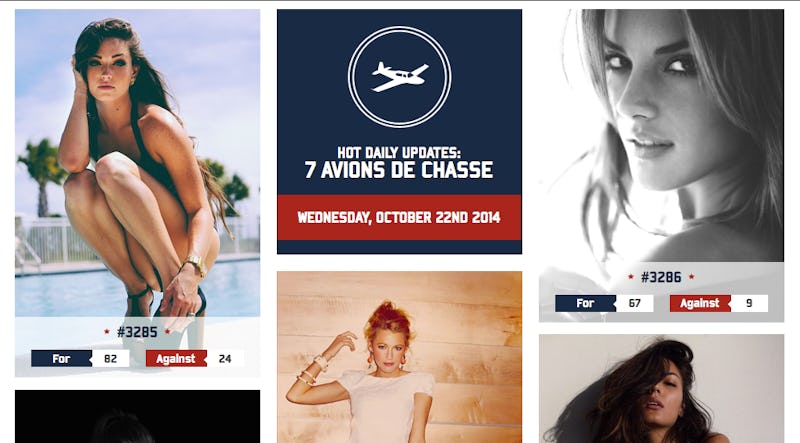 Everyone's favorite car service just had a major lapse in judgment. It seems that someone was thinking with their stick shift: Uber Lyon's promotion with the Avions de Chasse app let customers be chauffeured around by amateur models instead of its regular drivers. The premise of it alone sounds pretty gross, but upon a closer look at the app's website and the whole operation looks like the brainchild of a horny teenage boy and his older web developer friend. Coming to their senses, Uber has taken down any trace of the app and the promotion from its websites.
The app's name, "Avions de Chasse," translates to "fighter jets," which the company says is a slang term for "an incredibly hot chick." The company entices on its website: "Seat [sic] back, relax, and let them take you on cloud 9!" According to the now-deleted Uber blog post, customers could enter the promo code "UBERAVIONS" into their Uber app and "become the luckiest co-pilot of Lyon."
There was also a disclaimer that stated the maximum duration of each ride was 20 minutes. In other words, you can't tell your model chauffeur you live two hours away just so you can ogle her for longer.
Uber has not responded to Bustle's request for comment as of press time, but the car service company did issue a statement to the Huffington Post:
We have decided to cancel the operation immediately, not having clearly assessed the situation, we sincerely apologize to the people who might have been offended.
As for the Avions de Chasse company, it's not completely transparent what it is that they do, besides post photos of models and hot actresses with "For" and "Against" ratings. Some of the "Avions" currently shown include Alessandra Ambrosio and Blake Lively — do they know about this? I doubt Serena van der Woodsen would allow her image to be used to promote a smutty French site.
Under the "Join Us" section, the company tries to explain what their purpose is. The "Chief Pilot" — aka the genius who founded the site, I'm guessing — asks, "Want to get the « Avions de chasse » seal of approuval [sic]?" Well, only "the prettiest girls only" can join the Lounge Club, which gives you access to the hottest events in Paris (more cities to come, the company says).
Avions de Chasse is also a Model Mayhem-style social portfolio and will post your pics on its site and social networks to help you "reach fame in the modeling community." If you don't already feel nauseous, this might send you over the edge:
Friendly reminder: our company does NOT operate low-cost flights and aircrafts...
Well, judging by the fact that you have to rely on A-list models and actresses to fill up your pages, I'm going to venture to guess that you haven't exactly been inundated with member applications. But congratulations on your 15 minutes of fame with the Uber fiasco — it pains me that this story will give you more publicity. Uber, can you stick with kittens from now on?
Images: Avions de Chasse