How'd This Magical Vine Star Get His Start?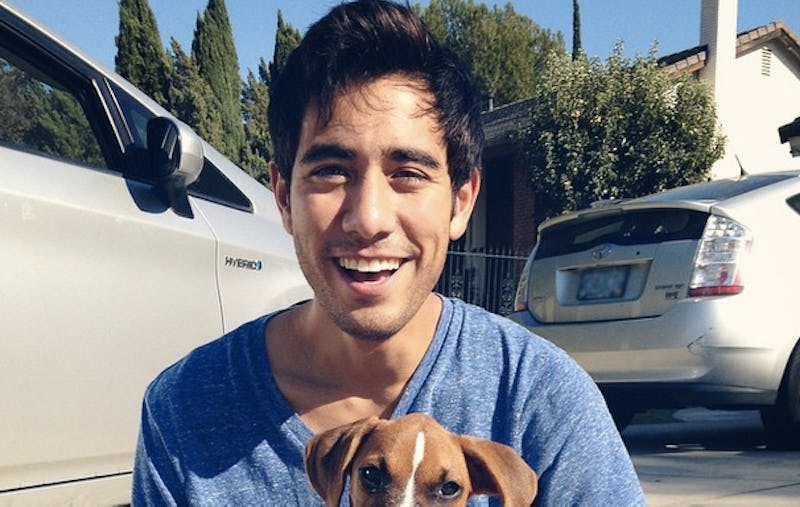 Much like its parent site Twitter, when you use the video sharing social media app known as Vine, you have to sift through a lot of garbage until you find something that's actually worth six seconds of your time. When it comes to the Vine profile of special effects wizard Zach King, trust me when I say that it's exactly what you've been looking for. The 23-year-old, who sometimes goes by "Final Cut King," takes the app to a whole new level, and has established himself as the undisputed master of creating out-of-this-world Vines that will make you do a double take (actually more like quadruple-take) thanks to his creative, eye-catching, top notch video editing that's been put to use by big brands like Lacoste, Chrysler, and even Ellen DeGeneres. Wanna know his secret? Let's check out how Vine star Zach King got his start.
The Biola film school graduate appeared on DeGeneres' talk show in January, and told her that he first caught wind of Vine when all of his friends started using it, and once he'd created an account for himself he discovered a section of the app called "Special Effects."
I thought, you know I can do special effects. I was in film school, I graduated just a year ago... and I made a pact with myself [to do] one a day for 30 days and just see what happens. My first one took off, my second and third one were also popular, so I just was like, "I got the viral video bug in me" and just kept making them after that.
He further explained that it's a lot of hard work to make those Vines look so seamless. From matching everything up frame-for-frame in Final Cut to doing 20 to 30 takes to get everything just right, Zach's videos are a labor of love, and he's had a ton of practice.
Before he achieved Vine fame, he was just a talented kid with a video camera. He made his first movie when he was just a seven-year-old growing up in Portland, and used his allowance to buy video equipment. Once the Oregon native went to film school, the awards started pouring in. He won the critics choice award from the Bridgestone Safety Scholars film contest in 2010 getting a $5,000 scholarship for the movie on driving safety he created with his sister, and went on to score the top prize from an HP commercial contest that brought in $35,000. Not too shabby, huh?
He originally created the YouTube account FinalCutKing as a way to teach other YouTubers how to use the video editing software Final Cut Pro, but once he realized he had a knack for special effects he started uploading his own edited vids. In an interview with CasualFridays.com, Zach said that creating one of his Vines can take anywhere from one to five hours, between designing a shoot and actually editing the result, and clearly all that hard work has paid off (literally). Check out the latest Vine Lacoste hired him to do:
Cool, huh? The fun doesn't stop there.
Although his main account is where you can find all of his latest Vines, he has a second account on the app that will sometimes give a sneak peak into how he created some of his biggest viral vids.
See, not so hard right? LOL JK. Zach King, I bow down to you.