This Social Issue Deserves More National Attention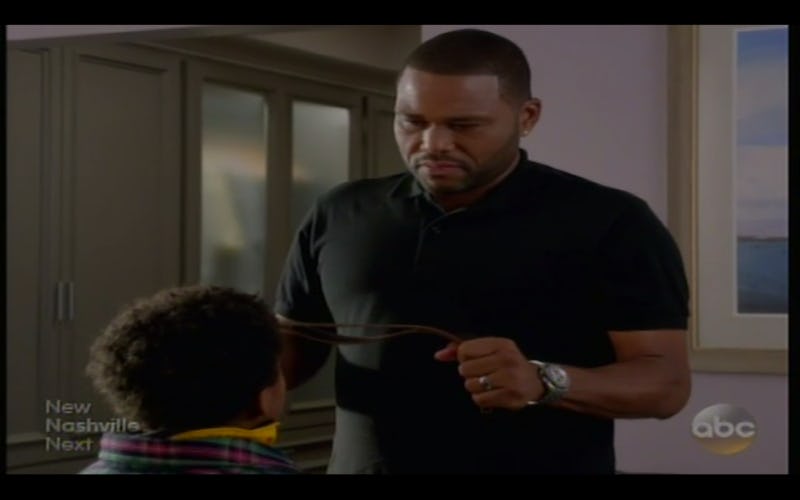 To spank or not to spank? It's something that (I imagine) vexes parents everywhere, especially if they were spanked growing up. The fifth episode of black-ish dives headfirst into spanking, and proves it's the only comedy that's interested in taking on social issues. I can't imagine an episode of Modern Family where Cam and Mitchell even bring up the idea of doing anything worse than being shocked at how badly behaved Lily is. In an interview with Vulture, show creator Kenya Barris mentioned that this episode was one he was particularly excited about. Since he's the creator of the show and wrote what was, in my opinion, the funniest episode so far ("The Nod"), my hopes were high. The debate over corporal punishment in the wake of the accusations leveled at football player Adrian Peterson was a lot shorter and less heavily debated than it seemed like it would be back when that interview was published. But what wasn't brought up frequently enough is that corporal punishment has gone through a transition from acceptable practice to taboo in just the span of a generation, and some communities still feel like spanking is a useful childrearing tool.
The funniest and most unique character is Pops, and it's not just because Laurence Fishburne is having an almost criminal amount of fun in the role. It's because it gives black-ish the chance to contrast the differences between 70s parenting and 2010s parenting. And having him around for the entire episode really gives the humor a little juice, which, yet again, it's a little light on.
What's frustrating about black-ish is that it's almost always pleasant, but also almost never truly laugh out loud funny. And some of the more naked social commentary — e.g., the roundtable discussion in Dre's office where his hitherto unseen coworkers give their culturally diverse perspectives on why they believe spanking helped make them better behaved kids, yet are hesitant to do it to their children — is a little on the nose.
Of course the episode ends without Bow and Dre hitting their kids, but they really do seem to be considering it, or at least considering what it would mean if they did do it. Black-ish is a show that's never running out of things to talk about. Unfortunately, it's taking a long time to find it's comedic voice, and if it ever runs out of ripped from the headlines social struggles, it will immediately feel a little lacking. After a few more weeks, it will get harder to keep making excuses for black-ish's jokes… but it's hard not to when its commentary is so outstanding.
Image: ABC (screenshot) (2); Giphy