7 Books You'll Want to Read This November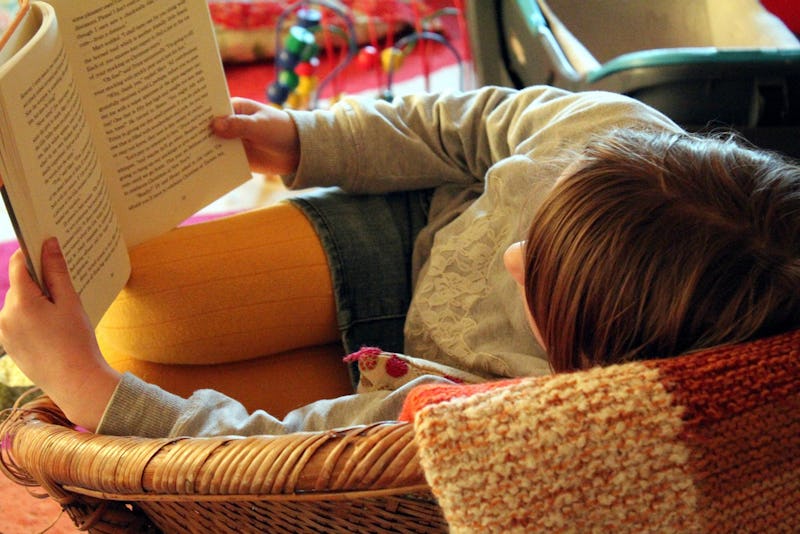 November is my favorite time of year for a lot of reasons. Thanksgiving is imminent. The air is just starting to get frosty, and it still feels like a novelty to expect the first snowfall before the bleak post-holiday season winter sets in, and we're all cursing the cold. It's hot toddy season (you know, the warm cocktail that gives whiskey its life's purpose). In November, you ditch the bathing suits for sweaters, and heavy lifting of kayak paddles gets traded in for the propping up of the latest hardcovers, which is my preferred way to exist.
Our list for November 2014's best releases isn't sprawling, but the seven titles that are mentioned are so heart-stoppingly good I'm still calling it a great month for literature. Case in point: Meghan Daum's essay collection The Unspeakable is very personal with intellectual rigor and fearless self-examination, and sometimes even humor. Lindsay Hunter's debut novel Ugly Girls is a gift to be devoured in one sitting. Plus, I'm of the school of thought that the best songs are sad songs, and this usually extends to novels, as well. All My Puny Sorrows by Miriam Toews, which deals with the legacy of suicide in a family, is a hard read that'll pull at your heartstrings, but it's well worth it.
If that gets to be too much, or your Seasonal Affective Disorder (SAD) is getting you down, you can turn to Lydia Millet's satirical, fantastical novel about mermaids being discovered, or Mallory Ortberg's texts from your favorite literary characters. I'm already planning which of my writer friends I'll give Texts From Jane Eyre for Christmas.
So get cozy, and start scrolling through this list to figure out what you'll be reading this month:
1. MERMAIDS IN PARADISE BY LYDIA MILLET (W. W. NORTON & COMPANY; NOV 3)
When Deb and Chip go on their honeymoon in the Caribbean, things get weird fast. In quick succession, there is the world's first discovery of mermaids living among the coral reefs, an apparent murder, followed by some light kidnapping. Millet's voice is charming and funny; she delights in the absurd, but there is still an emotional weight to the story. She examines what it means to live one's life shielded by irony, what the American identity means at this moment in history, and what exactly happiness is. In a story that's frothy and sometimes random, these moments of genuine speculation are a pleasant surprise, and make Mermaids in Paradise deeper than a mere beach read.
2. UGLY GIRLS BY LINDSAY HUNTER (FARRAR, STRAUS & GIROUX; NOV 4)
In her debut novel Ugly Girls, Lindsay Hunter takes the business of being a girl seriously, in all its mess and glory. Beauty and ugliness are returned to obsessively throughout the story about the complicated, uneasy friendship between Perry and Baby Girl. Perry's stepfather believes the pair brings out the worst in each other, and he's right — they send each other on reckless dares and feed off of each other's restless energy and tough demeanor. They can be mean kids, unkind to waitresses and teachers for no good reason, yet you'll find it impossible not to sympathize with these girls. The world they inhabit, with trailer parks and accidents and joy rides, demands toughness to survive. When an older guy, Jamey, interrupts their lives by becoming obsessed with Perry, things come to a catastrophic head, bringing forth underlying tensions between Perry and Baby Girl. This book exposes the raw self consciousness of the teenage mind, and the power dynamics at work in this kind of competitive friendship, mercifully, without any cuteness whatsoever — don't let Baby Girl's name fool you.
3. NEW YORK 1, TEL AVIV 0 BY SHELLY ORIA (FSG ORIGINALS; NOV 4)
This charming collection by Shelly Oria explores matters of identity and sexuality and intimacy. Its standout stories are ones rooted in reality: in the wonderful title story, an Israeli immigrant falls into a three-person relationship in New York; in another, a woman sees an addiction counselor about her tendency to have sex with married men. At her best, Oria's insight into unconventional and flawed relationships is incisive and surprising, and she weaves issues of identity and cultural allegiance into the framework of the story. As the title suggests, she pits New York against Tel Aviv, trying to access the essence of each city in the details, i.e. what is means about the feeling of safety when one has to open one's bag for inspection in all public places in Tel Aviv, but rarely in New York. Or what the style of pacing means to each city: in Tel Aviv there's more aggression, but in New York, speed. The collection is a little uneven, but even the weaker stories have lines of stunning prose. It's definitely worth the read if you love a diverse book of shorts.
4. TEXTS FROM JANE EYRE: AND OTHER CONVERSATIONS WITH YOUR FAVORITE LITERARY CHARACTERS BY MALLORY ORTBERG (HENRY HOLT AND CO; NOV 4)
This book will genuinely make you laugh out loud (as opposed to the "lol" you might text when your honest response is more of a tepid "ha"). Toast co-creator Mallory Ortberg imagines what famous literary characters would sound like if they had cell phones. These informal, off the cuff missives are true to each character's voice, as Ortberg understands them deeply — and the result is hilarious. Hamlet's moroseness is amped up to an angsty teenager who texts his mom asking for her to leave a sandwich by his door but DON'T come in the room. Jane Eyre fends off an over eager Mr. Rochester who's blowing up her phone way too often. John Donne's seduction skills are exposed: the poem the "Flea" is basically simplified to: omg the flea already bit both of us, our blood mixed, you might as well have sex with me. . . please? How can you argue with logic like that? Don't resist. Just give in to this crazy, wonderful book.
5. FAMILY FURNISHINGS: SELECTED STORIES, 1995–2014 BY ALICE MUNRO (KNOPF; NOV 11)
If you aren't already familiar with this Nobel Prize-winning author, pick up Alice Munro's selected work right now. In the foreward, Jane Smiley writes that she is often only able to read one Munro story a day — not because the work is difficult or formally frustrating in any way, but rather it is devastatingly simple and true and heartbreaking. (That's a pretty high compliment if I ever heard one.) Munro's view of humanity is incredibly generous; she's even able to humanize a man who has killed his children in her chilling story "Dimensions." There is a clarity and intelligent simplicity in her writing that I imagine comes from paying close attention to the people around her, and trying to understand the motivations and complex inner life of others. Her world view is generous and deeply wise — and this is the collection that'll show you that.
6. THE UNSPEAKABLE: AND OTHER SUBJECTS OF DISCUSSION BY MEGHAN DAUM (FARRAR, STRAUS & GIROUX; NOV 18)
Meghan Daum follows up her 2001 collection, My Misspent Youth, with this superb collection of essays that explore the issues particular to life in middle age, but with an universal appeal. This is the examined life Socrates himself would be proud of: bold, clear-eyed, and brutally honest — but Daum lets the hard stuff go down with some humor. She is ambivalent about aging, but describes it as the prime of life in a certain way — when you're in good health and your finances are doing better than they were in your 20s (here's hoping that's true). This book is unflinching in confronting the difficulties of love, intimacy, and sentimentality. The first and longest essay "Matricide," about the death of her mother, frames the rest of the collection. While the collection is not haunted by grief, the absence of her mother is felt, and the focus on mortality persists — including the speaker's own freak illness, and resultant near-death experience. In short, her work is fascinating. The author also writes cogently about the decision to not have children, one that can sometimes be hard to live with wondering what could have been. What's great about this book is that Daum does not chase definitive conclusions where none exist; instead she puts into words the questions we haven't admitted to asking ourselves.
7. ALL MY PUNY SORROWS BY MIRIAM TOEWS (FARRAR, STRAUS & GIROUX; NOV 18)
All My Puny Sorrows is a rough ride. Sisters Elfrieda and Yolandi have grown up in a Mennonite community, and remain close in spite of the different turns their lives have taken. Yoli struggles with being a single mother, though she's not terribly unhappy. In many ways her life is ordinary and good. Elfrieda, on the other hand, is brilliant — she's a piano prodigy and autodidact of the highest order. In fact, her interest in philosophy is what makes it so difficult for Yoli to argue with Elf, and convince her that life is worth living. Elfrieda is chronically suicidal, and has landed herself in the hospital after another attempt. Yoli comes to her side again, and patiently and lovingly tries to reason with her sister, yet you can feel Yoli's total frustration and sense of helplessness in the face of Elf's surety that she wants to die. How do you convince someone to live who disagrees with the whole basic premise that it's worth it to be alive? The novel, which is essentially about complex family relationships, is heartbreaking and ultimately forgiving, as Yolandi wonders what courage is needed to end a life versus the courage it takes to endure. You'll want to call your sister or your mom after finishing.
Image: brenneman/flickr