Seinfeld & Kramer, Reunited!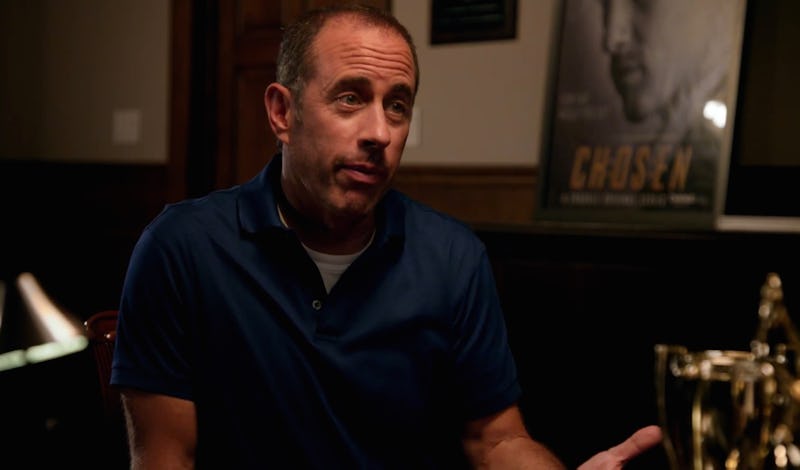 Even just the promise of a new season of Comedians in Cars Getting Coffee was pretty much enough to get me excited for it, but after this, anticipation is positively brimming. Crackle, the site that hosts the webisodes, has released a new trailer for Comedians in Cars Getting Coffee that reunites Jerry Seinfeld with none other than Kramer himself.
OK, so it's actually Michael Richards playing a fictional president of Crackle named Dick Corcoran. But still! It's Seinfeld and Kramer! Look, in this post-Seinfeld, Curb Your Enthusiasm-hiatus world, we take what we can get. In conjunction with the video's release, Seinfeld himself joined both Facebook and Instagram today to promote the release of the teaser. On Facebook, Seinfeld gave a pretty epic promise of what to expect on his new page:
In case you didn't notice, I officially joined Facebook and Instagram this morning. We'll still bring you all of the updates on Comedians in Cars getting Coffee, but as of today, this is my page, and anything can happen.
Speaking of which, in case you missed it earlier, here's a video of my meeting with Crackle's President, which got a little tense.
-Jerry
What happens on Jerry's Facebook page, stays on Jerry's Facebook page.
Anyway, as the teaser itself: Though funny, of course, it doesn't really give much away about what to expect in this new season of Comedians in Cars Getting Coffee — unless you count Seinfeld rushing between NYC and Los Angeles to make a meeting with Dick Corcoran a hint that Seinfeld might be bicoastal for much of this season. Instead, the teaser follows a fictional meeting between Seinfeld and Corcoran in which he admits that Crackle is "over."
Yikes. Don't worry, though — the video series will be continued before the new season of Comedians in Cars Getting Coffee premieres on Nov. 6, so I'm sure there will be a good — and equally hilarious — outcome.
Post by Jerry Seinfeld.
Image: Facebook