6 Important Lessons We Learned From '90s R&B Music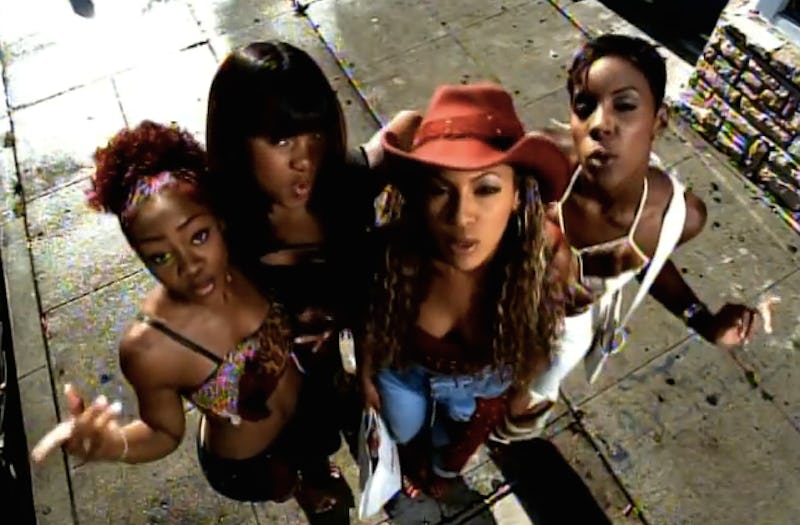 If you were to ask me to name the best genre of music, I would undoubtedly say '90s R&B. It's just such a rich and varied culture of music, and with lyrical, metaphor wielding geniuses among its ranks, who can argue my point? Can you seriously look me in the eye with all seriousness and tell me that "If you're horny, let's do it/Ride my pony" isn't the height of musical perfection? Or that Mary J. Blige isn't the Ultimate Queen of Everything? That Toni Braxton crying in a shower didn't change your life? That a 16-year-old Usher's dance moves weren't the inspiration to backwards chair dance move you've ever tried (and failed) to drunkenly pull off at a party?
As a teenager, '90s R&B was my sweet spot, and while I'm not sure some of the music was entirely appropriate for a girl of my age (let me again draw your attention to "If you're horny, let's do it/Ride my pony"), I learned a lot from the genre. A lot more than I could ever hope to cover in one post. But the most essential lessons can be whittled down to a few, with advice about love, life and identifying rogue boners. So here are the best lessons you can employ in 2014 from '90s R&B music.
1. A GOOD COMEBACK WILL CURE A BROKEN HEART
When you get your heart broken, make a strong comeback. Having a comeback song helps. If you don't have your own, just blast Mack Morrison's "Return Of The Mack" (1996).
2. IF YOU FEEL A BUMP COMING THROUGH, IT'S PROBABLY EXACTLY WHAT YOU THINK IT IS
If you're dancing with a dude and feel a little bump coming through, it's not a ruler in his pocket, he's just happy to see you. At least according to the dudes from Next in "Too Close" (1997) a song in which they are rubbing their boners against a reluctant woman on the dance floor.
3. GIRLS GET "FRIEND ZONED" TOO
The first pop culture documentation of the "friend zone" was Ross Geller in Friends way back in 1994, and it's since been considered something that happens exclusively to (rapey/bitter/bratty) dudes. But in 1996, En Vogue made it clear that girls get friendzoned too in their classic, amazing track, "Don't Let Go (Love)".
4. BFFS SHOULDN'T FIGHT OVER DUDES
If there's one thing we can learn from Brandy and Monica, it's that everything is much better when they're ganging up on two-timing Mekhi Phifer in "The Boy Is Mine" (1999) rather than fighting over him.
5. LIKE, CHILL OUT
Don't be the person who's constantly up in everyone's grill. Just chill out, or your friend/person you're seeing is going to make like Beyoncé and Destiny's Child in 1999's "Bug A Boo" and put your number on the call block.
6. TALKING ABOUT BEING INSIDE SOMEONE IS ALWAYS AWKWARD
There is literally no world in which talking about being "inside" someone isn't completely awkward. You can thank Az Yet's "Last Night" (1996) for that little nugget.
Images: Destiny's Child/YouTube; Giphy (4); musicvideosicantlivewithout/Tumblr