Schools Can Be Haunted Outside of Lifetime Movies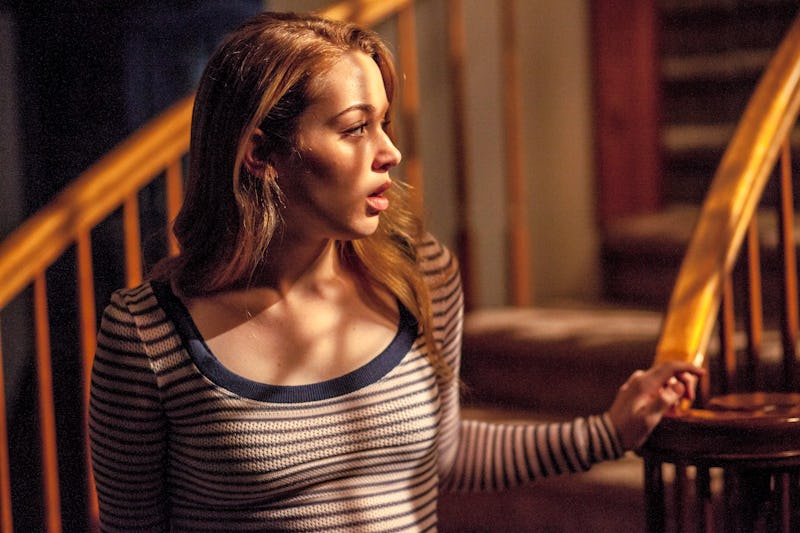 Lifetime's original movies are famous for taking on very melodramatic issues, but suddenly they're switching gears to demonic possession. You know, to warn you in case you spy a bunch of teenagers acting especially erratic in the halls of a high school this Halloween. At least, that's what you'll see when High School Possession airs Saturday night on Lifetime. The scary flick centers on a gifted student journalist named Lauren (played by Pretty Little Liars' Janel Parrish) who notices her BFF Chloe (Jennifer Stone) starts acting very, very peculiar. But don't worry, High School Possession isn't a true story, though there are plenty of real-life (true?) haunted high school stories out there.
In High School Possession, Lauren realizes exorcism is also an approved extracurricular activity at her school. Soon, she realizes Chloe is in dire need of one herself. But will anyone else believe her? They should, because real-life high school hauntings in the United States include frontier ghosts in prairie gowns who roam the halls, mysterious arsons, and (gulp) murdered teachers. I'm getting chills already just thinking about it. Check out the three such stories of teenage mystery and mayhem below.
Lee Williams High School in Arizona
This Kingman school's football field was built on the old Pioneer Cemetery, so naturally, ghosts would show up not looking quite so happy that now touchdowns are being scored on their resting place. The Los Angeles Times reports that specters have been spotted at graduations, in the halls, and in the bathrooms. A man in a bowler hat is said to walk the hallways and, at night, there's a little girl who calls out that she wants to play.
"I hear voices coming from some rooms, little kids mumbling," janitor James Miller told the Los Angeles Times about the ghosts last year. "I can't really hear what they're saying. It's kind of freaky, but it really doesn't bother me. I just tell them all to go home."
Lambertville High School in New Jersey
The building was reduced to rubble in 1992 after a mysterious arson destroyed what used to be a strong structure. As NJ.com reports, the New Jersey town wanted to save the building and somehow develop the land once again, but it never happened. Instead, the ruins were often frequented by teenagers and twenty-somethings who believe site is haunted by either a football player who died on the field or a student who perished in the fire. They set up a "haunted blackboard" to record creepy sayings and drawings.
In 2012, Lambertville finally demolished the remaining walls and bricks due to the amount of traffic and mischief the site was seeing. But that doesn't mean it's not still haunted.
Chopticon High School in Maryland
Business teacher Beverly Jo Heater was murdered in her classroom in 1984, as reported by Education Week. She was stabbed by a man named Lester Broome, a custodial trainee who had "a known history of criminal battery, sexual violence, dangerous misconduct and theft." Since then, students and teachers say they've been hearing phantom footsteps in the halls and sometimes they sound like heels on the tile. Mrs. Heater, is that you?
Images: Hybrid, LLC/Lifetime; Giphy (3)