This 'Dorm' Star Is Way More Than a Barden Bella
It's impossible not to love Alexis Knapp covering Boyz II Men's "I'll Make Love To You" or her proudly sex-crazed character Stacie in Pitch Perfect. But, while this musically brilliant film might've put Knapp on the map and seriously jumpstarted her career (she's been pretty busy since 2012), the 25-year-old actress was already in Hollywood long before that. On Oct. 26, Knapp will star in MTV's new TV horror movie, The Dorm , as an awkward college freshman that learns how sinister beauty can be. So, who is Alexis Knapp and where have you seen her before?
In case you were wondering whether or not Knapp's singing was for real, according to the model-turned-actress' TV Guide biography, she was classically trained in dance, musical theatre, and opera as a child. The Pennsylvania native got her "big break" when she was bumped up from and extra to a credited role in 2009's Couples' Retreat. But if you don't remember Knapp from her role in the Vince Vaughn comedy, you'll probably remember her, unfortunately, for her high-profile Hollywood relationship that went down in the same year as the film's release.
Here's a look at her time spent Hollywood, which has been pretty interesting.
Pitch Perfect/Pitch Perfect 2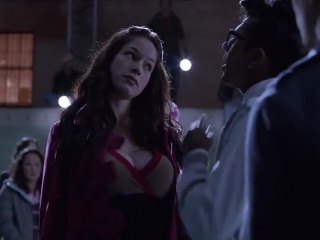 Like I mentioned earlier, Knapp starred in Pitch Perfect back in 2012 as Stacie, whose finest moment, by far, was totally killing it with her cover of Boyz II Men's "I'll Make Love To You" in the aca-battle. All hail.
Ground Floor
Knapp and fellow Pitch Perfect actor Skylar Astin star in TBS' workplace comedy that's "a modern take on Romeo & Juliet." I know, that sounds pretty strange, but in March 2014, TBS renewed Ground Floor for a second season. So, if you're anxious for Pitch Perfect 2, you can least look forward to the Ground Floor Season 2 premiere on Dec. 9.
Family Guy
Back in Aug. 2013, Knapp was linked to Family Guy creator Seth MacFarlane after she lent her voice to the series earlier that year. But the reports of their hook-up were conflicting, some sources revealed that the pair had known each other for three years and just started to get serious, but Knapp's rep confirmed that they were nothing more than "great friends."
Caveman
Knapp appeared in a few films and lent her voice to Family Guy after Pitch Perfect's success, but in 2013 she reunited with her costar Skylar Astin to star in Cavemen with Chad Michael Murray and Camilla Belle. The actress played Kat and went blonde in the film that centered on the lives of "somewhat single and somewhat unemployed" guys living in L.A.
The Ryan Phillippe Drama
Sometimes I try really hard to forget about Ryan Phillippe's existence because I'm #TeamReese all the way. But that doesn't mean I don't know who he's been dating — following his divorce from the Oscar-winner in 2007, Phillippe laid low until he started dating Alexis Knapp "off and on" in 2010. As reported by OK!, in March 2011, Knapp revealed that she was pregnant with Phillippe's baby, something that the actor refused to confirm until after a paternity test was administered to prove that he was the father. Drama ensued, because Knapp and Phillippe were broken up at the time and the actor had already moved onto dating Amanda Seyfried. But when Knapp gave birth in 2011 Phillippe was present in the delivery room and she gave her daughter both her and Phillippe's last names.
Unfortunately, this relationship is the second biggest thing Knapp is known for after Pitch Perfect — even though her career is quickly blossoming and she's all, "Ryan who?"
Images: Getty Images (2)