Is 'Fifty Shades' Suffering From Problems Already?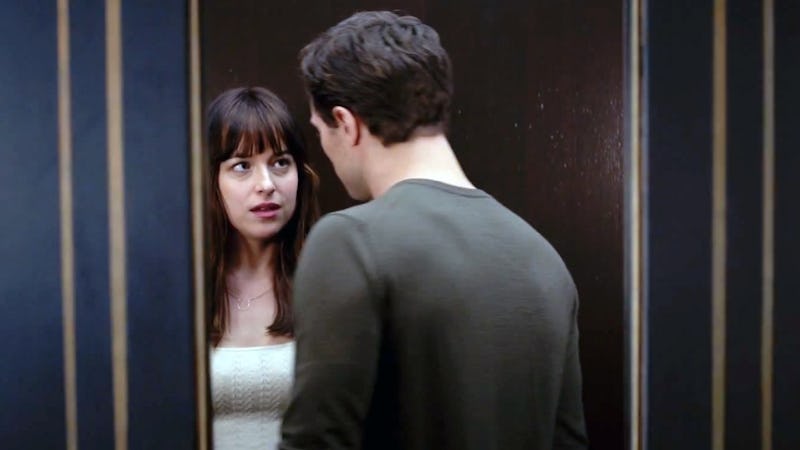 Yikes. Considering that this movie's plot is literally aimed to be entirely about a deeply sexual relationship, this is the last thing it needs to be suffering from: According to rumors in Us Weekly, Fifty Shades of Grey is reportedly undergoing more last-minute reshoots than expected because, according to sources, the film's stars Dakota Johnson and Jamie Dornan may be suffering from a "distinct lack of chemistry."
Did they watch the same trailer we did?
The movie's stars, Dakota Johnson and Jamie Dornan, were recently spotted back on set for reshoots, which sources say were necessitated by a distinct lack of chemistry between them. Producers thought the existing footage didn't feel "passionate," one insider reveals in the new issue of Us Weekly.
Another source adds, "Dakota isn't coming off sexy enough. [Anastasia Steele] needs to be naive, not a dishrag."
Ack. Of all the things Anastasia is supposed to be, I don't think "dishrag" was in her character description.
Of course, since these are all unfounded rumors coming from sources, I wouldn't say that it's time for everyone to cancel their Valentine's day 2015 plans to go see this movie in theaters: According to a rep from Universal, the film is still very sexy: "No one should question the heat or intensity of our actors." Similarly, other sources are saying that producers are merely shooting "filler" scenes, and there's nothing to worry about in the way of sexy times between Anastasia and Christian.
Whatever the case, one things for sure: We're all certainly going to be in for a surprise when this film hits theaters. Now, whether that surprise will be a good one or not still remains to be seen.
Image: Universal Pictures