This 'Benched' Actor Been Everywhere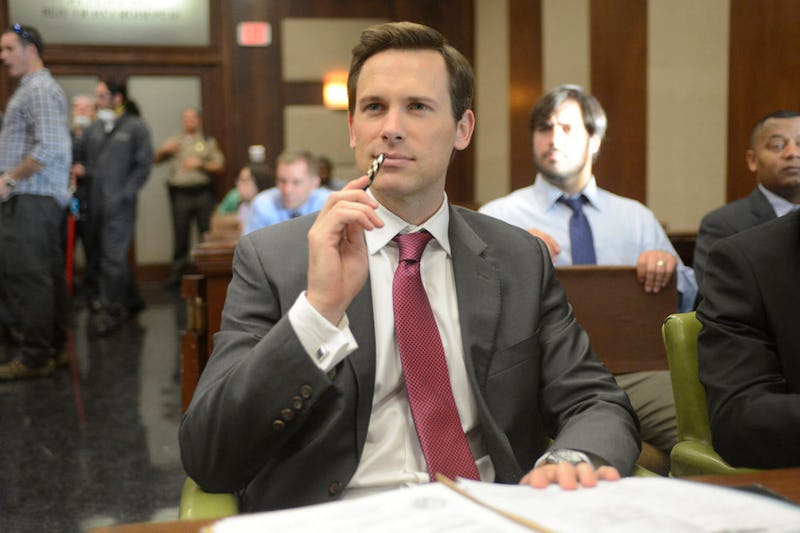 Ever wonder what Happy Endings' Jane Kerkovich-Williams would be up to now? If only ABC didn't pull the plug on the hilarious comedy last year. Well, her portrayer Eliza Coupe has moved and I guess we should, too. Coupe is starring in a new USA Network comedy called Benched , which premieres Tuesday night. The actress plays Nina, a very Jane-like high-powered corporate attorney who suffers a nervous breakdown and becomes a much less prestigious public defender. Opposing her in the court and real life is Carter McIntyre as Trent, her former fiance-turned-nemesis. Who's this guy who dares to take on a (former) Kerkovich sister? You've definitely seen McIntyre before from his guest roles on other TV series.
The Atlanta native has mostly appeared in short films and has had regular roles on the canceled NBC drama Undercovers in 2010 and the MyNetworkTV telenovela American Heiress, starring Alicia Leigh Willis. But you'll most likely recognize the handsome actor from one of his many prolific guest appearances on hit shows like ER, The Mentalist, It's Always Sunny in Philadelphia, Bones, CSI, and Private Practice.
Here's where you're most likely to have seen MacIntyre before:
Guardian Angel No. 2 on Drop Dead Diva
One of MacIntyre's biggest roles to date was playing Jane/Deb's very confident new guardian angel Luke Daniels in 14 episodes of the hit Lifetime series Drop Dead Diva. Luke replaced the main character's original guardian angel Fred during the fourth season — and he was very different from Fred. "Carter's character, Luke Daniels, is a man," creator Josh Berman told Entertainment Weekly. "He goes head-to-head with Jane. He loves life. He has had sex. He has experienced joys that a man would experience. So it's a completely different type of relationship."
Unfortunately, this relationship didn't last long and Jane/Deb got a new guardian angel in Seasons 5 and 6.
Victim and Cop on Various Hit Crime Shows
MacIntyre had ample opportunity to guest star on several shows in the crime-procedural genre. Last year, he played a man named Taylor Wynard on CSI who has a brief encounter with Sara Sidle (played by Jorja Fox), he dies, and she becomes the prime suspect in his murder. Uh-oh. MacIntyre also played a yoga teacher named Bodhi Andros on CBS' The Mentalist and a police officer named David Poe on Fox's Bones in an episode called "The Foot in Foreclosure."
Patients on Medical Dramas
Two years ago, MacIntyre recurred on the ABC drama Private Practice Nick Calhoun, a suspicious and creepy man who turned out to have abducted a girl named Sarah. Yikes. He also had a small appearance on FX's hit show Nip/Tuck in 2009, Trauma, One of his first TV roles was on the long-running NBC medical drama ER, where he played Warren in a 2006 episode called "Graduation Day."
With a regular role on Benched, MacIntyre could just break out once and for all.
Images: David Moir/USA Network; Russell Kaye/Lifetime; everynineyearsandthirtyfourdays/Tumblr; Getty Images; Giphy.