Don't Know this 'Gotham' Guest Star? As If!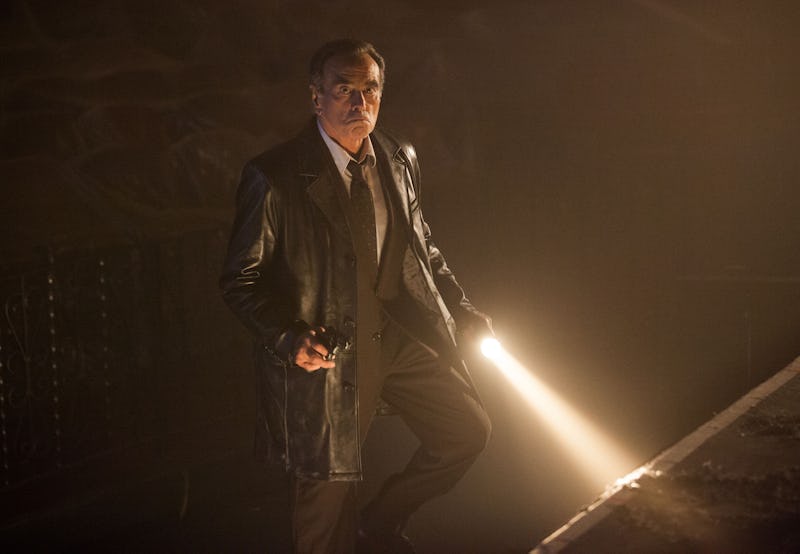 Monday night means yet another episode of Gotham and with it comes more fun moments of Batman, Catwoman, The Penguin, The Riddler, Gordon, and more as they become the characters we know and love (or love to hate) from the iconic DC comics. But in the newest Gotham episode, "Spirit of the Goat," we're about to be introduced to a new member of the Gotham City Police Department: Detective Dix played by Dan Hedaya, who is apparently constantly working, as well as constantly great. Now if you feel like you've heard this name before, that's because you most definitely have. Hedaya has been a film and television staple for decades. He's had memorable roles for many generations, including Hill Street Blues, The Usual Suspects, Person of Interest, Monk, Mulholland Drive, and so many more there are almost too many to count. He even played President Nixon in the comedy Dick starting Kirsten Dunst and Michelle Williams. Just look at him. Now you can't get Nixon out of your mind, can you? Me neither.
But arguably Hedaya's most iconic role of the last few decades comes from the '90s in a little film I'm sure you all know quite well: Clueless. Hedaya played the strict but loving dad to the one, the only Cher Horowitz. Hedaya helped provide quips for some of Cher's best lines and moments including one of my favorite scenes, when Cher is about to leave the house in a dress he isn't very fond of.
But that's not all Hedaya has been known for through out his career. One of his other great roles comes from the film that is basically the ultimate revenge fantasy: The First Wives Club. Hedaya played Morty Cushman, the ridiculous man who made the stupid choice to dump Bette Middler's Brenda for a woman named Shelly, played by Sarah Jessica Parker. Eventually Morty comes to his senses and attempt to reconcile with his wife, which may have had something to do with her blackmailing him about his illegal business dealings, but still. He was proof that even older, stubborn male characters in the throes of a midlife crisis can be smart from time to time.
And then of course there's one of Hedaya's best roles of the last few years, which came on The Mindy Project. He played Danny Castellano's absent father Alan, who attempts a reunion with his elder son after a successful one with Danny's younger brother Richie. In the episode "The Desert," we learn from the stubborn Danny that Alan was an alcoholic who treated his mother horribly. But by the end of the episode, we see that Alan has actually changed. He helped raise another wonderful kid and he's really trying to be a better father for Danny. In fact, he reveals that he never missed one of Danny's dance recitals as a kid. This is also where we learn that Danny is an event better dancer than he let on in The Mindy Project's "Christmas Party Sex Trap" episode, as apparently he was a "primo ballerino."
It's safe to say that thanks to Hedaya's many iconic roles throughout his long career, he'll make his appearance on Gotham just as fascinating and memorable, no matter how much screen time he actually has. Because to truly make an impression, you don't need to have a lot of frames, you just need talent. And Hedaya clearly has that in spades.
Image: Jessica Miglio/FOX