'The Voice's Taylor Phelan Has a Secret Weapon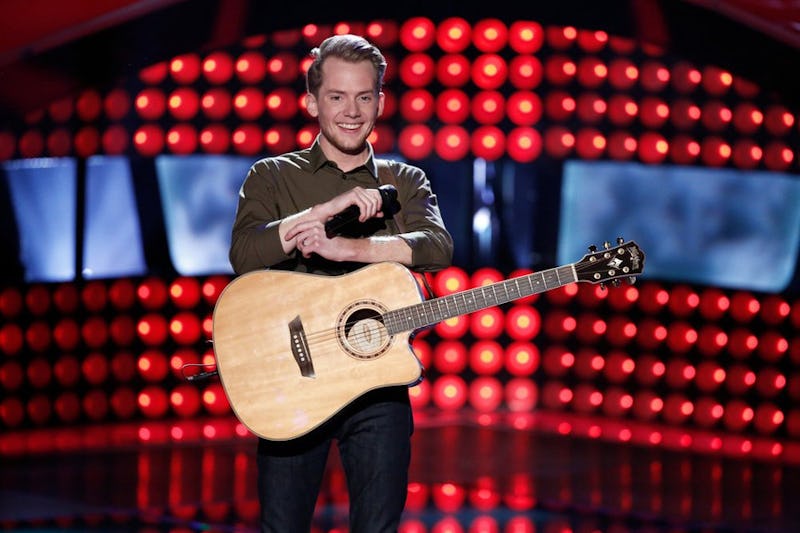 I'm going to be completely honest, I was a little concerned when I read that Taylor Phelan will perform "Rather Be" by Clean Bandits in The Voice knock-outs. I mean, Phelan proved himself when his "Sweater Weather" cover got him a four-chair turn during his blind audition. But a guy and his guitar on "Rather Be" seems like a bit of a stretch, right? Well, my knee-jerk reaction was most likely entirely wrong. The Voice's Team Pharrell is possibly the team to beat and Taylor Phelan is perfectly capable of knocking this one clear out of the park yet again.
The indie singer-songwriter from Dallas will go up against fellow Texan Luke Wade during the knock-out (Wade will perform Hall & Oates' "Rich Girl"), but I'm calling it now that Phelan's going to come out on top. Why? Well, there's the four chairs thing, but also because it's obvious that Phelan knows exactly what he's doing up there when it comes to tweaking his voice to get the extra mile. And, well, after his blind audition, Blake and Pharrell hit the nail right on the head when they told him that his style was a great combination of a handful of influences.
Phelan's talent is universal, it's got potential, and he's got a degree of control that a contestant needs to come out on top on The Voice. Even if he's got a challenging knock-out round ahead — which, honestly, will go off without a hitch. Taylor Phelan is ready for this:
That Blind Audition
My favorite thing about Phelan's "Sweater Weather" performance was how he started out so slow and unassuming before powering through the remainder of the song. Also, can I just say that he's a literal definition of someone who rocks? I mean, look at Gwen and Pharrell in this video — they couldn't groove harder if they tried, they couldn't be more impressed if they tried. Phelan's just got it because damnit, he's a great singer.
He Attacked This Battle Round
I felt weird about Pharrell choosing "Break Even" for this battle round against Jordy Searcy after the edge Phelan showed during his blind audition. But it ended up working out well because, again, Phelan's got the control and the knowledge of his capabilities that allow him to tackle lyrics, even ones like "Break Even," with this intensity that tosses you around like you're in the middle of the ocean. He's just on fire and once he gets started, there's no killing the flow. And the best part about it is that it surprises you — he's unpredictable and it's interesting and exciting and a mark of a creative genius.
He's Got The Performance Experience
Phelan's been performing for years with his band the Canes, who recently disbanded. But back in 2012, the group released an EP and, according to Phelan's YouTube page, he's toured and performed on hundreds of stages around the U.S. He's not some dude with a guitar or hiding behind his guitar, he's got experience under his belt and he's frontman material. Phelan's shown that a bit over the past few weeks of The Voice, but it should really come out in the knock-out round. Presence is everything and Phelan's a natural.
Image: Tyler Golden/NBC