Another Roald Dahl Book Is Hitting the Big Screen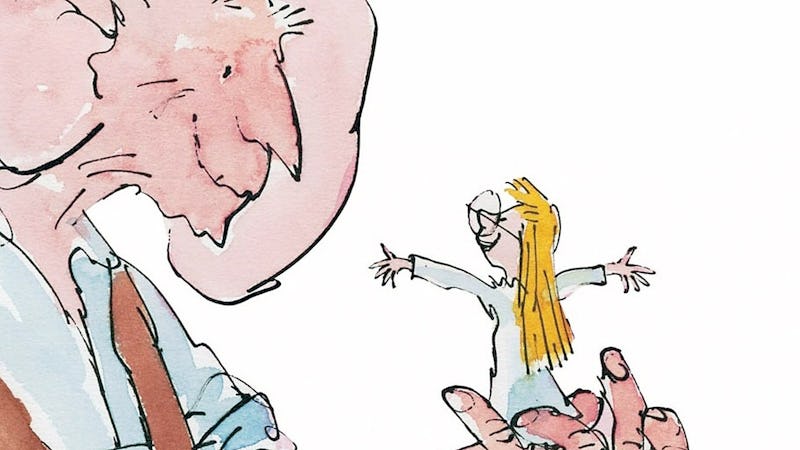 The nostalgia train keeps on chugging along. One of your favorite childhood books, Roald Dahl's The BFG, is finally becoming a movie, more than 30 years after it was published. Steven Spielberg is at the helm to direct the adaptation and English actor Mark Rylance will play the titular big friendly giant. As someone who has read this book at least half a dozen times throughout her childhood, I couldn't be more excited — as long as they get it right. There's been a long history of Dahl books being adapted, some amazing and some not so great, and this story will require a lot of CGI to get across. However, given modern technology, I have a feeling it could be a better adaptation than they could have made back in the '80s. To portray a 24-foot-tall giant hanging out with a little English girl and a bunch of other human-eating giants in a live-action film will be interesting, to say the least. At least we have the 1989 animated version to fall back on if this one isn't perfect.
But before getting too excited about The BFG coming to life, let's reflect on the Dahl movies of days past — the good, the bad, and the ugly.
Charlie and the Chocolate Factory
This book was so sweet (and creepy) that they made it twice. The first adaptation of the 1964 book was, of course, Gene Wilder's Willy Wonka & the Chocolate Factory in 1971, followed by Tim Burton's take on the classic, Charlie and the Chocolate Factory, starring Johnny Depp in 2005. I like to try to forget the Depp version, so just re-live this scene from the '70s version instead.
Matilda
Matilda was, and will always be, my favorite Dahl book and movie. After the book was released in 1988, little Mara Wilson starred in the 1996 adaptation about the magical bookworm who finally gets her happily ever after. Miss Honey for mom of the year, forever. P.S. It's also a fantastic Broadway musical now!
The Witches
The 1983 book became a movie in 1990 that both scared and excited me. When the Grand High Witch (played expertly by Anjelica Huston) removes her entire fake wig and face to show her true, terrifying self, I screamed. And now, watching this clip, I still kind of jump.
Fantastic Mr. Fox
The 1970 book wasn't made into a movie until 2009, but it was worth the wait. Wes Anderson's star-studded adaptation featured the voices of George Clooney, Meryl Streep, Bill Murray, and Jason Schwartzman.
James and the Giant Peach
The book in 1961 was adapted by Tim Burton in 1996, mixing live-action and stop-motion animation. It definitely had that Burton flair, but it was cute and filled with music like this perfect song about peaches.
The Gremlins
OK, so this one wasn't a direct adaptation — in the book, the cute gremlins just sabotage British aircrafts before deciding to be good and help instead. The Spielberg-directed 1984 movie Gremlins (and its sequels) has them as destructive monsters instead.
Image: Penguin Books