OK Go is More Than Their Amazing Videos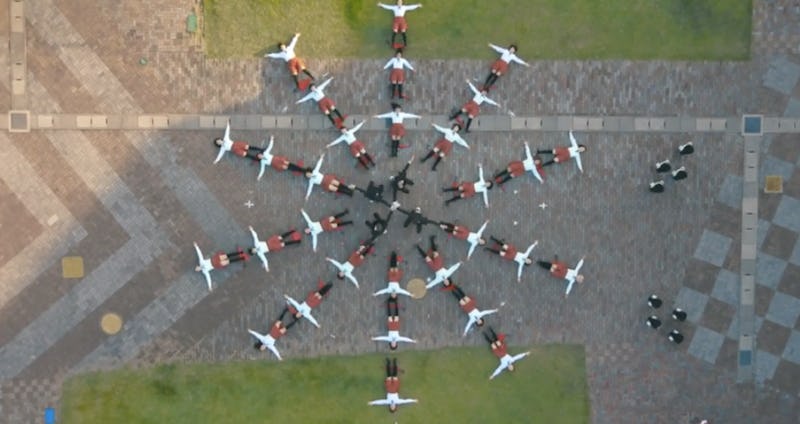 Whenever I hear OK Go has released a new music video, I immediately make my way to YouTube and prepare for the mind-melting wonder that I am about to behold. From their early days of the trampoline spectacle that was "Here It Goes Again" to the incomprehensibly designed "The Writing's On The Wall," the Chicago foursome always deliver and outdo themselves which each new masterpiece. Their latest offering is for the single "I Won't Let You Down." Visually, it starts off with a playful choreography of electric chairs and umbrellas in an industrial park and ends in a dazzling and beautiful aerial work of art. Aside from the eye-roll worthy schoolgirl outfits of the dancers, the video reminds you that OK Go really are the masters of music videos. Sorry, Bey.
What is perhaps more noteworthy is the song itself. OK Go are so often applauded for their incredibly technical and perfectly executed moves and camera tricks that the music is almost an afterthought. However, with "I Won't Let You Down," the band takes us through a funky trip back to the 70's where glitter and disco feels right in so many ways. They accomplish something simple yet deeply moving with the song — it really makes you smile.
There is a plethora of synth-heavy indie pop out there, but OK Go shine above the rest not just for their videos, but also for their underrated melding of throwback soul and groove with just enough pop to make you want to dance all night. The lyrics for "I Won't Let You Down" are so sweet and joyful, it's the stuff that mix tape dreams are made of.
Enjoy the video, and take a real listen:
Image: OK Go/YouTube