Who Is Taylor Swift's Best Friend? Photos Of Her Celebrity BFFs, Ranked By Cuteness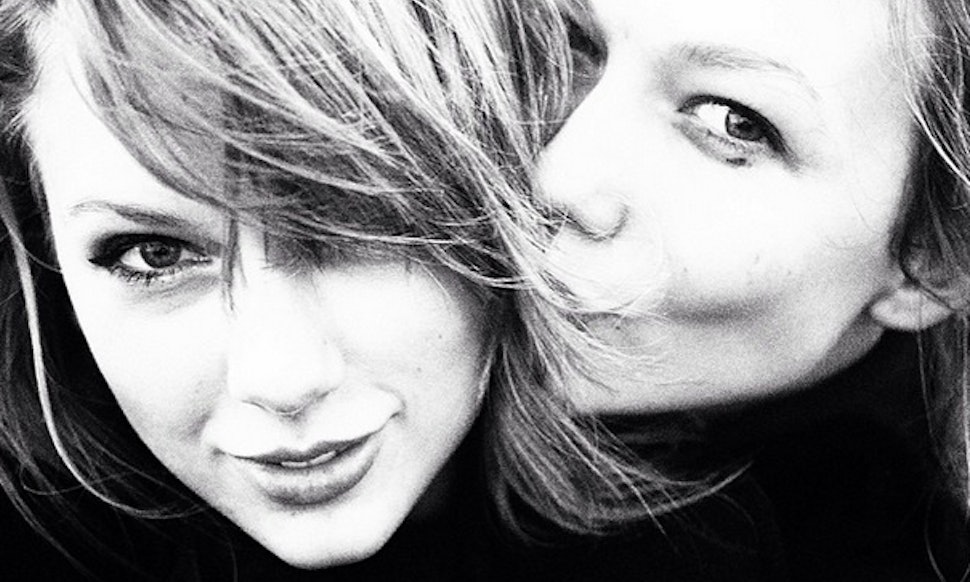 I've spent most of the day listening to Taylor Swift's new album 1989 on repeat (it is just so good, you guys) which means that it's the perfect time to take a look at Ms. Swift's Instagram page. The "Out of the Woods" singer may be a media mogul, but she's nothing without a little help from her friends — many of whom happen to be major celebrities themselves. So what pics of her BFFs rank highest on the "aww, friendship!" scale? All of them are adorable, so let's see which is the most.
Images: taylorswift/Instagram
#16
Cute Polaroid, but do Ellie Goulding and Swift ever hang out anymore?
#15
Taylor Swift and the "Royals" singer do cutesy things — like taking cooking classes together — all the time, and it's totally adorable. This photo is way less about their friendship than it is about the cooking, so it gets put at the bottom of the list. Sorry Lorde!
#14
Swift and Ellen DeGeneres look cute hanging out backstage, but while I'm sure the talk show host and Swift could totally hang, this pic is more about promoting Swift's album Red then their (totally possible) friendship.
#13
Swift posted this pic stitch of her and Girls creator Lena Dunham. Totally digging the bathrobe, though I kind of wish they could have sat next to one another for premium friendship bliss.
#12
Swift pals around with Cara Delevingne and this poster of George Washington. Adorable, and probably the most fun anyone has ever had in front of this portrait.
#11
Here's Swift and Lorde, ready to rage on Fridays. So cute, but the words are in the way. So sad.
#10
Swift and Sarah Hyland pose as a straight laced mom and her rebellious daughter. Cute but would be cuter if they looked like they liked each other.
#9
Swift and Ed Sheeran are adorable BFFs, and this photo would probably rank higher if it weren't for Sheeran's scary smile.
#8
Of course Giver co-stars Jeff Bridges and Swift look adorable together. It's more of a father/daughter type of photo than a BFF one, which is why it doesn't rank higher. Still, so very sweet.
#7
Swift poses with Glee actress Dianna Agron and other party pals for Agron's circus-themed party. This ranks high because group costumes are pretty much always, cute.
#6
Sheeran and Swift cozy up for a cup of coffee. This photo would get even more points if Sheeran ALSO had a cat mug. Sigh…
#5
Swift and Hailee Steinfeld decorating a Christmas tree together? That's pretty freakin' adorable. Too bad Swift barely notices that Steinfeld is in the pic.
#4
Swift and her (secret twin) Karlie Kloss look so cute putting on makeup together. It's kind of ridiculous.
#3
Kloss and Swift look ridiculously cute (and, as always, so much alike) in black and white. The only reason it doesn't rank higher is because I'm pretty sure they're just one another's clones.
#2
Swift and Hyland look extra BFF-y here with their matching New Year's Eve hats and crowns. Too cute.
#1
No matter how cute, no one will ever be as cute as Swift is with her new kitten, Olivia Benson. They are the ultimate adorable BFF photo of Swift's Insta account. Sorry, Swift's human celebrity BFFs — Benson takes the cake.