Ranking Mindy Kaling's 18 Best Instagrams By How Mindy Lahiri They Are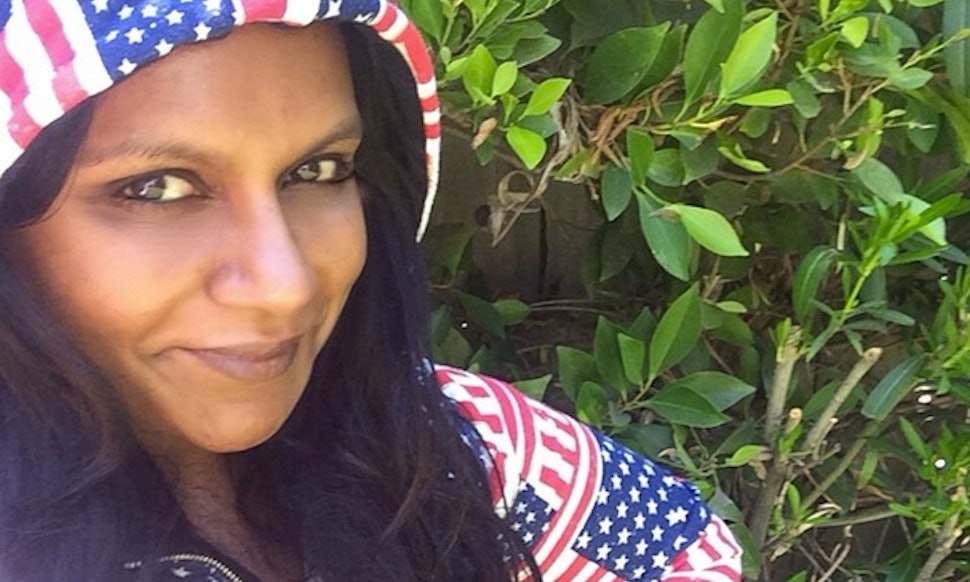 I am completely obsessed with everything about The Mindy Project, which means that I am equally as crazy about the person who created the delightful Fox sitcom, Mindy Kaling. To add just one more layer of love, I also happen to feel a kindred spirit to Kaling's brainchild, Mindy Lahiri. Kaling's creation has some key differences from Kaling herself — Lahiri is a doctor, Kaling is a doctor of comedy — but they share just enough similarities to make viewers feel like they are getting at least a little glimpse into Kaling's wonderful, funny brain. Check out these photos from Kaling's Instagram page, ranked from pure Kaling to oh-so-Lahiri.
Images: mindykaling/Instagram
#18
Lahiri is obviously insanely smart (I mean, she did go to medical school and everything) but in her off time she's more likely to curl up with a Cosmo than an actual book.
#17
A salad? Really? Lahiri has to eat sugar every two hours for her blood sugar, obviously. Then again, she would be inclined to Instagram a good looking salad — even if she'd rather snack on something else.
#16
Kaling herself admitted that Lahiri's bras (pictured here) are waaay more colorful and plentiful then her "three tattered flesh-toned ones." (She might let you borrow them, Kaling!)
#15
Both Kaling and Lahiri would totally snap photos of their manicure, though something tells me that Lahiri wouldn't be able to get her nail polish quite as neat. I mean, it's not like she's a surgeon.
#14
Kaling admitted to "hating" this green juice, but I doubt that Lahiri would ever even get this far in the cup. If she did, she'd absolutely Instagram it.
#13
Both Kaling and Lahiri are Bostonians, hence Kaling's supportive shirt.
#12
Both Kaling and Lahiri adore fun sneakers, but considering that these aren't "exercise" shoes that "boost" her calorie burn, Lahiri might skip them.
#11
Both Lahiri and Kaling would look fabulous in this dress, though I can't help but think that Lahiri would add an extra pop of color — or sequins.
#10
Kaling and Lahiri both love food trucks, though Lahiri might prefer to get pizza, extra cheese.
#9
Lahiri would be allllll about these American flag sandals. The only reason it doesn't rank higher is because she doesn't technically own them — that's all Kaling.
#8
Ditto for this perfect Fourth of July hoodie. Lahiri might want to steal those.
#7
Have more profound words ever been spoken? Kaling and Lahiri (also, uh, meeee!) abide by this food philosophy, though Lahiri may not broadcast it on a purse — let them eat cake, let's just not talk about it.
#6
A really fierce outfit that both Kaling and Lahiri would wear, though Lahiri would toss on a cardigan — it's cold in that office!
#5
Here's a sweater that would be perfect on both Kaling and Lahiri! Might be a tad casual for Lahiri's office, which is why it doesn't rank higher. But off the clock? So cute!
#4
Puppets? Lahiri LOVES puppets. Remember her hand puppet that taught public access television viewers about the cervix?
#3
Ending up on the floor at a party? Totally Lahiri. Though it can't rank higher because Lahiri's parties are far more of a disaster than this photo describes.
#2
Chilling out on the couch in printed sweats? Could not be more Mindy Lahiri. Unless it's…
#1
…this photo of Mindy Kaling and Chris Messina, aka Danny Castellano! Could they be any cuter sitting on the subway set together? Of course they couldn't. #DannyAndMindyForever.