Eliza Coupe Is In The Best New Sitcom on TV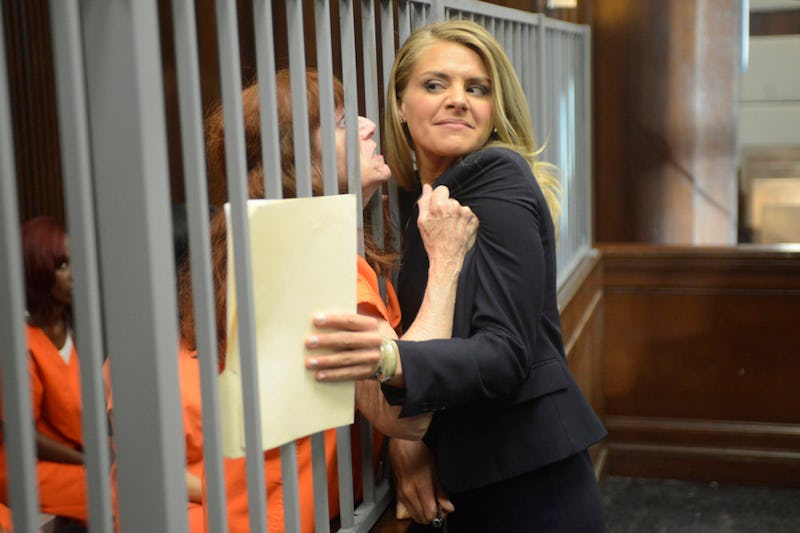 I had a hunch I'd like USA Network's new comedy Benched. I mean, hi. It had me at Jane Kerkovich from Happy Endings in it. But I didn't predict I'd breeze through the first three episodes in a sitting like I did. Only when the closing credits rolled for a third time did it hit me that I'd embarked on a mini-marathon. And I was not ready for that marathon to be over. Benched , which stars Happy Endings ' Eliza Coupe, is so. Much. Fun. Ya know, like a good sitcom should be. BONUS: The pilot brought the idiom "Go piss up a rope" into my life and I cannot wait to use it.
I'd be lying if I said I'm super into this autumn's freshman class of TV comedies. Yes, Jane the Virgin has been nothing short of a treat, but other than that…? *Closes eyes, makes duck face, shrugs.* Benched, like Jane the Virgin, is a newbie I am genuinely excited about. Cocreators Michaela Watkins (!!!) and Damon Jones brewed up a program that is not just hilarious, but it may very well be one of the best new sitcoms premiering on TV this fall.
And no, I'm not all about that Benched simply because the other new comedies are meh-tastic and I am settling. I am not settling. Benched is good. It has heart. And it's freakin' funny. I don't know if I'd go so far as to say it's the most perfect thing to ever come barreling out of the TV world gate, but I think the pilot is is a really strong start, and episodes two and three only serve to keep the momentum going.
The premise: Coupe plays a brokenhearted lawyer named Nina who, after a beautiful string of expletives and a few failed attempts at a dramatic elevator exit, leaves her hoity-toity, memorabilia-bedecked corporate law office for good. Thanks to the gloriously disastrous "I quit!" scene she made at her now-former place of work, she struggles to get hired elsewhere. Where she finally ends up: The Public Defender's Office.
And that is where the ensemble mayhem REALLY begins. Jay Harrington, Oscar Nuñez, Jolene Purdy, and Maria Effin' Bamford play the merry band of barristers at the Public Defender's Office. They don't exactly welcome Nina with hugs, but with warnings about spoiled vending machine yogurt, tough love pep talks, and the deets about why the courtroom smells so rank.
Nina is smart and salty, but she's also unhinged and messy. And the comedic force that is Coupe plays this brilliantly. You root for her, but you also feel totally OK laughing when she winds up trapped on top of a moving wooden partition in the courtroom or lands herself in jail after falling for her colleagues' prank. And I can't say this enough, but it's Eliza Coupe, for cripes' sake. The planet's felt a little off ever Happy Endings was cancelled and took Jane Kerkovich with it. I've missed watching Coupe's brand of energy on my TV.
Yeah, it's a courtroom TV show, a la Night Court or Ally McBeal. Yeah, it's a "fish out of water" story, a la Orange Is The New Black or The OC. So sure, both the setting and the trope are familiar, but that doesn't mean Benched feels familiar. It has its own thing going for it. (And no, that "thing" isn't a stench that could either be a dead possum or a sewer explosion.)
Image: David Moir/USA Network