'OUAT' Will Add This 'Frozen' Character Next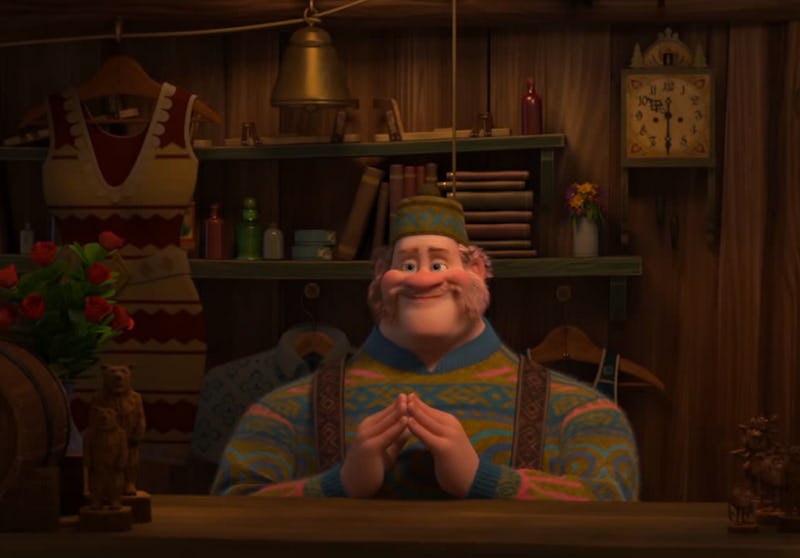 ABC's fairytale twisting factory Once Upon A Time is fully into its fourth season, and by far the buzziest thing about it has been its utilization of last year's biggest Disney hit, Frozen. We've already met Anna (Elizabeth Lail), Elsa (Georgina Haig), Kristoff (Scott Michael Foster), and Hans (Tyler Jacob Moore). Next OUAT will introduce another Frozen character: Oaken, the kindly if under-stocked owner of Wandering Oaken's Trading Post and Sauna.
OUAT executive producer Adam Horowitz tweeted the first image (below) of the show's version of the Frozen character Monday night, hinting that we can expect to see him make his television debut in next week's episode, "Family Business." Hypable reports that his appearance will take place as Anna makes an errand stop there as she prepares to head off on another quest.
Once Upon A Time has included a whole bevy of Frozen characters in the fourth season proceedings so far, as well as introduced a whole new one to the mix — the Snow Queen (Elizabeth Mitchell), who is at the very least claiming to be Anna and Elsa's aunt. So who could be next in this Frozen TV arc? Are we soon to see Olaf strutting around that small Maine town? What about the Duke, that dastardly old fellow who was so determined to unseat Queen Elsa from her throne? There are undoubtedly Disney strings everywhere when it comes to bringing this story to television — not wanting to mess with canon is probably why Elsa's only really worn the one outfit, for example. But will they do anything new and exciting with this Frozen opportunity? And would they dare actually solve the mystery of where Elsa's powers come from?
Image: Disney; ABC