'Paper Towns' Bonding Is In Full Swing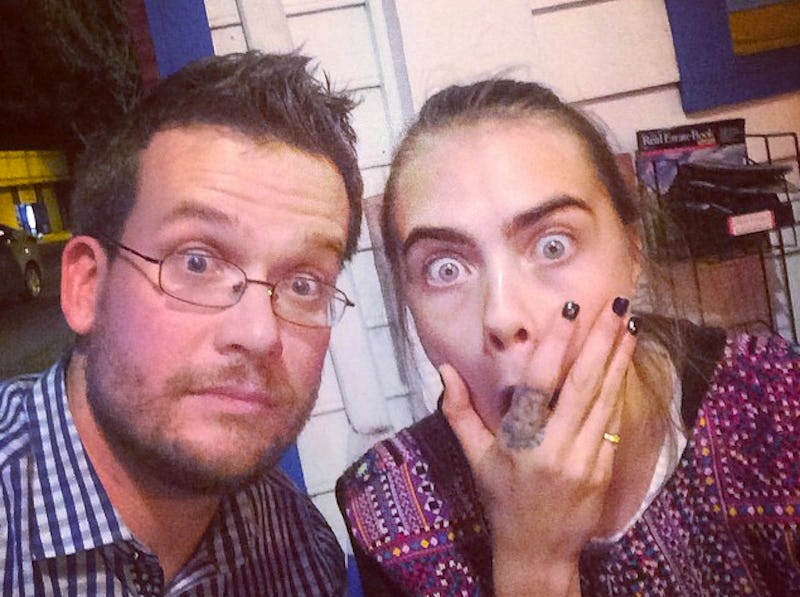 The second big-screen adaptation of the John Green catalogue of YA lit has officially started production. In case you needed visual proof of this, there's plenty: Green and Cara Delevigne have both been documenting the beginnings of the film on their social media. They seem pretty psyched just to be there.
Paper Towns, being directed by Jake Schreier, will be the second adaptation of a Green novel to hit the big screen. It'll star Fault In Our Stars supporting player Nat Wolff as a teenage boy named Q, alongside model Cara Delevigne as his childhood friend Margo, who goes missing. The novel was written in part as a critique of the manic pixie dreamgirl habit many — including Green himself — have fallen into. The role will be Delevigne's first starring role, and it certainly requires some heavy lifting. Unlike with The Fault In Our Stars, Green will also be serving as an official producer of the project, which has been adapted into a screenplay by Spectacular Now and Fault In Our Stars writers Michael H. Weber and Scott Neustadter.
So far all involved seem to be taking on the responsibility with considerable alplomb — and if their activity on instagram and twitter is any indication we can expect them to liveblog this entire production for us.
UPDATE: An adorable video!
Image: Johngreenwritesbooks/tumblr; fishingboatproceeds/tumblr