Big 'The Avengers 3' News From Marvel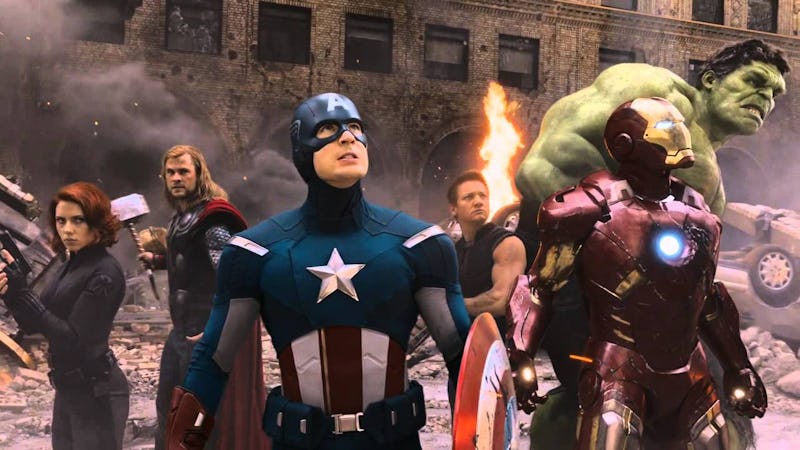 As a fan, it's difficult not to get at least slightly annoyed when a film franchise decides to break up a particular film (generally at its climax) into two separate films in an effort to extend the franchise and increase profit. It means a whole 'nother year of waiting, more money spent on a ticket to see the franchise to the end in theaters, and did I mention the more waiting part? However, after Marvel announced their decision to split The Avengers 3 into two films today, I got to thinking in a glass-half-full sort of way about it — and came to the conclusion that this might actually be a pretty good decision for the film.
So, hear me out here: From a business standpoint, this decision makes sense. If you look at other film franchises who have done the same thing, like Harry Potter, Twilight, and The Hunger Games, it's clear that an additional film tacked on to the end of a franchise brings in double the money that one individual film tasked with wrapping the entire storyline up would. For example, with Harry Potter and the Deathly Hallows: Part one made just under $296 million total domestically, while part two pulled in slightly over $381 million total domestically — meaning the second film actually made $85 million more than its predecessor. Same goes for Twilight: Breaking Dawn: While part one earned about $281 million total domestically, part two nabbed about $292 million total domestically — a difference of about 11 million between films.
So, not only does Marvel stand to earn double ticket sales with releasing The Avengers 3 in two parts, but if this trend keeps up, they actually stand to earn more with the second film. It would be silly of them not to take this route.
It's not all about business, though. From a fan's standpoint, this is actually a great decision as well: Think about how rushed and how watered down a Harry Potter and the Deathly Hallows film would have been if it hadn't been allowed the second film to utilize more screen time and get the story right on screen? The Battle of Hogwarts alone would have taken up half the film, leaving us no time to cover the rest of the book — the same could be said for The Avengers, which has its roots in extensive backstory in Marvel comics. Two films allows more attention to detail, something I'm sure we can all agree is important when you're dealing with a universe as large as Marvel's. It'll make for a better franchise, extended wait time between films aside.
Besides, it actually doesn't seem like the wait will be all that long between the threequel films: The Avengers: Infinity War — Part I is reportedly slated for a May 4, 2018 release, with The Avengers: Infinity War — Part II slated for May 3, 2019. If we're already gonna have to wait over three years for these movies, what's an extra year between films?
Image: Marvel, asktheavengerscosplay/Tumblr