This Could Be a Sex Toy Game Changer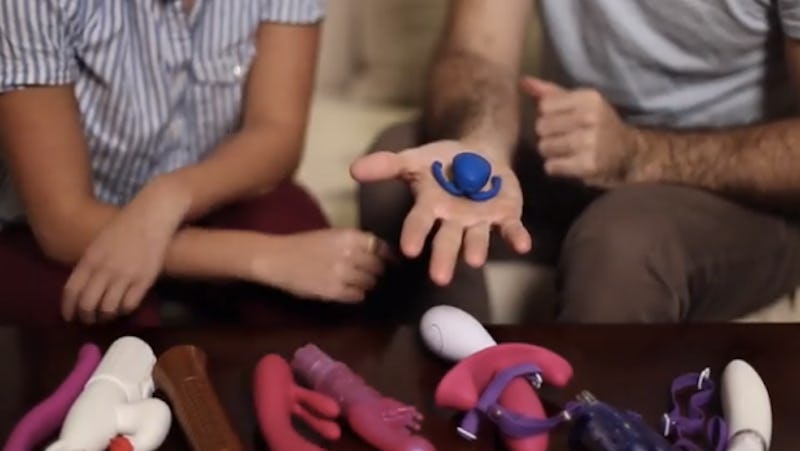 It's a story we're all familiar with: boy and girl meet, boy and girl like each other, boy and girl have sex, boy is the only one to orgasm during sex. Two young entrepreneurs want to put an end to this sad tale, and to do so have developed Eva, a hands free couple's vibrator.
The women behind what they are calling "the first truly wearable couple's vibrator" are Alexandra Fine, a graduate from Columbia University with a Masters in Clinical Psychology concentrating in sex therapy, and Janet Lieberman, who has a background in engineering at MIT. These two women were inspired to start the sex toy company Dame because of what they refer to as "the pleasure gap." In initial research, Fine and Lieberman found that women are four times more likely than men to say that recent sex was not pleasurable, and that men are twice as likely to orgasm during sex than their partner. And not only are women getting less pleasure from sex than men, but men have no idea! Mic.com points out that even though women only orgasm 64 percent of the time, 85 percent of men think that women orgasm during vaginal sex.
That's where the Eva comes in. 70 percent of women need clitoral stimulation to orgasm, which leads to the popularity of sex toys like the WeVibe, cock rings, and other couples vibrators. However, the women behind Dame found that even these toys, which are made to be couple-friendly, can be distracting and create a barrier between partners during sex. Cock rings are dependant on the movements of a man during sex, which means that the toy isn't always going to be in an optimal position, while the WeVibe can be distracting because it's a very large toy and it's placement can get in the man's way.
Dame Products Eva The Rechargeable Couples Vibrator, $104, Amazon
Eva is a small vibrating device that has "wings" that tuck under the labia so the vibrator can stay on top of the clitoris. Users who tested the Eva said that it tended to stay in place, allowing them to enjoy the pleasure of a toy while keeping their focus on their partner. In order to find the right mould, Fine and Lieberman got feedback from testers about the shape, fit, and strength of the vibrator. Testimonials say that the placement of the Eva is spot on, and that the non-intrusive nature of the deceive allowed for the toy to truly enhance the user's sexual experience.
Dame turned to Indiegogo to fund the production of the Eva on October 21st, exactly a week ago, with a $50,000 goal. So far they have made $185,212, and have since pledged to donate one dollar of each Eva sold to a charity that fights against genital mutilation in West Africa.
The women behind Dame say that they are "trying to make the world a happier place, one vagina at a time," and with this product, we think that they will be making the world, and a lot of vaginas, much happier.
To visit their Indiegogo page to donate or read more about Eva, click here.
Images: YouTube/Alexandra Fine