This 'Top Chef' Judge Has Serious Chops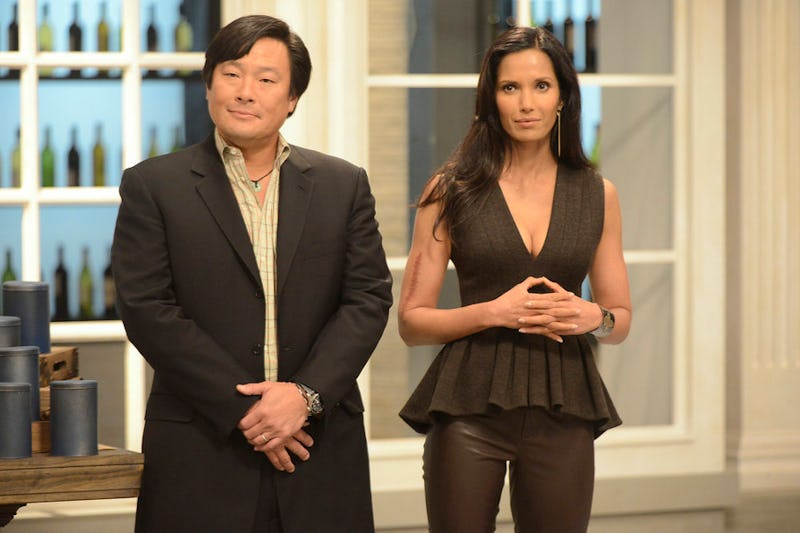 Ming Tsai is a familiar face to anyone who grew up watching PBS on the weekends. Now, Ming Tsai is a judge on the latest episode of Top Chef , because his restaurants are both in the Boston area. His cooking show, Simply Ming , is a Saturday afternoon staple, right around America's Test Kitchen and whatever show Jacques Pépin is currently working on (when I was growing up, it was alongside the venerable Julia Child, Julia and Jacques Cooking at Home). On the show, which is still in production (the twelfth season just stared on Oct. 4), Tsai splits the 26-episode season between cooking demonstrations in the studio and traveling. This season, he's going to Australia.
Tsai describes his cooking style as "East-West." He combines Asian flavors, gained from his childhood learning how to cook in his father's Chinese restaurant. But, growing up in the US, he developed a palate that combined both Asian and western flavors. Hence, East-West. But Tsai is clear that his version of fusion is more sophisticated than simply putting fish sauce on haricot vert. As he wrote in his book, Blue Ginger :
Too often, however, so-called fusion cooking (con-fusion cooking, some of us call it) produces chaos on the plate and in the mouth. To avoid this, I have an enormous sense of respect for each culture's ingredients and traditional techniques.
He uses his larger food vocabulary to come up with new flavor combinations that might not occur to chefs who have only been trained to cook for European or east Asian palates.
He has two restaurants in Massachusetts, Blue Ginger and Blue Dragon, that serve his trademark East-West style. Blue Ginger, Tsai's first restaurant, opened in 1998. It's the perfect summation of his cross-cultural style. Looking at his recipes and menu items, they go back and forth between American classics like burgers and using Asian ingredients like sake or hand cut noodles to spice up boring fish and steak entrees. But it's been open for over fifteen years now, so while it's reliable, his newest restaurant is even better.
Blue Dragon just opened in 2013, and is less of a classic restaurant and more of a "Asian gastropub." It's in Boston proper, and in the great tradition of amazing Bostonian bars, is the type of upscale place to have a craft beer and split a plate of Japanese style sweet potato chips. It serves snacks and dim sum past midnight — the perfect small plates to go with drinks or spur on a second wind in a long night of going from bar to bar. Most dumpling houses close by 10pm, so to get fresh potstickers in the middle of the night? Ming Tsai is making my dreams come true.
Image: David Moir/Bravo (2)