'Project Runway All Stars' Season 4 Cast Ranked From Worst to Best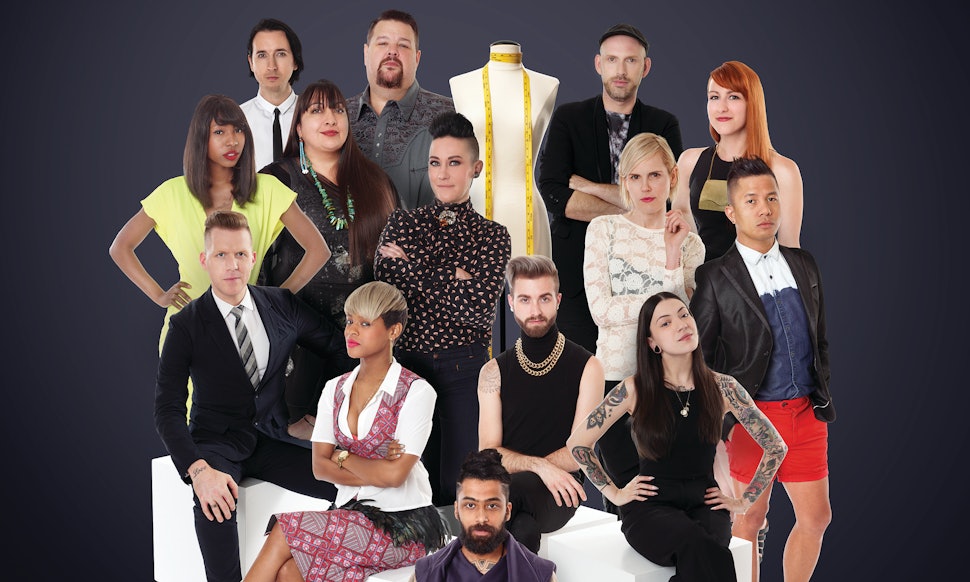 As the tagline of the Lifetime reality competition Project Runway goes, "One day you're in, and the next day you're out." Most of the designers on Season 4 of Project Runway All Stars have been on the latter end of that statement, and now they're looking to get back in vogue on the new season premiering Oct. 30.
Yes, 14 of our favorite designers from past seasons of Project Runway are back to win some money and some bragging rights as one of the best up-and-coming designers in America. I was really hoping Season 13's runner-up Amanda Valentine would be invited back for this All Stars season since she was robbed (robbed, I tell you!) of the winning title last season of Project Runway, which wrapped Oct. 23. Alas, filming on Project Runway All Stars probably started before Season 13 ended, but I've already begun my campaign for her appearance on Season 5.
Even without Amanda, we've still got a good group of past contestants returning for one last shot at glory. Among them are winners, runner-ups, and a few stragglers who probably shouldn't have been on Project Runway in the first place, let alone an All Stars edition. So who has the best chance of winning? Take a look at the designers of Season 4 of Project Runway All Stars, ranked from worst to best, according to what they created during their first time on the show.
Image: Barbara Nitke/Lifetime
14

Patricia Michaels (Season 11 Runner-Up)
Patricia's designs were clearly creative, but there was nothing sophisticated about her clothing. To this day, I am utterly flabbergasted at how she won the title of Season 11 runner-up.
Image: Barbara Nitke/Lifetime
13

Samantha Black (Season 11, Seventh Place)
12

Helen Castillo (Season 12, Fifth Place)
Helen's designs were the two worst things you could ever be on Project Runway: poorly made and downright drab.
Image: Barbara Nitke/Lifetime
11

Gunnar Deatherage (Season 10, Eighth Place)
Oh, Gunnar. You were so young and naive during your first go-round of Project Runway, but why were your clothes so serious? In the words of the indelible Michael Kors, "It's fashion. Lighten up."
Image: Barbara Nitke/Lifetime
10

Benjamin Mach (Season 11, 11th Place)
Benjamin's clothes weren't terrible, but they weren't fabulous either, and there's no cardinal sin worse than being boring on a reality show. However, I think he has the potential to wow us on Project Runway All Stars if he really wants to.
Image: Barbara Nitke/Lifetime
9

Jay Nicolas Sario (Season 7, Fourth Place)
Jay Nicolas had some pretty pieces during his first season of Project Runway. However, his designs often seemed overworked and his taste level could be questionable. But if you love wearing stripes, Jay Nicolas is your man.
Image: Barbara Nitke/Lifetime
8

Kate Pankoke (Season 11, Ninth Place/Season 12, Sixth Place)
Kate is the only designer this season to have appeared on two previous Project Runway seasons. That could give Kate an advantage in the competition, but she's going to need to show that she's become more polished since her first two times at the rodeo.
Image: Barbara Nitke/Lifetime
7

Justin LeBlanc (Season 12, Third Place)
Justin was the first deaf contestant on Project Runway, but you would hardly know he had any sort of disability because he was one of the best designers of Season 12. I actually thought Justin's Fashion Week collection was more innovative and elegant than that season's runner-up, Alexandria, but his earlier looks that season could have used some more oomph.
Image: Barbara Nitke/Lifetime
6

Sonjia Williams (Season 10, Fifth Place)
Sonjia just missed making it to Fashion Week during Project Runway Season 10, which was a darn shame, because she was one of my favorite designers that season. Her clothes represented what every woman wants in an outfit: wearable, sexy, and cool.
Image: Barbara Nitke/Lifetime
5

Alexandria von Bromssen (Season 12 Runner-Up)
When you're on Project Runway, it can be very tempting to take the easy way out and design dress after dress. However, that was so not in Alexandria's M.O. She was one of the best separates designers on the show ever with her sporty yet feminine point-of-view. You could actually envision yourself wearing Alexandria's clothes.
Image: Barbara Nitke/Lifetime
4

Chris March (Season 4, Fourth Place)
Among this season's contestants, Chris is from the earliest season of Project Runway and when it was still on Bravo to boot. However, you still probably know his name for his larger-than-life personality and even louder clothes. They often verged on costume, but it didn't matter because they were just so awe inspiring.
Image: Barbara Nitke/Lifetime
3

Fabio Costa (Season 10 Runner-Up)
I have to admit, Fabio's whole dumpster diving act as a self-proclaimed freegan kind of grossed me out a little. But the dude impressed, bringing that earthy, free spirit into his lovely designs.
Image: Barbara Nitke/Lifetime
2

Michelle Lesniak (Season 11 Winner)
Some seasons of Project Runway, you just know who's going to win right from the beginning. That was the case with Season 11, which was one of the worst seasons of the show, in my opinion. However, Michelle was one of the bright spots among mostly crappy clothing, and she rightfully won at the end. Her final collection also reminds me of the Starz show Outlander, so she was clearly very forward thinking.
Image: Barbara Nitke/Lifetime
1

Dmitry Sholokhov (Season 10 Winner)
Dmitry won once, and he can certainly do it again as long as he brings back his impeccably-tailored, glamorous clothing with an edge. I would love to see him incorporate more color this time around, though.
Image: Barbara Nitke/Lifetime