Be Powerful For Halloween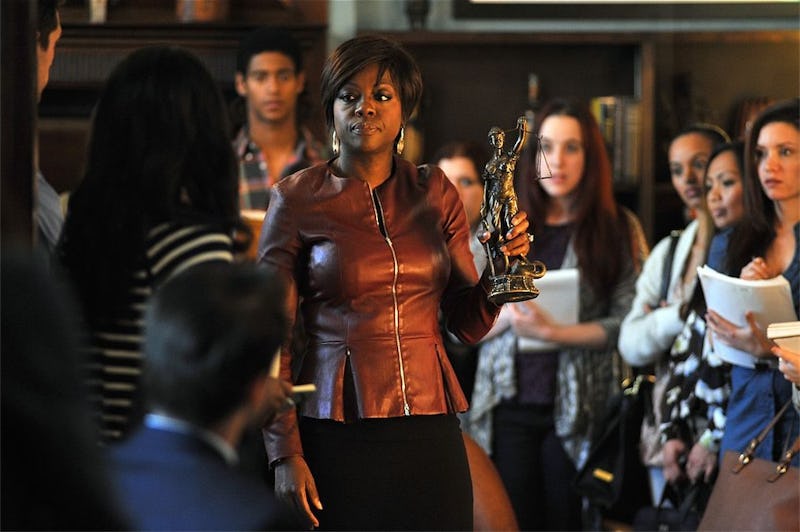 This Halloween get Shonda-fied. While dressing like Meredith Grey is simpler (just throw on some scrubs) and dressing like Olivia Pope is close to impossible if you're on a budget (Please, with those white hat outfits from those designers? Not a chance), you can still take on the iconic look of one of Shonda Rhimes' powerful ladies from ABC's "TGIT: Thank God It's Thursday" schedule. That's right, with these tips you can be (almost) as badass as Viola Davis character with an Annalise Keating costume from How To Get Away With Murder . I add "almost" simply because Viola Davis' badassery is too powerful to be copied by any mere mortal, but you can get really damn close on Halloween with the right threads and the right attitude.
Now, to really get the feel for our favorite new lawyer, it's important to understand the character's actual costumes before creating one for yourself for your big Halloween soiree. Costume designer for How To Get Away With Murder explained to Styleblazer that Annalise's outfits are reminiscent of her personality and stature. "Annalise is pretty provocative and powerful. If her wardrobe changes, it's because her story changes," Bass said. "Viola will never wear a suit and blouse!" So ditch those pants and that blazer, you won't want to be caught dead in those if you're trying to emulate ABC's newest powerful lady. So here's what you do need.
Don't Be Afraid Of Color, But Be Careful Of Color Choices
So far in the series, Annalise hasn't shied away from much color unlike another Shonda Rhimes leading lady Olivia Pope. Annalise wore a maroon leather jacket in the pilot for goodness sake! You can definitely turn up the color factor and even the print factor but just make sure you're going for darker colors that are associated with class and power, but with femininity and a hint of sexy. Stay away from lighter colors like pinks or other extremely happy colors. I doubt we'll ever catch Annalise wearing a canary yellow blouse or skirt for example. The only place you'll really see a wide range of colors is in Annalise's accessories.
Asymmetrical Peplum Top
Don't want to wear a dress? Try this fitted peplum blouse from H&M with a black pencil skirt that has the structure and color Annalise loves. Bonus: there's no way you won't wear these clothes again and again. Just think of it as an investment for work clothes!
Obviously Leather And Jackets Are Wardrobe Staples
As I've already mentioned, Annalise first outfit in class on How To Get Away With Murder's pilot episode was a maroon leather jacket. So clearly she's willing to get a little sexy and a little tough with her wardrobe choices. Annalise has also been seen wearing dark green and navy blue trench coats.
Black Leather Fitted Jacket
Try something like from The Scandal Collection's the aptly titled "Annalise Keating Collection." Wonder where they got the inspiration? But if you need something more in your budget, Sears has a similar peplum jacket with faux leather for under 30 bucks.
Accessories Are Your Friend
Surprisingly enough, Annalise is actually quite the fan of chunky necklaces of different colors (though specifically her necklace that looks like chains gets the most play), and she also really likes pearls. It strikes me as odd, considering pearls tend to scream 1950s housewife. But I guess if anyone can break that rule, it's Annalise Keating.
Carolee Dark Star Three-Strand Faux Pearl Necklace
Above is a pearl necklace from Lord & Taylor on the less expensive side of the spectrum that still has the same feel as the one Annalise wears quite often. Or check out this much cheaper Annalise-styled chain-link necklace replica from Forever 21.
Structured Dresses and Skirts Are The Way To Go
If you've seen episodes of How To Get Away With Murder, you'll see that outfits are form-fitted to Viola Davis' body. Again, think powerful and feminine. If you're willing to flaunt your curves, an Annalise Keating costume is the way to go.
Plum Taped Pencil Dress
And if weather permits, try wearing a sleeveless dress or blouse. Annalise, like Viola Davis (obviously), has quite the gun show going on and flaunts it. As she should. This dress from Dorothy Perkins is both fitted and has a pop of color, which is a great way to channel Annalise.
Bonus Points
If you're willing to carry a around a giant bag that is at least half the size of your arm or whip out your phone and yell "Why is your penis on the dead girl's phone?" at unsuspecting random men on the street.
That's it! You're all ready to take on the justice system and your Halloween party. Don't forget the all-knowing, always badass attitude and you'll look fiercer than everyone else on Halloween.
Images: ABC (2); getawaywithgifs (3)/Tumblr