This '90s Cartoon Lineup Is Killin' It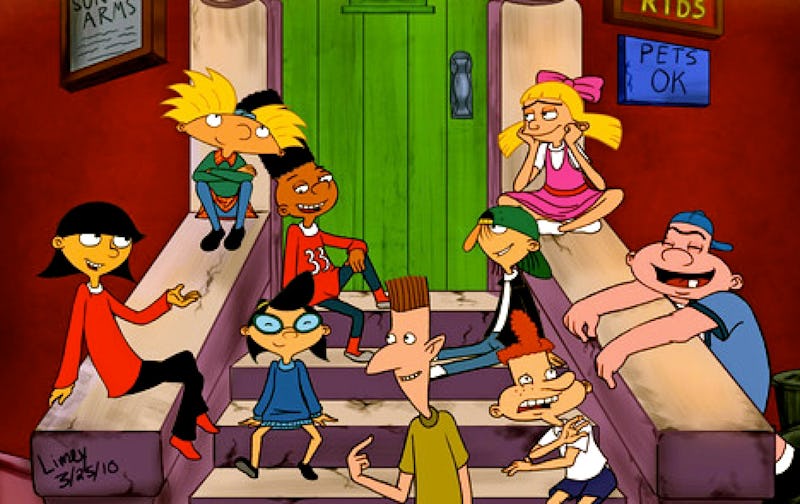 Ready to feel some big-time nostalgia? Hulu is adding Hey Arnold! , Ren & Stimpy , and other TV shows from your childhood to its streaming services over the next few weeks. The company announced that its partnership with Viacom is expanding, which means more hit shows from Nickelodeon, Comedy Central, MTV, VH1, TVLand, and more will be ready for you to binge-watch. While we've been able to marathon The Hills and Catfish already, they will also be adding even more episodes of established shows, ranging from Inside Amy Schumer to Snooki & JWoww. Plus, they're finally adding programs like Workaholics and Faking It. I know, I know — it's a lot to process. We'll be in our pajamas forever, and that's OK.
The most important part is getting cartoons on the roster. There are still plenty more nostalgic shows to be announced, but the first round of additions are pretty great and will tide us all over until the next wave comes in. (I'm still holding out until Rugrats, The Wild Thornberrys, and Recess are streaming in full.) Check out four highlights below, and stay tuned for more info as Hulu keeps bringing back the '90s... and early '00s. We don't have to be too picky, do we?
Hey Arnold!
Move it, football head! This '90s favorite will have you feeling super nostalgic, and hey, it could inspire your last-minute Halloween costume. Get your Helga, your Arnold, and your Gerald, and you're good to go.
Invader Zim
This little alien actually was introduced to us in 2001, but he feels so much older. (Sorry, Zim — you aged well!) Watching him trying so hard to defeat Earth and failing time and time again will always make you smile.
The Ren & Stimpy Show
This news will have you screaming "happy, happy, joy, joy," I'm sure. Get ready to see plenty of Ren and Stimpy's shenanigans.
Drake & Josh
This is probably a show you only watched if your younger siblings had it on, but young Drake Bell and Josh Peck are actually pretty funny. The clip above has Community's Yvette Nicole Brown leading her class in a rendition of "We Will Rock You," and who can complain about that?
Image: Nickelodeon