Miley's Your Next Viva Glam Girl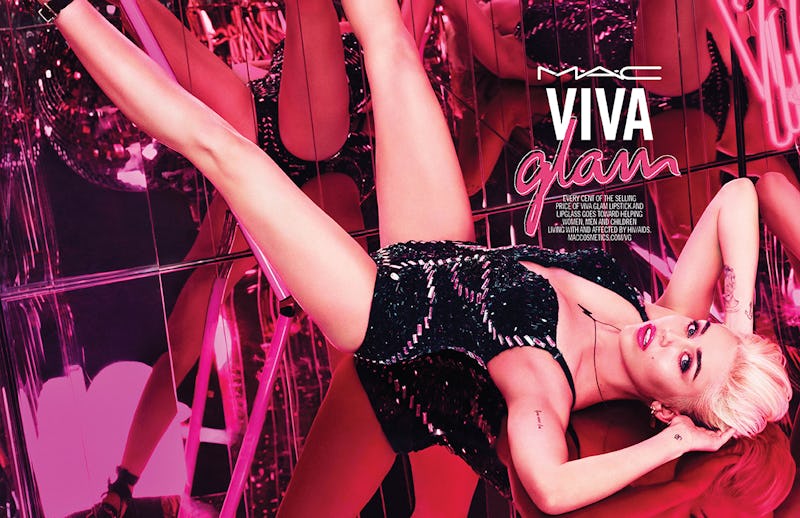 Be still, my heart! It's just been announced that Miley Cyrus is MAC's next Viva Glam spokesperson. Hell. Freaking. Yes. Following in the footsteps of other amazing female superstars (Rihanna, Nicki Minaj, Lady Gaga... basically anyone who's anyone in the music world), Cyrus only makes sense as the next lady for the job. Even if you're not a fan of her post-Hannah Montana antics, you can't deny that she's taking over the world.
The capsule, surprisingly, won't include anything close to Cyrus' signature red lipstick. Instead, the two-piece limited edition set is taking a turn for the girlier, with a magenta lipstick ($16) and sparkling, hot pink lip gloss ($15). And, yeah, we can probably expect it to sell out in about .2 seconds when the products hit stores in January 2015, just like past iterations of the Viva Glam collection have.
If you aren't familiar with the Viva Glam program, it's more than just a couple of bold lipstick shades. As Miley Cyrus pointed out in her tweet announcing the collab, every cent of her Viva Glam products will go towards the MAC AIDS Fund to benefit HIV and AIDS research. Fierce lipstick + a good cause + Miley Cyrus = probably the best way to start out the new year. Sneak a peek at the collection below:
Images: Courtesy of MAC