'AHS: Freak Show' Just Made the Best. Decision.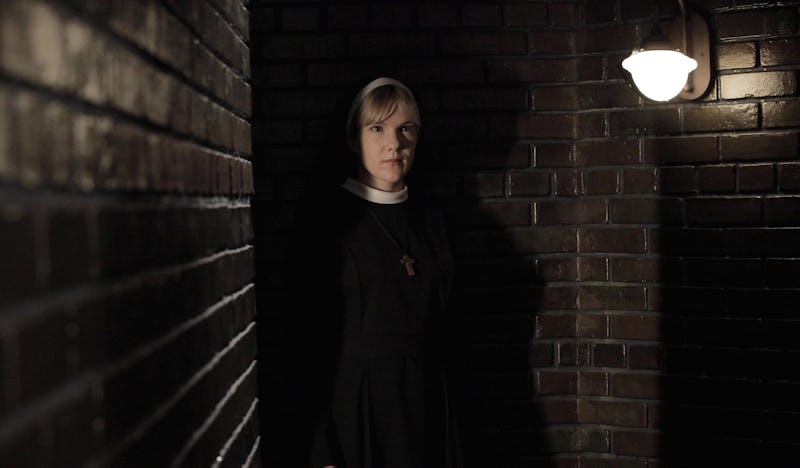 As I type this, you should know I am screaming for joy at this news, because this is exactly what American Horror Story: Freak Show needed to amp things up and make it truly must-see television. According to EW, soon Naomi Grossman (Pepper) won't be the only returning cast member to reprise a role from AHS' second season, Asylum — frequent cast member Lily Rabe is set to join AHS: Freak Show as her character from Asylum, the nun Sister Mary Eunice.
Like I said: Best. Casting decision. Ever.
So, what will Sister Mary Eunice be doing all the way down in Jupiter, Florida when the mental institution where she works, Briarcliff, is all the way up in Massachusetts? That hasn't been officially revealed yet, but I'm guessing that it has something to do with Pepper. Pepper was committed to Briarcliff during Asylum, and that was set in 1954 — considering Freak Show is set in 1952, I think we're going to see what events led up to Pepper being committed. It would be a pretty logical reason to bring Sister Mary Eunice (before she was possessed in season 2, that is) back: It makes sense she'd be involved in Pepper being moved to Briarcliff.
Of course, this is all speculation — we won't know anything until the episode airs.
Rabe, of course, has appeared in every season of AHS so far, so I'm glad to see that Murphy is continuing the tradition in some form now, even though Rabe is currently starring on the ABC series The Visitors. Because Sister Mary Eunice? Possessed or not possessed, she was epic.
Image: FX, sister-mary-eunice-aka-satan/Tumblr