Get Candice Swanepoel's Max Factor Campaign Look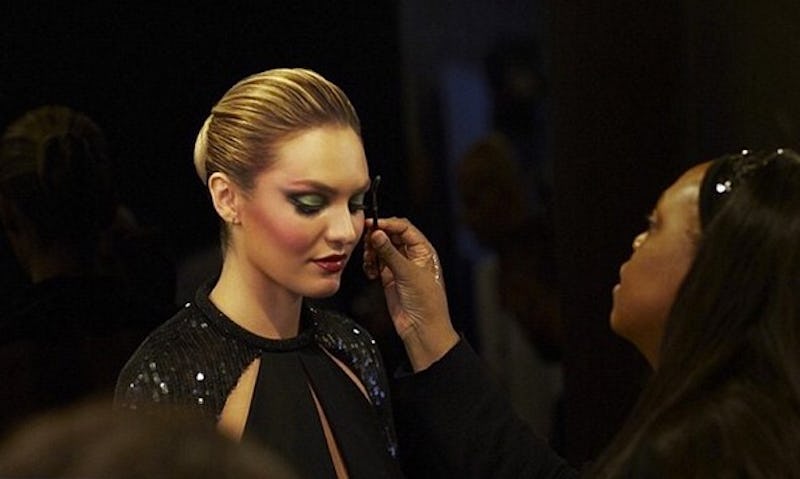 Victoria's Secret Angel Candice Swanepoel is the face of cosmetic brand Max Factor's holiday campaign, and the first pics from the shoot are stunning (obviously.) Unlike some ads, though, we can actually learn something here. Celebrity makeup artist and Max Factor's Global Creative Design Director Pat McGrath shared some of her secrets to finding your perfect personal yuletide makeup, and I'll definitely be applying (pun intended) some of her tricks for my own holiday outings.
McGrath, who's catered to celebrities including Madonna, Jennifer Lopez, and Scarlett Johansson as well as working on countless runway shows, is calling this "the look of the century." With Swanepoel as her muse, she created the bold look to commemorate Max Factor's 100th anniversary.
"There's bold shimmer, lots of color, full blush, and glossy lips," says McGrath in a video for The Daily Mail. "This is a really strong couture look that women can take inspiration from."
"You can literally break it apart to make the perfect party look for you, and if you're brave, do the whole thing," she says. Not a bright lip kind of girl? Work the bold eyeshadow with a nude pout to balance out the look. Or, keep your skin and eyes simple and just go for the lip color. There's one night I might try the full monty, though. Three words: New. Years. Eve. I'm loving the hair pulled back with this makeup, too — it lets McGrath's masterpiece shine.
Here's a behind the scenes peek at the shoot and the inspiration for the look:
Images: Instagram/@candy_wings, @swanepoelworld; Twitter/@LovelysVintage