People Thought A Murder Was A Halloween Prank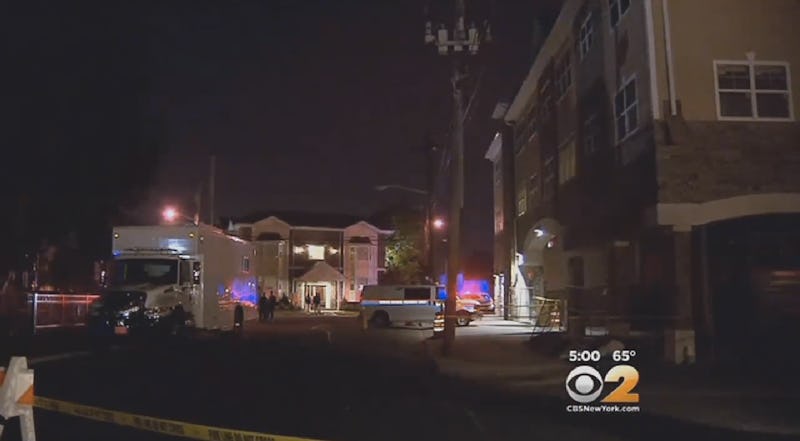 A 66-year-old woman was beheaded by her own son in New York on Tuesday night, in what stunned neighbors thought was a gruesome Halloween prank. CBS New York reports that Farmingdale State College professor Patricia Ward was decapitated by her son Derek, who committed suicide later that night. But what's more tragic than the murder is the fact that witnesses who saw Ward's body and severed head lying in the street believed it was a Halloween display.
Nassau County Police Detective Lt. John Azzata told CBS New York that Derek Ward, who allegedly had a history of mental illness, killed his mother in their Farmingdale apartment, and then dragged her body out into the street. He reportedly severed her head outside before fleeing.
Authorities said Derek Ward committed suicide about 25 minutes later, jumping in front of a Long Island Rail Road train that had departed from Penn Station in New York City. Passengers told the news station they were on the train for hours Tuesday night. Ward's body was found about a mile from the murder scene, according to The New York Post.
Despite the severity of the crime, neighbors reportedly had no idea that Patricia Ward's body was real. Several witnesses said they thought it was an elaborate Halloween display, or a terrible joke. "I literally thought it was a prank," one witness told WCBS 880's Mike Xirinachs.
Farmingdale resident Dale Silverman told CBS New York:
It looked fake. It looked like when you stuff clothes in a bag and put it outside your house. I'm horrified that I actually was in the car, saw a head, saw a body, and dismissed it as a Halloween prank.
Patricia Ward was a faculty member at Farmingdale State, where she taught language arts, for 28 years, according to school officials. Patrick Calabria, vice president of institutional advancement at the college, told The Post that the school was "in shock" on Wednesday:
The staff in her department is teary-eyed. We are providing counseling to the staff who need it. It's a very sad day. A lot of people are taking it very hard.
A statement released by the college on Wednesday added that Patricia Ward was "well-known, well-liked and well-respected."
Police are still trying to piece together the motive behind the tragic murder. Not only did Derek Ward have a history of mental illness, but he also had a criminal record, the New York Daily News reports. Authorities reportedly found a Smith & Wesson pistol and 100 Valiums on his body Tuesday night.
Images: screenshots/CBS New York