Marchesa's Georgina Chapman Has Many Talents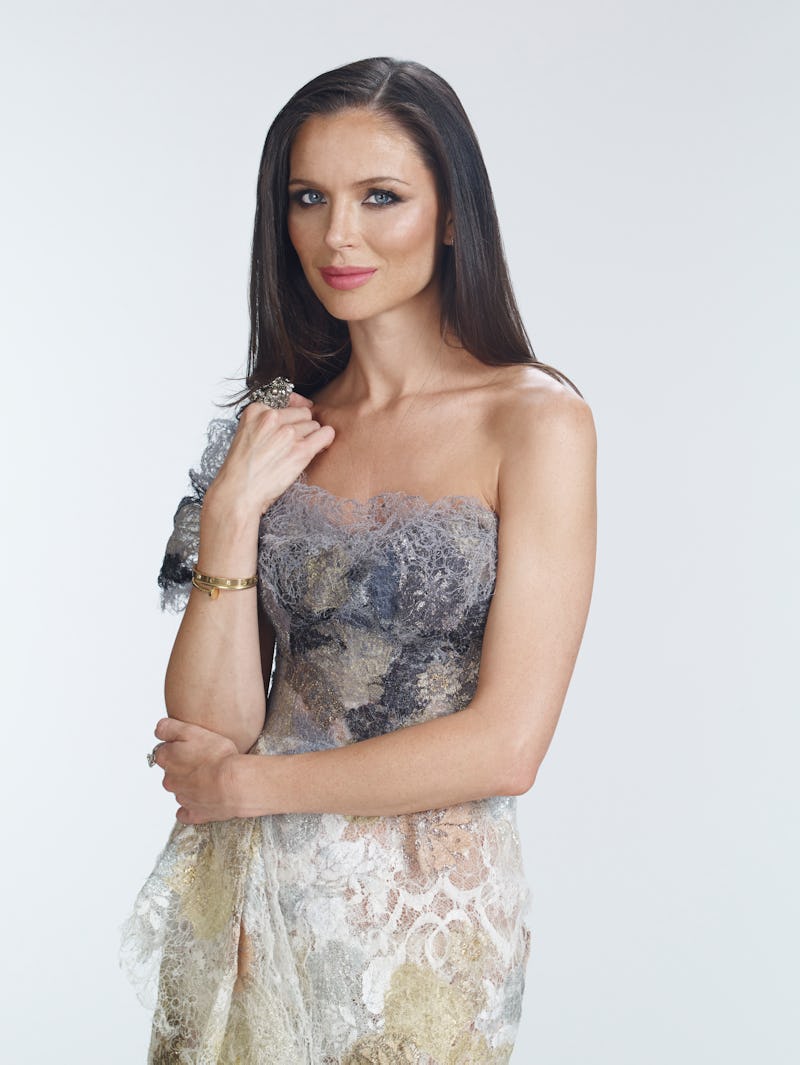 Where would we be without the judges of Project Runway All Stars ? Sure, most of us can say whether or not a garment is pretty, but do we know why? That is why we need the expert opinion of some of fashion's most influential minds: designer Isaac Mizrahi, Marie Claire Senior Fashion Editor Zanna Roberts Rassi, and Jane of All Trades Georgina Chapman.
Chapman has so much going on all the time, it is often hard to keep straight what she is currently working on and where you know her from. In order to better place her in your mind, you should think of her as the Project Runway All Stars judge that's like a cross between Project Runway host Heidi Klum and judges Michael Kors and/or Zac Posen. Chapman is an accomplished fashion designer, but she is also gorgeous and has that modeling and acting experience. So basically, she not only knows how to make a stunning piece of clothing, but she also knows how to slay with it, too.
Have I piqued your interest just yet? Clearly, Chapman has a lot going on, and you should want know all about it. Why else would you have come to this article in the first place? Read on to find out what makes Chapman the perfect judge for Project Runway All Stars.
She started Marchesa
In 2004, Chapman co-founded Marchesa, one of the most successful contemporary design empires, with her college friend Keren Craig. Marchesa is known for its ultra-feminine and elegant eveningwear. Famous fans of the fashion house include Michelle Obama, Blake Lively, and Sandra Bullock, who won her 2010 Academy Award for Best Actress in a Marchesa design.
This isn't her first rodeo
Chapman has been there from the beginning as a judge on Project Runway All Stars since its inaugural season in 2012. We'll have to wait until the Season 4 premiere on Oct. 30 to see if the years have hardened her at all.
She's running the fashion world
As if launching Marchesa to become one of the most famous design houses today wasn't enough for Chapman, she now wants to rule the world, the fashion world, that is. Earlier this month, Chapman joined the board of the Council of Fashion Designers of America, one of the most influential trade organizations in fashion today. Diane von Furstenberg, Vera Wang, and Ralph Lauren are also CFDA board members, so it's kind of a big deal to be a part of this association's leadership.
She's married to Harvey Weinstein
Someone so successful could only be married to a man as equally as successful as she is. Chapman did just that when she married Hollywood producer Harvey Weinstein in 2007. The couple have two children together, three-year-old daughter India Pearl and one-year-old son Dashiell. I bet they're the best-dressed toddlers in their daycare.
She's been in movies, too
I can't help but think Chapman was able to score several high-profile movies because of her husband's Hollywood connections, so I'll just continue to think it. Chapman has appeared in Awake, The Nanny Diaries, Factory Girl, and Match Point. And just look at how she smokes in the NSFW clip above in the 2005 British film The Business. You show that cigarette who's boss, Chapman.
However, no movie that Chapman has starred in previously beats the drama of Project Runway All Stars.
Images: Zach Dilgard, Barbara Nitke/Lifetime; Getty Images (3)