Singtrix Will Take Your Karaoke To the Next Level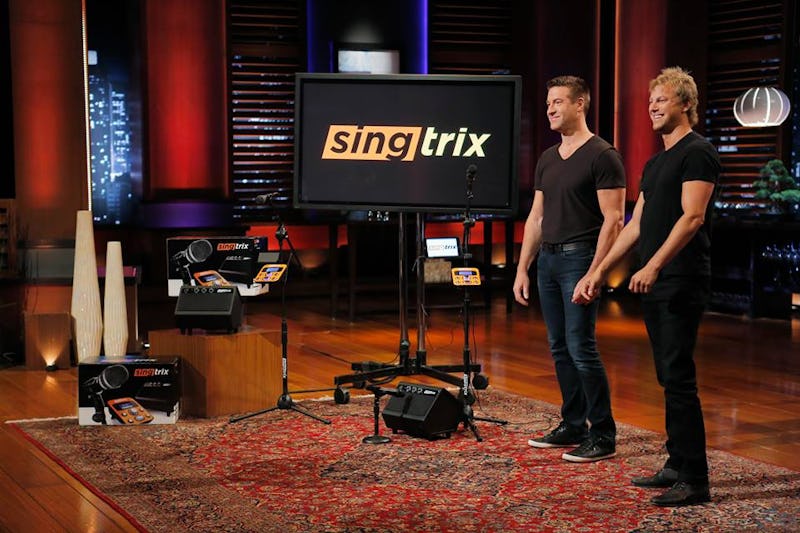 Even if you absolutely love belting your heart out at karaoke, you might not be the greatest singer. It's OK, though, because the art of karaoke is all about passion and enthusiasm (and maybe also getting a little drunk on liquid courage to get up there in the first place). But what if there was a kind of machine that could autotune your not-so-great voice as you sang the lyrics off the screen and make you sound, well, better than you naturally do? This magical device exists—it's called Singtrix and it'll be on Shark Tank on Friday night. If you like what you see on the ABC series, Singtrix is currently available on the product's website, as well as on Amazon.
The website promises that it'll "instantly give you the voice you've always dreamed of having." The Singtrix device adds several vocal harmonies to your original voice to make it sound like you totally know what you're doing in front of that mic (which comes with the Singtrix "party bundle"). You can plug in a smart phone or tablet (iOs and Anroid) and run a karaoke app, the Singtrix app, or just sing along to YouTube tracks. Is this something you absolutely need to invest in for your next party? No, but the Sharks might want to get in on this sweet harmony for the following reasons.
It's From the Creators of Guitar Hero
Remember when everyone put down real guitars and began jamming on a fake video game guitar with colorful frets? Well, that wildly successful Activision game was created in part by John Devecka, Charles Huang, Eric Berkowitz, and Kai Huang, and now they're the team behind Singtrix, focusing on singers. Could lightening strike twice for these music-loving inventors?
So Many Vocal Effects
Singtrix will convert you plain ol' voice into a dazzling four-part harmony, which can sometimes sound like you're being backed by a choir. The device comes equipped with more than 300 effects spanning every genre of music, as well as other dramatic effects to really make the song yours. The mic itself offers pitch correction and can work with multiple singers.
But It's a Little Pricey
If karaoke parties and impressing your friends with your vocal chops is a priority, then Singtrix's $349 price tag might be worth it for you. The device comes in four different colors, along with a mic, mic stand, and a speaker with subwoofer. It seems like something I'd use a few times when I first buy it and break out at my next few parties, but then I'd just toss it in the closet once moving onto the next fun gadget.
However, if you're someone who sings your favorite songs on the regular and always want to feel like you're on stage, I think it's totally worth it. What the Sharks think, though, might be a completely different story.