Bette Midler's Tweet Is Magic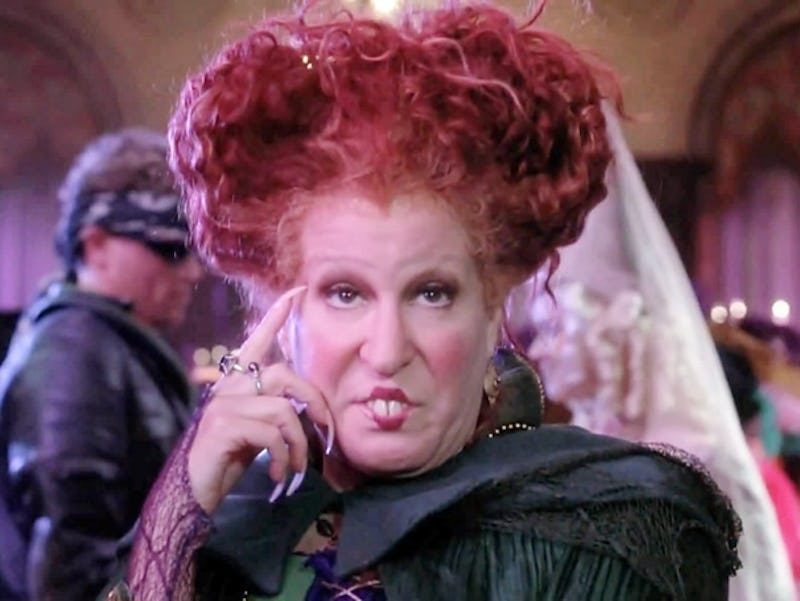 Bette Midler is the queen of awesome for so very many reasons, but on Halloween she was especially awesome because with one simple tweet she made every Halloween-loving millennial's day... and then some. If you had a childhood, you may recall that Bette Midler played the badass witch, Winifred Sanderson, in Hocus Pocus. Well, the Beaches actress decided to get back into character on Thursday night and tweeted as Winifred to spread joy, love, and world peace to all that grew up watching the beloved Halloween flick. So, now I guess we're sort of all best friends because we have an inside joke? That's how it works, right?
If you don't instantly and irrevocably fall in love with her for playing along and making all your dreams come true (which is sort of ungrateful), maybe you will when you know the nature of the tweet. Because not only is it topical and timely, it's perfectly executed and tailored to true fans who are aware of Winifred's impassioned spirit. She wrote, "HAHAHAHAHAH!!! BOOOOOK!! SISSSSTTTTTAHHHS!! Tomorrow night, my pretties.....I put a spell on you!!!!!" Yes, I can hear her high pitched cackling reverberating through my computer screen as well, like magic. Because Midler is magic.
And here's the proof she's harbored magical powers all these years:
SHE'S A MEMBER OF AN ALMIGHTY COVEN
There anything more powerful than this? I THINK NOT.
HER ABILITY TO EVOKE AN ENDLESS STREAM OF TEARS
I don't think anyone has stopped crying since 1988.
HER POWERHOUSE VOICE
*Rendered speechless* *Falls to knees*
HER PROLIFIC CAREER
Spread some of that success around, Bette. Will ya?
THIS
No one is that cool naturally. NO ONE.
Images: Giphy (3); angelicarenee337/Tumblr (1)