Are You Turning Into Your Mother?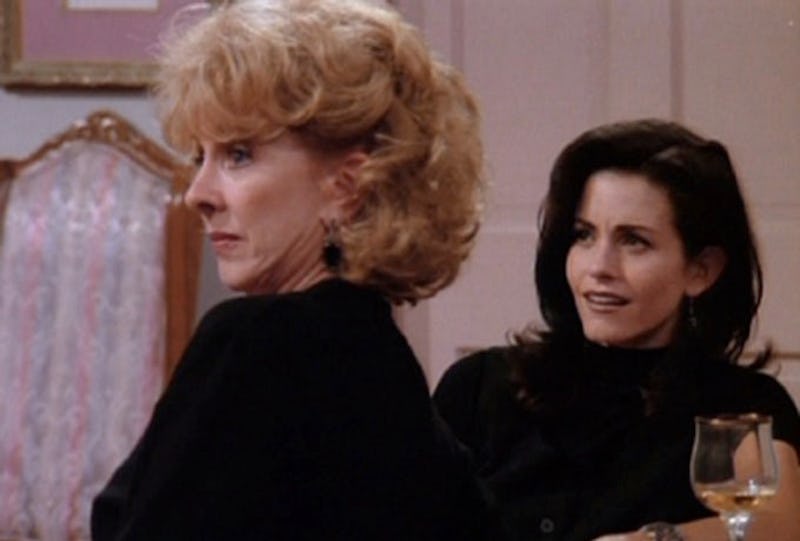 I don't know what your mother is like, but mine is the greatest, and probably craziest person I have ever met. If I grow up to be half as clever, intuitive, hardworking and bizarrely off this planet as my mamma, I will consider myself to be very lucky indeed. I know not all mothers are this fantastic, and I also know there are people who would fight me to the death in the belief that their mother is actually the best mother in the world. Mothers also inspire their fair share of cringey moments, especially where it involves dancing, calling Beyonce "Bouncy" completely unironically, and taking 20 minutes just to type "OK" in a text message.
Mothers are like snowflakes: no two are exactly the same, and what one person means when they say they're turning into their mother can mean something totally different from when another person says it. But there are some things that are generally universal symbols of what it means for a woman to turn into her mother. They're not necessarily gendered, but they are things we habitually learn from our mothers and adopt into the way we interact with the world. Generally, we spend the better part of our lives fighting against these things, but it's all in vain because eventually, you are going to become your mother. It's inevitable. In case you haven't caught on yet, here are 8 signs you're turning into your mother.
1. YOU'RE TROUBLED BY LOITERING YOUTHS
The first time I realized I was turning into my mother was when I noticed, was appalled by, and finally worried about, a group of hooded, loitering, underage youths on my block. Mothers tend to have a way of being both indignant about and fretful for loitering youth, and I guess once there's enough years between the time you were a loitering youth, and the shadow of your impending adulthood begins to loom, you start to have strong, vociferous opinions about said youths too.
2. YOU'RE A TWO GLASS DRUNKARD
My mom can drink a surprising amount of alcohol, but she's still always drunk after her second glass of wine. Mom Drunk is a weird and wonderful phenomenon, and when it hits you, you'll be both ashamed of being a lightweight and pleased with how much money you save.
3. YOU FORGET THE NAMES OF CELEBRITIES
Not only do you not remember the names of celebrities, you make up your own name for them, and expect that everyone knows EXACTLY who you're talking about, like when my mom says, very confidently, "You know, Shay Boyfay" when she means Shia LaBeouf. Weirdly, I DID know exactly who she was talking about the first time she said it. You also know you're getting old when you don't recognize half the celebrities on the covers of the magazines at the Walgreens checkout.
4. YOU BECOME INORDINATELY PROUD OF YOURSELF FOR FINDING BARGAINS
Bargains are great. Everyone loves a good bargain. But in my experience, a mother will talk to you about a superb bargain for a good five minutes at least without pausing for a breath or to let you get a word in. It doesn't matter how rich or not rich a mother is – she lives for bargains. Once you start feeling like you're living in their own personal reality program where the aim of the competition is to find the best possible price, you know you're turning into your mother. You will also begin to scoff at the though of buying $200 jeans, knowing you can buy the exact same thing, minus the designer tag, from Asos for $40.
5. YOU BEGIN TO VALUE COMFORT OVER STYLE
Don't get me wrong: mothers can still be stylish. But in the dead of winter, a mother will always choose a warm coat over a cute one. When you start to value things like comfort over style, for instance, knowing that you'll be walking to brunch to wearing sneakers instead of your cute heeled boots like you did when you were 20, you'll realize that mothers really do know what they're on about.
6. YOU KEEP TISSUES IN YOUR SLEEVE
In winter, I keep tissues in my sleeve. My mom used to keep tissues there when I was a kid, and as I've learned every time I procure a tissue from my sleeve and my friends announce the same childhood memory, sleeves are the universally preferred storage place for tissues by mothers. Once you start keeping tissues in your sleeve (and especially putting half used ones there), there's no going back: you are officially your mother.
7. YOU DON'T CARE HOW YOU LOOK WHEN YOU DANCE
It's a known fact that moms dance for pleasure, not to look cool or attractive. Mom Dancing is a very special thing: When you were younger, you would cringe and shrivel into yourself whenever your mamma picked up a beat, but once you realized how fun it was to Mom Dance YOU CAN'T STOP WILL NEVER STOP.
8. YOU OFTEN FIND YOURSELF RESPONDING TO THINGS EXACTLY LIKE YOUR MOTHER WOULD
The most obvious sign you're turning into your mother is when you catch yourself saying doing or saying things YOU KNOW your mother would do. If you're anything like me, this will become more and more frequent the older you get, but it will somehow hopefully make a comforting sort of nonsensical sense. At least you know what to expect...