Why This Tattoo Artist Works Only With Nipples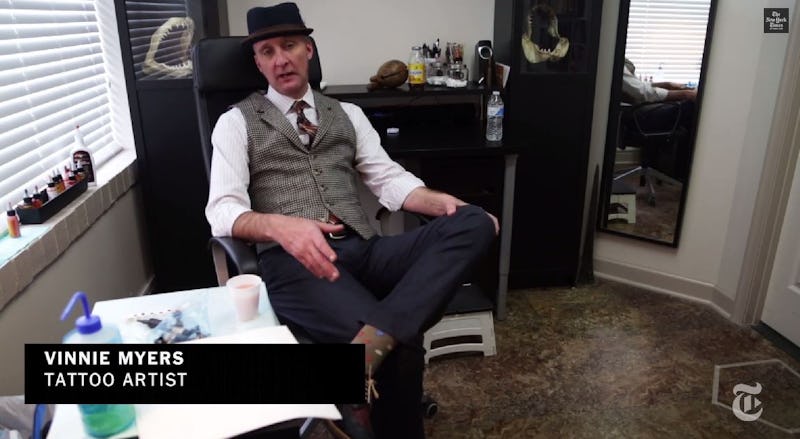 In Maryland, there's a tattoo artist who doesn't focus on the sort of body art most tattoo artists do. Rather than inking inspiring words, minimalist designs, silhouette-style pieces, or any of the other things most people think of when they think of body art, Vinnie Myers tattoos nipples. And I don't mean tattoos on nipples — I mean tattoos of nipples. He works with breast cancer survivors who have chosen to have reconstructive surgery to add the finishing touch to their reconstructed breasts: Extraordinarily lifelike tattoos that give the illusion of a 3D nipple on each one. How cool is that?
Myers has been in the tattoo business for decades, but 13 years ago, his career took a turn he didn't expect. It all started when a Maryland plastic surgeon got in touch with him about the idea of doing nipple tattoos for his patients who had had reconstructive surgery, he told HuffPost Live this week. As the New York Times described it in a piece about the artist this past June, a reconstructed breast is essentially a "blank canvas": The operation can recreate the size and shape of the patient's original breast, but the nipple and areola are usually completely removed. It is possible to reconstruct a nipple, as well — however, said Dr. Leo Keegan of Mount Sinai's Icahn School of Medicine to the Times, "Most patients don't want to have another surgery and another scar."
That's where nipple tattoos come in: They can mimic the look of a nipple without the need of another surgery, making them an appealing option. However, they're often performed by breast surgeons, rather than tattoo artists — and as a result, they tend more to have a "passing resemblance" to a nipple than to create an illusion of a realistic one. According to Baltimore Magazine, this is what inspired plastic surgeon Adam Basner, who operates out of Lutherville, MD, to contact Myers in 2001. Basner knew that being a surgeon allowed him to reconstruct breasts quite well — but also that not being a tattoo artist meant that his nipple tattoos left something to be desired. So, said Basner, "It dawned on me, 'Why not get someone who knows what they're doing?'"
Myers was game for it — and the more nipples he tattooed, the more he started to see that they could really be onto something for breast cancer survivors by teaming up a plastic surgeon with a tattoo artist. These days, he focuses exclusively on nipple tattoos; working both out of his own office in Finksburg, MD as well as in partnership with the Center for Restorative Breast Surgery in New Orleans, he tattoos roughly 2,000 nipples a year. His recent interview with HuffPo delves into how he ended up as a nipple specialist, what goes into the process of creating each one, and more. Watch it here:
According to Myers, the skill set involved in his work isn't necessarily different than it is for regular tattoos; it does, however, require some research to get right. Tattooing the skin over a reconstructed breast isn't the same as tattoo that of a natural one, so Myers made sure to look into exactly what happens during a mastectomy and reconstruction — which in turn allowed him to fully understand the anatomy underneath it all. "You're talking about women who have had all of their breast tissue removed," he said to HuffPo. "They've got a very thin skin flap; some of the women might only have a millimeter or two of tissue left on the outside of the muscle in the implant. So if you approach it the same way you approach a regular tattoo, you could do a lot of damage to these women, and you could end up doing a lot more harm than good."
Myers notes that the volume of tattoos he does per year doesn't surprise him now, although, he said, "It certainly would have 10 years ago, if you'd have told me that this was going to be the numbers that we'd be seeing." He also added, "But even if we were to tattoo that volume every year, we're tattooing less than one percent of the women who need this service" — and here's where I think it's important to note something else: It's by no means a must that all women who have gotten mastectomies also have breast reconstruction surgery. It's a deeply personal choice, and, as Barbie Ritzco and Sara Bartosiewicz-Hamilton remind us with their Flat & Fabulous group, the choice not to reconstruct is just as valid as the choice to reconstruct. But for those who do opt to have reconstructive surgery, there's no denying that what Myers is doing is important.
Take Caitlin Kiernan, who wrote the New York Times piece, for example. It wasn't just a profile; it was a journey for Kiernan herself, as well. During her battle with breast cancer, she underwent two years of treatment including chemotherapy, a double mastectomy, and four other surgeries. "I also," she wrote, "wanted to have breasts that at least appeared normal and had the most realistic-looking nipples possible." So she spoke to her doctor, then drove four hours to Myers' base in Finksburg to "get her Vinnies," as it's colloquially called. She filmed her experience for the Times, so if you want to get an inside look at Myers' work, watch it below:
Wow. Just... wow. See? Important, for those who choose to go that route. For more info and a closer look at his portflio, head on over to Myers' website.
Image: New York Times/YouTube