Publish With a Small Press? This Author Did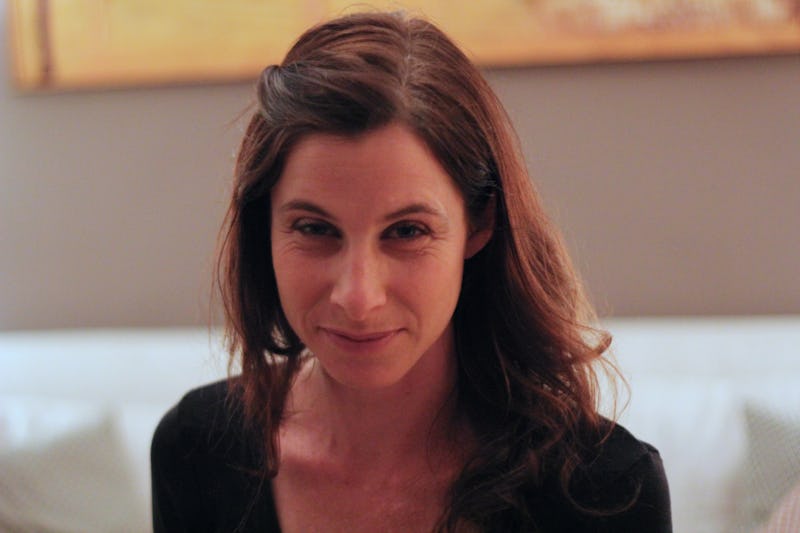 If you're a fan of short, memorable, and unsettling stories, Sara Lippmann's debut collection Doll Palace (Dock Street Press) is for you. A Creative Writing graduate of Brown University, and New School MFA, Lippmann has been writing for a long time. You might have read her work in Tupelo Quarterly, PANK, or Joyland, or seen her at the Sunday Salon reading series she co-curates with her friend Nita Noveno in New York City.
Lippmann's stories are well-crafted and tight, some so short they might qualify as micro-fiction. Lippmann's voice is distinctive for her sparse and straightforward style, which ties together a collection with a roving cast of characters. She accesses the teenage voice, marked by an ambivalent internal climate contrasted with a (sometimes reckless) surety of action. All of the stories are propelled by a forward momentum, and the stories are more likely to end on an action, rather than a image, or a moment of contemplation.
In some of my favorite pieces: a girl at a state fair loses her virginity to keep up with her older sister; a father befriends his children's babysitter, until missing pills from the medicine cabinet complicate matters; a stripper gives a Brazilian wax to another stripper, and they discuss matters of love. What makes this collection so enjoyable is its stylistic cohesion.
I met with Sara Lippmann for coffee at Krupa's Grocery in Brooklyn to discuss her debut, the experience of publishing with a small press, and what's next for her.
BUSTLE: In your stories there is such an interesting tension between the internal monologue and the external dialogue of the characters. Can you talk about the process of creating a voice for your characters?
SARA LIPPMANN: I'm interested in both the jump cut in terms of movement, structurally, and I'm interested in movement between interior and exterior. Maybe it's just my crazy head, but I feel as if that's sort of reflective of how we are in the world. And very much some of the pieces have sort of a collage-y feel in the way that they move and I think that's also reflective of how we think, or I think. So I wanted to capture that.
How busy are you due to the book's release?
It's a small press, so I'm pretty much my own publicist, setting things up. It's definitely busier than perhaps I anticipated it would be, but it's not so crazy, and I had a meeting with my agent yesterday. I really need to get cranking with my novel, get excited to move onto the next thing.
Are you still plotting it out? Where are you in the process?
The story's been in my head for a long time. I've always been someone who's somewhat resistant to plotting, and you can probably tell that from the stories, I sort of enter it from an intuitive way and go from there. But I'm trying now to get control of this novel. Because it's always been my impulse to compress.
For a long time, with the story of the novel, I thought, It's a short story, it's not a novel, and I think part of my struggle over the past year or so has been trying to counter that impulse — to actually let things get kind of messy and scary in that way. Where you can only see what's right in front of you and not beyond that. You can see when I started [Doll Palace] I was working in really, really strict parameters of word count: 500 words, 1000 words, and that's what was manageable to me at the time. So now with this novel it feels so greatly unmanageable.
I wanted to ask you about the experience of working with a small press. What are the challenges and benefits of that?
It took me a long time to figure out that I had a manuscript and that this was going to be a book. And that was an interesting process in and of itself, but once I had this book that I decided I was going to go out with, I started the traditional way. I think I sent it to two agents, possibly, and they were great, but they all wanted a novel. And then out of the blue Dock Street Press sent me an email, and so in that sense it's sort of a fairy tale story, in that they were a small press starting out in Seattle. They had found my work online, which is amazing to me that people actually find people's work online and then reach out from there. But Dane Bahr, the publisher, had and he wanted to know if I had a manuscript and I sent him my manuscript and la-di-da.
The really cool thing about Dock Street Press is that they're really about nurturing their writers and getting them to the next point.
I have nothing to compare it to because it's been my first book, but it's been really interesting to be sort of on the ground floor with them as they're launching. I'm their third title, so they released one in January and the second came out I believe in July. Our books were very close in timing and I think they've only done short story collections. I know they're putting out a collection of essays sometime in the next couple months.
It's been a wonderful experience — they've been super-involved throughout the whole process. Dane's brother's wife is the designer, and Dane's wife is one of the editors. It's sort of this family affair. They have their hearts and souls in the right place, and they really wanted to produce nervy books that aren't necessarily the easiest to swallow. I guess I sort of fit in there and I'm really happy that they took the chance on me in that sense.
Do you think that with your novel in progress, your agent is encouraging you to go with a larger press?
Yes, if it gets written. But the really cool thing about Dock Street Press is that they're really about nurturing their writers and getting them to the next point. I didn't have an agent when I signed the book, and I wound up getting an agent a couple months later who was someone who happened to show up at a reading I was doing in New York. Even before that happened, part of Dock Street's agenda was, We're doing your book and we're going to hook you up with an agent. So they really were just as involved in moving you into the next point in your career, which is very cool. And I know that they've been that way with all of their authors.
It seems like small presses are really having a moment right now. They're just getting a lot of attention. It seems like it's a really exciting time to work with a small press.
Yeah, I think so. Publishing has shifted so much in the last 20 years. ... It seems that publishing is starting to make room for these small presses. Obviously there's always been smart, interesting small presses but more and more are cropping up that are not just putting out quality work but able to get some notice. And I think the Internet is playing a huge part in broadening that readership, and we can talk about problems of distribution in bookstores, versus being able to purchase books online but it certainly does make things easier when books are available for purchase online.
It seems that publishing is starting to make room for these small presses.
Yeah, especially from places other than Amazon.
Exactly, places other than Amazon. Like Doll Palace is for sale from Barnes and Noble. [Ed. note: If you want to buy indie, pick up Doll Palace from Itasca Books — he sells directly.]
You run the Sunday Salon reading series, right? How did that start?
A friend of mine from grad school who was actually in the nonfiction discipline, Nita Noveno, started the series after we graduated from the New School — 150 years ago! I think the series started in Morningside Heights and then we moved; a girlfriend of ours opened a bar in Williamsburg, almost Bushwick, and then the series moved to her bar and it was run by Nita and a woman named Caroline Berger.
What bar was it?
It was called Stain bar and it no longer exists. But it was a great wine, beer, arts bar and always had live music. She actually just put all of her archival stuff online. She moved to Sleepy Hollow and that's why the bar closed. It was a fun time, but when she left the series moved to Jimmy's and I started to help out.
I come home from those nights feeling really jazzed about words and the future of literature.
To run a monthly series for that long, it's exhausting. I'm so impressed that Nita has done this now for 12 years. I don't think she's taken a single month off in 12 years. She's amazing. And then I came aboard maybe four or five years ago to help out, and I'd say it's probably one of the most long-standing series in the city that's been uninterrupted. We're a very eclectic series, we like to welcome a mix of established and emerging writers. It's been really fun to be a part of that. It's always inspiring. I come home from those nights feeling really jazzed about words and the future of literature. It's exciting.
How do you find people to read for that series? Is it through friends of friends, or do you reach out to people online the way Dock Street found you?
It's a mix. The series has been around for so long that it books itself for the most part so people who have books coming out who want to be on tour reach out and people who have come through reach out. We've had people read at the series before they've had a book and then they return once they do have a book and then certainly both of us do our fair share of scouting. Nita is fantastic about going to readings and going to events. She's great about getting out into the community. I've got two little kids at home so I don't have nearly as much fun as she does, but I do my fair share of reading online and then I also do a lot of book reviews so I know someone who's coming out with a book, I'll reach out to [them].
Do you get nervous still when you give readings or are you used to it at this point?
Readings, I'm okay with. I hate speaking in front of people. There's a difference for me and part of it is funny. I had a horrible speech impediment when I was little. I couldn't pronounce by Rs and for a while I couldn't pronounce my Ls so I was Sawa Wippmann.
I couldn't pronounce by Rs and for a while I couldn't pronounce my Ls so I was Sawa Wippmann.
It's cute when you're four, but it's not cute when you're 12. And then also because I was so small, I looked so young and I spoke so immaturely perhaps, far into pre-adolescence. But that self-consciousness really fucked me up, or affected how I was in front of people on a stage. I still very much, and I just said this when I had the book party at BookCourt, I had to give a little spiel beforehand. And that part when you're speaking off the cuff and to a larger audience still makes me crazy. And I still feel like that 10-year-old girl who can't say her Rs. But once I'm reading a story of mine, that all falls away.
And I listen to all these people when we do the series. I feel like just by listening to so many readings over the years you get a sense of what works and what doesn't work. And of course humor works best. And my stories are so not funny.
But some of them are!
Thank you!
There are certain moments that are shocking and not quite absurd, because you're not going into surreal territory or anything like that. But there are these really surprising turns, that are so funny.
Thank you! I feel rather unfunny but, yes, I'm glad to hear that. I have a reading tomorrow night actually at Pete's Candy Store and I'm reading with someone who's fabulous and very funny.
Who?
Marie-Helene Bertino. She's smart as hell but also very funny. Anyway, so should I read that abortion story because that's really cheerful?
Ha!
Well, yeah we'll see. I taught for many years, so I did have a classroom, which is — again — still somehow different than having to give a talk in front of an audience. But I'm trying to grow up, trying to get over it.
Image: Robert Feig