15 Gifts for Hunger Games Fans, Starting With This Mellark Bakery Apron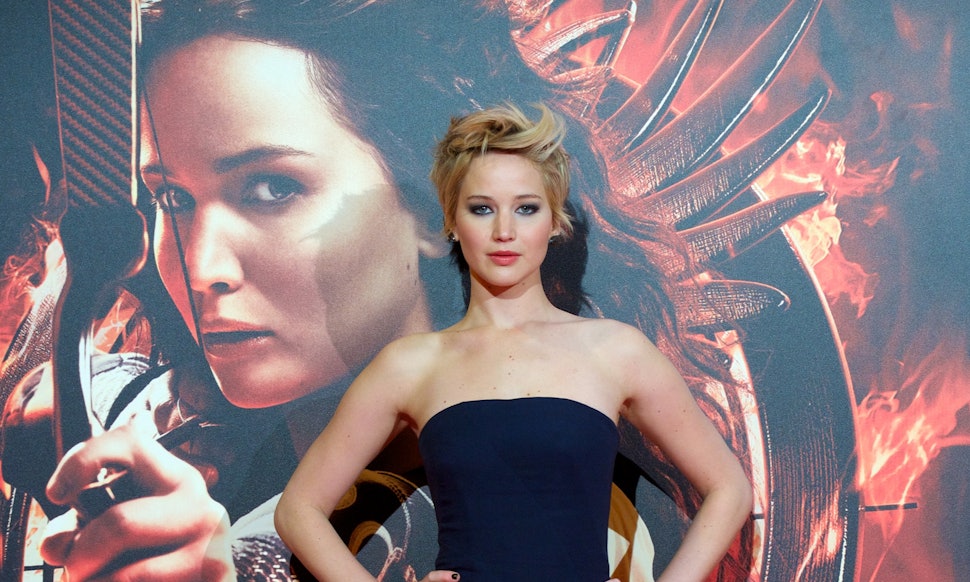 Carlos Alvarez/Getty Images Entertainment/Getty Images
Chances are your bestie is obsessed with The Hunger Games (who isn't?), so if you've exhausted all other gifting resources, look no further than this guide.
We've pulled together everything the Katniss wannabe in your life could possibly want. That jaw-droopingly fabulous hunting cowl Jennifer Lawrence wore in Catching Fire? Check! A subtle yet fierce arrow ring fit for a Mockingjay? Check! Now get shopping, and may the odds be ever in your favor.
Written by Ashleigh Schmitz
A Mellark Bakery Apron
Whatever do you get the Team Peeta baker in your life? Nothing except this Mellark bakery apron will do.
Mellark Bakery Apron, $24, CafePress
A Katniss-Inspired Scarf
Katniss Everdeen may be a bit boy dense, but The Hunger Games champ sure knows how to dress for the hunt.
The Huntress Cowl, $150, Etsy
A Mockingjay Necklace
The real reason Katniss was able to ignite a revolution in Panem was because of how fabulous her Mockingjay pin was during The Hunger Games. Give her a piece of jewelry that will inspire her next great accomplishment.
Silver HG Mockingjay Necklace, $25, Etsy
A Hunger Games Cookbook
Hunting game was only half the battle for Katniss and Gale, and the recipes in this cookbook will help your pal get the real District 12 foodie experience.
A Real (Board) Game
Study up! According to Haymitch you need more than hunting skills to stay alive.
A Collector's Edition
Sure, she already read the entire trilogy (a few times) on her e-reader, but this beautiful foil box set will look oh-so good on her bookshelf.
A Cheeky Tank
She'll workout like a YA hero in this tank because you both know it speaks the truth.
I Run Because… Hunger Games Tank, $27, lookhuman.com
A Parody Book
If your BFF loved the original trilogy (which, let's face it, if you're looking in this gallery for gifts, she totally did), then this hilarious book will leave her in a fit of giggles.
A Feminine Pocket Knife
She'll probably never be reaped, but just in case, this slim pocket knife will help her out of a million hairy situations. Whether she breaks a nail or needs to channel Katniss and hunt for her family (ok, that will probably never happen), this tool will help her out!
Victorinox Swiss Classic Edelweiss Pocket Knife, $16, Amazon
Non-Cliche Wall Art
This poster with the novel's full text is a must-have for true fans of the books (and movies).
The Hunger Games Full Book Text Poster, $26, Etsy
A Fashionable Arrow Scarf
This is the perfect gift for the fashionable fangirl in your life.
Hand Screen Printed Arrow Scarf, $32, Etsy
Sip in Style
May the odds be ever in her favor every morning she doesn't have coffee in this awesome mug.
A Puzzling Pastime
This should keep her busy until the final movie comes out next year. In case it doesn't, feel free to hide a couple pieces.
Catching Fire 1000-Piece Jigsaw Puzzle, $10, Amazon
A Beautiful Bauble
For the stylish fan who wants something subtle, give this dainty knuckle ring.
Arrow Ring in Sterling Silver, $20, Etsy
Girl On Fire Nail Art
Catching Fire is dangerous, but not when it's on her nails.