Paper Cuts Have Never Been So Chic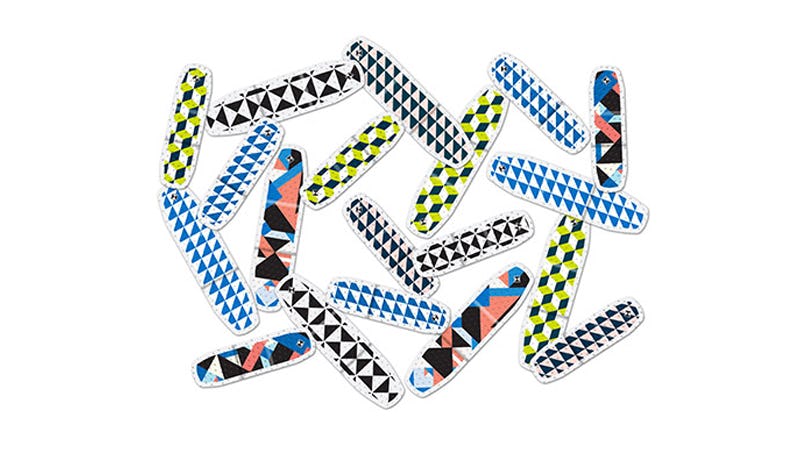 Well this is an unexpected collaboration. According to Allure, J. Crew has teamed up with Band-Aid for two sets of super cute bandages that will have you itching to get a paper cut. OK, so maybe not itching — but at least you can guarantee that a minor hand injury won't ruin your next outfit.
The preppy chic retailer is something of a collaboration master, having produced successful collections in partnership with the likes of Lulu Frost, Belstaff, and, most recently, Sophia Webster (the dreamiest holiday shoes you could possibly imagine). In short, J. Crew is no stranger to joint projects. This latest endeavor is equally as fabulous, if a little unconventional. Customers can choose (or not choose!) between too options: Band-Aid Bandages by J. Crew, with a selection of repetitive graphic patterns, and Band-Aid Bandages by Crewcuts (J. Crew's heart-meltingly adorable children's line), decorated with quirky cartoon graphics of hearts, lightening bolts, camo print, and more.
While the J. Crew set is a little more sophisticated, I'm partial to the Crewcuts designs, which, like child-size schoolboy blazers, are too precious to resist. Either way, I don't think you can go wrong. Plus, these would make amazing stocking stuffers for everyone on your list, from your ten year old niece to your still-totally-trendy grandmother. While you're at it, get a few boxes for yourself — wrapping presents leaves ones hands especially vulnerable to injury.
Band-Aid Bandages by J. Crew
Band-Aid Bandages by Crewcuts
Images: Band-Aid