Don't Say These 12 Things to Makeup-Free Women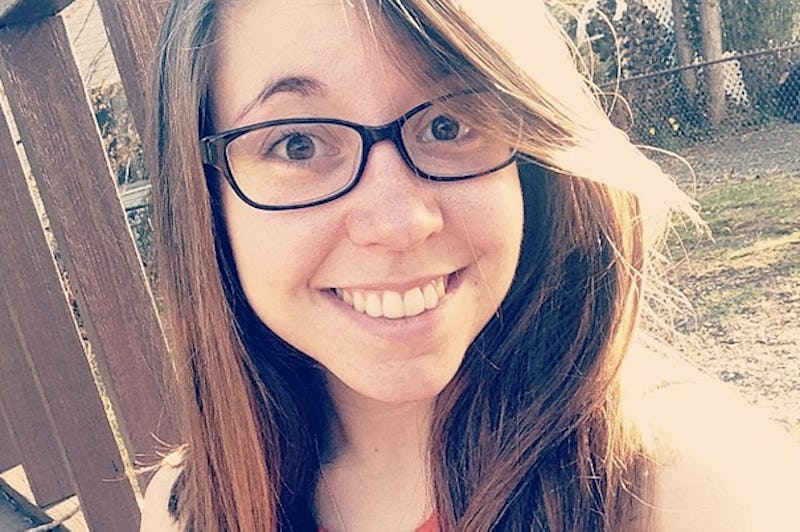 I've never really worn makeup. It just isn't my thing. Over the years, my relationship with makeup has changed from a strong loathing to a passive uncaring of the whole practice. It started when I was a kid: My best friend was having a makeup party, aka a "let's throw enough glitter on these 9-year-olds faces to make Boy George approve" party. (Fun fact: Boy George was almost crushed by a giant glitter ball once.) Anyway, I was so not into makeup yet. But in an effort to be a supportive friend, I let them tackle my hair with all the glitter and braids they wanted. I didn't entirely hate that.
From there, my interest of makeup never really grew any stronger. During high school I got really into nail polish, and would let all my cosmetics spending lean in that direction. I also did the school plays, which meant one of my friends, or even worse, one of the stage moms had to help me with my face. It was especially bad the spring I was cast as one of the Sharks in West Side Story. There were layers of bronzer (and minor racism) left on my face for days.
Throughout all this time, and still today, I've had to combat questions about why I don't wear makeup. It isn't really about being repulsed by the idea of lip gloss anymore. Now that I've grown up and seen some of my friends struggle with concealer-related insecurities, I'm glad I've never felt the need to jump head first into my nearest Ulta store. I know people wear makeup for all sorts of reasons (not just to cover up so-called flaws), but when I look in the mirror, I generally like what I see. So why is the fact that I don't wear makeup such a problem? Why should I spend hours creating the perfect cat eye? Do I really need to spend half my paycheck on makeup when instead I could buy a better brand of shampoo and awesome party dress? It's not that I don't care how I look — I do care. I just don't think I look any better with mascara.
To all you ladies that do enjoy toting around that heavy, heavy bag of cosmetics: I mean no disrespect. There are plenty of reasons to love makeup. As long as you love the way you look with and without it, we're good. But maybe, next time we chat, avoid mentioning these 12 things all of us makeup-free ladies are seriously sick of dealing with.
1. "BUT YOU WOULD LOOK SO CUTE WITH A LITTLE *INSERT MAKEUP ITEM HERE*!"
This one can be the most insulting of them all, depending on the speaker's intentions. My mind's instant response to this one is: "And I don't look cute now? Gee, thanks."
2. "YOUR EYES WOULD REALLY POP, YOU KNOW!"
My eyes already happen to be the size of two large orbiting planets, so I think I'm good. Also, I did know, because of the countless commercials and ads I've had to sit through my whole life because of your cosmetic fetish. I understand how makeup works, you know.
3. "DID YOU JUST NEVER LEARN HOW TO? THAT'S SO SAD!"
My mother would have been perfectly willing to teach me at any point in my life. Same goes for my friends. It's not like learning to ride a bike, people. Most girls learn from YouTube tutorials nowadays anyway.
4. "MAKEUP ENHANCES A WOMAN'S NATURAL BEAUTY."
But what if I already love my natural beauty? Why enhance it? Especially since this "enhancing" costs tons of money, and only truly enhances your beauty after years of learning what works best for you. I'm pretty happy I avoided the dark, thick eyeliner phase everyone else went through in high school. That didn't do much of this "enhancing" you speak of.
5. "BUT REALLY, WHY DON'T YOU USE IT?"
Because I don't want to! Leave me alone. The answer probably isn't changing.
6. "I COULDN'T LIVE WITHOUT MY ______; I DON'T KNOW HOW YOU DO IT!"
I'm sorry you feel that way. I couldn't live without my hairbrush or toothpaste. It's not that I don't take care of myself too, just not in that way.
7. "IT'LL MAKE YOU LOOK EXTRA NICE! I BET [YOUR S.O.'S NAME] WOULD LIKE IT!"
I happen to have a ridiculous amount of experience with this one, and no, my boyfriend probably wouldn't like it. If someone asked me out because they liked the way that I looked, why should I mess with that and be something I'm not? Also, my long-term boyfriend loves the fact that I don't wear makeup. Like, he is extremely relieved that I'm so low-maintenance about it and tells me I'm beautiful all the time. So there.
8. "I'LL DO YOUR MAKEUP. IT WON'T EVEN LOOK LIKE YOU'RE WEARING ANY, I PROMISE!"
So then what's even the point? I'm sure my pillow would know if I tried to fall asleep without washing it all off.
9. "IS IT SOME SORT OF STATEMENT?"
No, this is not my feminist rant about how women are being controlled by the makeup industry and no one should tell you how to be beautiful. However, I do think women should love the way they look without makeup, even if they still wear it from time to time.
10. "SO DO YOU THINK I'M PATHETIC FOR BEING A SLAVE TO MY MAKEUP?"
No. Seriously, what? If you like makeup, that's fine. I don't. I like pizza. Does that make me a pathetic slave to Papa John's? (Honestly, I'd be OK with that.)
11. "WHAT ARE YOU GOING TO DO WHEN YOU GET MARRIED?"
Probably swipe on the smallest amount of mascara possible, and carry on. Don't you think the husband-to-be would be a little surprised if I stepped up to the altar with a completely different face?
12. "WHAT WILL YOU DO IF YOU HAVE A DAUGHTER WHO WANTS TO LEARN HOW TO WEAR MAKEUP?"
Then I would be perfectly happy to share the little knowledge I've attained through my years of being a woman, and would encourage her to learn about makeup from her friends, or the Internet. Whatever. The most important thing for me is that she knows that she's beautiful without makeup, and should love the face she's been given.
Images: @emillyymaas/Instagram; Giphy (12)