John Gotti Agnello Really Is Grown Up Now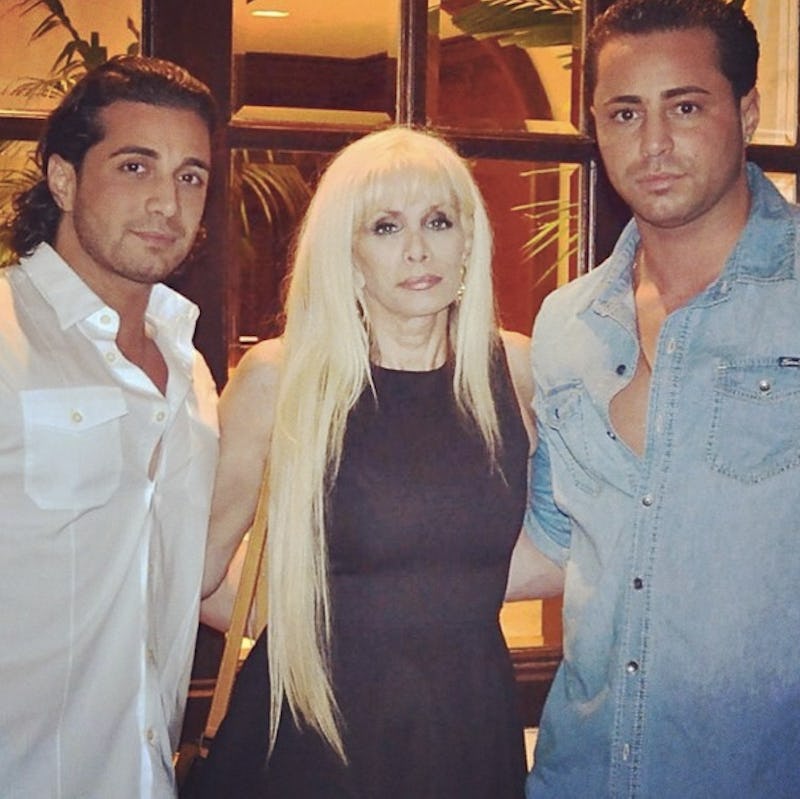 Ten years ago, A&E gave us a unique look at the family of the late mob boss John Gotti in the reality series Growing Up Gotti, because it doesn't get more real than following the family of a crime kingpin, does it? The show followed Gotti's daughter Victoria, along with her three sons with Carmine Agnello, who were teens and dubbed the "hottie Gottis" as the 41 episodes of the show aired. But that only lasted from 2004 to 2005. Now in 2014, A&E plans to revisit the infamous family in a one-hour retrospective called Growing Up Gotti: 10 Years Later , airing Monday night. The "hottie Gotti" boys are all grown up — and John Gotti Agnello is engaged to a woman named Alina.
On the show, the middle son of Victoria Gotti was a barely legal teenager known as "Mr. Charismatic" and a lover of hair gel and expensive designer threads. Today, he's a college-educated 27-year-old with a little less hair gel and a lot more business sense. He's also engaged to the previously mentioned Alina. So, who's the woman who stole Mr. Charismatic's heart and when's the wedding?
They Met Right Before College
In a recent Radar interview with Victoria Gotti, she revealed that John and Alina (we don't know her last name) met before they went off to university and sustained a relationship — more or less — throughout the past 10 years. That means he and Alina may have met either during or after Growing Up Gotti was airing.
"They met just before college and kind of saw each other through all of the academic years and they were always good for each other," Victoria told Radar.
All About Alina
Here's what we know about the soon-to-be new addition to the Gotti clan. According to the bio under her private Instagram @alinacakes, she's training to be a physician assistant and she's proud to be the "Future Mrs Agnello." A physician assistant (PA) is a state-licensed medical professional that works in medical centers and has the ability to write prescriptions.
And Victoria definitely approves of Agnello's lady love. "He is marrying a beautiful, beautiful girl," she told Radar. "I couldn't be happier. As a parent you just want your child to bring home someone that you know loves them and that you know is going to make them happy."
Victoria is Helping With the Wedding
The big day is coming up less than a year from now, set for Sept. 25, 2015, but the planning is definitely underway — and Victoria is helping out.
"It's so hectic. What we perceive as little details become major decisions," she told Radar. "So, it's hard because I think of these things as tedious and not that important in the grand scheme of things, but then again, I think back to when I was the bride-to-be and I realize that they were so important. So, I give that leeway."
Image: jgotti_agnello/Instagram