Peek Inside the Real Castle From "Blank Space"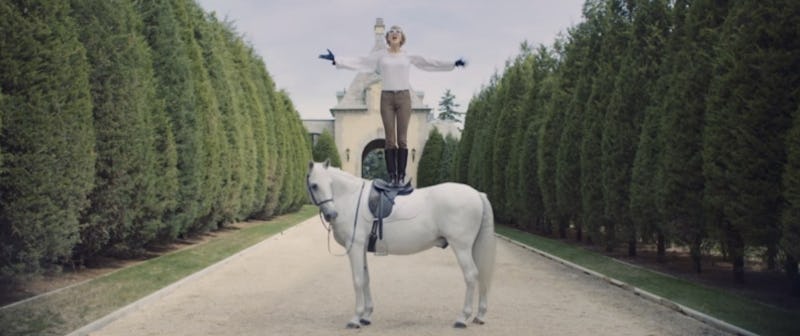 Update: Swift has released the music video officially to her Vevo as of early Monday afternoon.
It doesn't need to be said, but I'll say it anyway, Taylor Swift nailed the "Blank Space" video. On Monday, Yahoo accidentally released "Blank Space" online, before the intended release of the video, causing a lot of confusion, but even more conversation. We weren't supposed to see it, but because we did see it, we can't not talk about it, right? I mean, Swift goes a little cray cray over a hot guy in a beautiful mansion with her adorable kitten Olivia Benson by her side. How can we not talk about that? And if you're wondering where Swift's beautiful castle is, you're in luck, because you can actually visit and/or stay the night in it, if you wish. "Blank Space" was filmed in Oheka Castle, which is located in Huntington, New York in Long Island.
And needless to say, this place is beautiful. It's luxurious, it's sprawling, it has like a million gardens; it is everything crazy Taylor Swift deserves in her music video. Swift isn't the first person to use Oheka Castle as a venue though. Kevin Jonas — the "Oh yeah, him" Jonas — and his wife Danielle got married at Oheka Castle in 2009. The castle has also been host to movies like Citizen Kane, What Happens In Vegas, shows like Royal Pains, and commercials for Victoria's Secret (obviously).
Here's a look inside Oheka Castle and all of it's T Swift glory.
The Courtyard
Where it all begins (and ends, because I'm pretty sure she kills the guy at the end, right?).
That Stairwell
She can show you incredible things as she walks so elegantly down the staircase.
The Formal Garden
Note: Sean O'Pry — Swift's man in the video — does not come with the castle, nor do the dogs.
The Bicycling Room
She uses the library as a bicycling room, because Taylor Swift can do that.
The Garden Phone Drop
If you're going to lose your phone to water damage, at least let it be somewhere beautiful like this.
Throwing burning clothes off a balcony
Those shirts never stood a chance.
You can look at the entire gallery of photos at Oheka Castle's website and you can check out the video below.
Images: Vimeo (7); Oheka Castle (6)