10 Female WWI Heroes You've Never Heard Of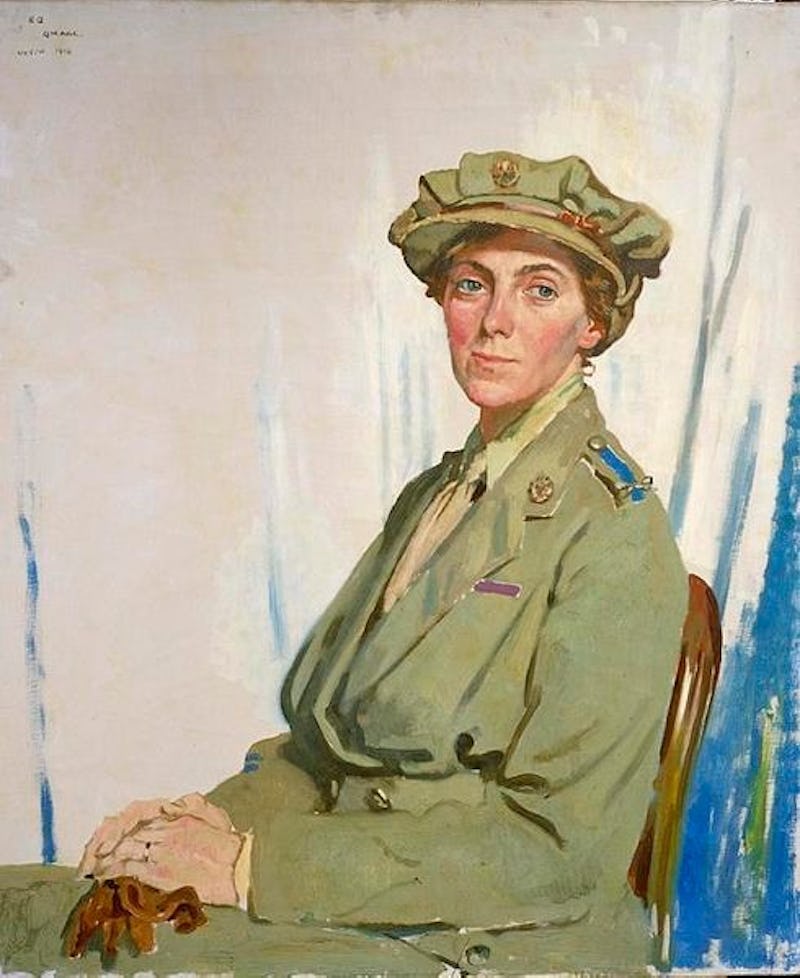 This Veterans Day, on the 100th anniversary of the Great War, spare a few minutes' thought for the many women who played a role in WWI — not only the wives, mothers, and daughters of combatants, but some very fierce ladies who went out and became war heroes on their own terms. These remarkable women battled prejudice as well as enemy soldiers for their place in history. After all, in 1914, the place of the woman was still firmly in the home, keeping the fires burning while waiting for the return (or not) of male soldiers. But these women got out, buckled up, and served their country.
Why don't we talk more about the Great War's heroines? It's not because what they did was less than heroic — there are some feats in here that may turn your stomach as well as bring a tear to your eye. It's because after the War To End All Wars, many of the female heroes, particularly those who'd done traditional "male" work like soldiering, got short shrift from their societies. As professor Alison Fell writes, "Women who had taken on men's roles during the war were subject to suspicion and sometimes to ridicule in peacetime." History let them fade to the background, and there, to some extent, they still stay.
Active duty for female soldiers is still a sore topic in America; in 2013, according to the Pentagon, only 2.9 percent of front-line soldiers were female, and they were banned entirely from infantry duty. Perhaps looking back at the powerful military women in the world's first brutally global conflict will change our perspective on what it means to be a woman who fights in 2014 and beyond.
Here are 10 World War I heroines you may never have heard of. Remember their names today.
Edith Cavell
If you've heard of Cavell, it might be because of her famous pronouncement about war: "Patriotism is not enough. I must have no hatred or bitterness towards anybody." But her story is one of the most famous of any to come out of the World War. A British nurse who ran a Belgian clinic, she saved many lives on both sides. She also managed to smuggle nearly 200 British, French, and Belgian soldiers and military-age men out of Belgium, which was occupied by the Germans.
When the plot was discovered, Cavell was put on trial by the German government and executed, despite worldwide outrage. Her death caused shock waves, helped a surge in British recruitment, and made her a martyr: Edith Piaf was named after her.
Lenah Higbee
Lenah Higbee was the first female recipient of the navy's highest honor, the Navy Cross. A New Yorker, she founded the U.S. Navy Nurse Corps with 19 other nurses in 1908. The nurses would become known as the Sacred Twenty, the first nurses ever to serve in the U.S. Navy. (The navy was a bit wary of them at first; they thought that they might distract the male patients.)
Higbee was the group's Chief Nurse, and she and the other nurses travelled to theatres of war around the world, from Guam to the Philippines, administering health care and training local nurses. The Navy named a warship, the USS Higbee, after her in 1945, the first combat warship to be named after a female Navy member.
(Higbee was impressive, but her fellow nurse in the Sacred Twenty, Esther Hasson, was pretty hardcore too; she lost an arm in 1917, couldn't sew it back on, and kept doing surgeries one-handed.)
Julia C. Stimson
Stimson was a military nurse too, but she went for the Army instead. She was also unstoppable: Born in Missouri, she volunteered for service in 1917, rapidly became superintendent of the entire American Army Nurse Corps in Europe, and was the first woman ever to become a Major in the U.S. Army.
Unbelievably, even though she'd won basically every other medal under the sun (the Distinguished Service Medal, the Royal Red Cross, and the World War I Victory Medal) and had every right to nurse in peace and quiet, when World War II broke out she immediately came out of retirement to recruit nurses for the Allies. Cue a World War II Victory Medal, and a promotion to Colonel in 1948, shortly before she died.
Flora Sandes
Flora Sandes was the only British woman to officially serve as a soldier in the trenches during World War I. How she got there is testament to a very determined character. A St John's Ambulance volunteer who'd once shot a man in self-defence, she went to Serbia to serve as a nurse; but when she was separated from her colleagues, she promptly joined the Serbian army as a soldier instead.
This was, for a 40-year-old British woman and the daughter of a clergyman, completely unthinkable — but Sandes did it anyway. Not only that, she fought alongside men (the Serbian army accepted women) so well that she became a sergeant-major. She was wounded by a grenade in the line of fire, and the Serbian Military gave her their highest honour, the Order of the Karadorde's Star.
Dame Helen Charlotte Isabella Gwynne-Vaughan
Even if Dame Gwynne-Vaughan hadn't gone to war, she'd still be worthy of our attention for her contribution to botany: she was a pioneer in the study of fungi genetics. Aside from poking mushrooms (and being named the head of the University of London's Botany Department in 1909, staggeringly enough), she was brought in to lead the Woman's Army Auxiliary Corps in 1917.
The British aristocrat found herself at the head of a force that reached nearly 10,000 women across France, from nurses to aircraft technicians, and in 1918, she became the head of the Women's Air Force. She stepped up to the plate again in 1939, but unfortunately, her autocratic ways (and tendency to want to promote people because they were "from good families" rather than actually good soldiers) meant that, after a year, she was quietly fired, and went back to fungus.
Dr. Elsie Inglis
Elsie Inglis was famously told by a Royal Army Medical Corps officer, when she proposed the first-ever female-run war hospitals at the beginning of the Great War, "My good lady, go home and sit still." Fortunately, Dr. Inglis had no intention of doing anything of the sort.
Inglis, who was also an active suffragist (and quite possibly a lesbian, according to one biographer), didn't give up after the Royal Army Corps' rejection of her idea. She just asked the French the same thing. The French were a bit brighter and said yes, and the indomitable Inglis set off for France immediately to set up hospitals. Later, she headed to Serbia, where she focussed on curing typhus and maintaining a high standard of care in military hospitals — not an easy thing in those terrible trenches.
She was captured briefly, but U.S. diplomats managed to secure her release — only for her to head off to Odessa to set up a Russian arm of the women's medical corps. She died of cancer in 1917, but not before being awarded the Order Of The White Eagle by the Prince of Serbia.
Louise Thuliez
Thuliez was a French counterpart to Edith Cavell, helped her with her plots, and was tried on the same occasion, only narrowly escaping execution through the intervention of the Pope and the King of Spain (yes, really). Her survival is amazing, considering that she was one of the most prominent resistance figures in France during the war.
She organized an escape route in occupied France to the Netherlands and Britain, and with the help of various accomplices, smuggled over 170 people out. She decided to travel to Brussels, where Cavell was located, and it was there, in an apartment filled with copies of resistance newspapers, that she was arrested and put on trial. Whether she wore her signature monocle to the trial remains unclear.
Marthe Cnockaert
Cnockaert was one of the most influential female spies of the World War. Born in Belgium, she earned an Iron Cross from the Germans for her work in a military hospital in her village when they invaded her town. Soon, though, she was working as a spy for the British, passing on information to the allies (and, for a short time, pretending to be a double agent to get the Germans off her trail).
It all ended when she left her engraved watch behind when laying explosives under an ammunition store. She was caught, tried and sentenced to death, but instead got seven years in a prison in Ghent before the end of the war meant her release. Always ahead of her time, she went on to write a best-selling memoir, entitled I Was A Spy !
Maria Bochkareva
Bochkareva was the leader of the Russian Battalion of Death, a woman-only group of 300 soldiers who fought on the Russian Western Front. Bochkareva herself had obtained Tsar Nicholas II's special permission to join the army, and earned three medals of distinction for bravery under fire. She led the Battalion of Death in one major battle, but was wounded, effectively ending her military career.
After the Revolution, she narrowly escaped execution and fled to the U.S. — but she decided not to stay away, and was recaptured when she went back to Russia. She was executed by the Bolsheviks in 1920.
Evelina Haverfield
Evelina Haverfield was a suffragette — but she was also a prominent nurse, and devoted much of her life to helping those who were injured and suffering on the Serbian front. The daughter of a Scottish Baron, the upper-class Haverfield joined the suffragette cause in London and was arrested three times, once for hitting a policeman. When war broke out, though, Haverfield founded the Women's Emergency Corps to help the war effort in England, and promptly left for Serbia to help Elsie Inglis at her war hospital.
Haverfield's devotion to the Serbian front lasted long after the war. She and Flora Sandes started an organization to give relief to the Serbian people, and she returned to Serbian territory after hostilities ended to found an orphanage for Serbian war orphans. She died there in 1920 of pneumonia.
Images: Wikimedia Commons.