'The Santa Clause': Where Are They Now?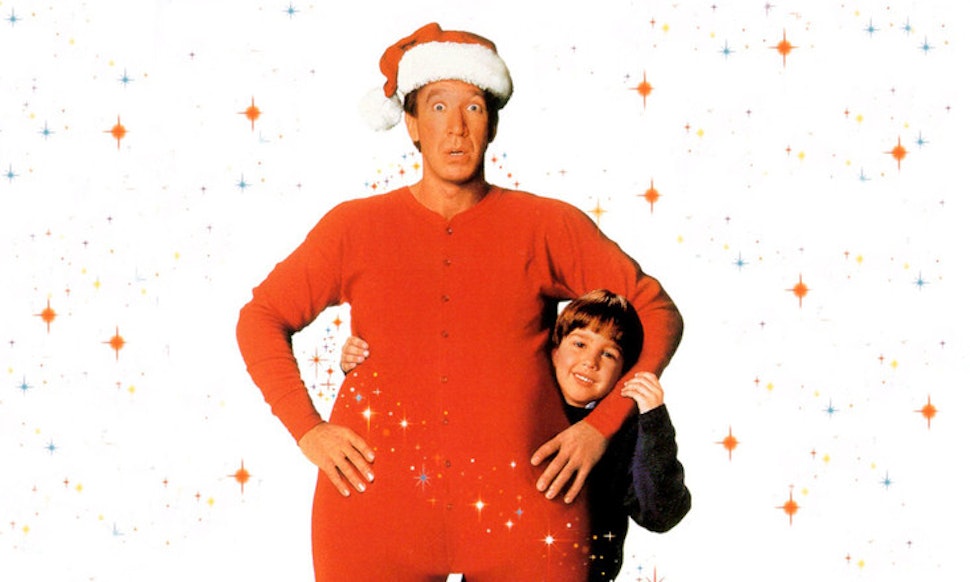 Ready to feel absolutely ancient? The Santa Clause, that Christmas classic that probably helped define your childhood, turns 20 this year. People who were infants when that movie came out are drinking legally now. People who were born four years AFTER that movie came out are driving legally now. It's old. You're old. #Nostalgia
But what is the movie's cast up to these days? Twenty years is a long time. Charlie "Plain Milk's Fine" Calvin is almost 30 now. And the elves - THINK OF THE ELVES. What's Original Judy up to now (sorry, fake, replacement sequels Judy, you tried, but you just couldn't live up)? Don't worry, I'll save you the Wikipedia wormhole that is looking all of this up for yourself. Just click through the slideshow for where everyone is in good old 2014.
Image: Walt Disney Pictures
Tim Allen - Then
In 1994, Tim Allen was on top of the world. He was the star of the hugely-popular sitcom Home Improvement and he became a bona fide movie star with The Santa Clause. In fact, for one week that year, Allen was literally the best at everything. His TV show was the top-rated show on TV, his book topped the New York Times best-seller list and The Santa Clause completed his trifecta of awesomeness by being the high-grossing movie of the week. Not too shabby, Tim.
Image: Walt Disney Pictures
Tim Allen - Now
These days, Tim Allen is still doing pretty well for himself. His current show, Last Man Standing, is in its fourth season and he's set to reprise his role as the voice of Buzz Lightyear in Toy Story 4. So, you know, still not too shabby, Tim.
Eric Lloyd - Then
In 1994, Eric Lloyd had it made with his role as Charlie Calvin AKA Santa Claus' son. He was cute and you liked him when you were a kid because you wanted to hang out with him and then maybe he would take you to visit the North Pole someday. He was skilled at making the most mundane things seem tragic ("PLAIN MILK'S FINE"), so he was perfect as the super-sensitive, never-stop-believing-in-the-magic-of-Christmas Charlie.
Image: Walt Disney Pictures
Eric Lloyd - Now
Eric Lloyd came back for both of the Santa Clause sequels, but he hasn't had a ton of other gigs since puberty hit (seriously, the only thing is a movie called ChromeSkull: Laid to Rest 2 from 2011). He did go to college (Chapman University), get married (aww!) and perform in a band for a while (the now-defunct and pretentiously-named Conflict Conveyed Through Audio). Here's a picture of him rocking out. He looks a little like Josh Peck now, which is an interesting turn of events.
Image: showbizgeek.com
David Krumholtz - Then
In 1994,
David Krumholtz was a familiar face as far as child actors go. He had early-90s roles in movies like Life With Mikey and Addam's Family Values and, a few years after The Santa Clause,
he cemented his place in your preteen/teenage heart with a part in 10 Things I Hate About You. He made an early career out of playing geeks and preciously mature characters.
Image: Walt Disney Pictures
David Krumholtz - Now
As an adult, Krumholtz continued to make a career out of playing geeks. Today, he's probably best known for his role as Charlies Eppes in Numbers, which aired for five seasons on CBS. He also does a ton of guest spots on TV and it wouldn't be shocking to see him in another leading role in the future. He took a little break in 2011 when he was diagnosed with thyroid cancer, but as of January 2012, he's been cancer free.
Judge Reinhold - Then
Judge Reinhold already had a long career by the time he appeared in The Santa Clause in 1994, but his role as Charlie's super shrink stepdad/Weenie Whistle enthusiast Neil endeared him to a whole new generation.
Image: Walt Disney Pictures
Judge Reinhold - Now
Reinhold has kept busy since The Santa Clause (he also appeared in both of the sequels), but his biggest project on the horizon is Beverly Hills Cop 4, in which he'll reprise his role as William Rosewood.
Wendy Crewson - Then
Wendy Crewson played Scott Calvin's ex, Laura, in The Santa Clause. Being Santa's ex-wife isn't easy, but Wendy managed to pull off the role with some empathy, instead of just being a caricature. I, for one, thought she had been recast in the sequels, but no, IMDb confirms that Crewson played Laura in all three Santa Clause movies.
Image: Walt Disney Pictures
Wendy Crewson - Now
Crewson has stayed busy, taking on roles in blockbusters like The Vow and hit shows like ABC's soapy drama Revenge. She got a real life divorce in 2009, which is definitely sad, but just in case life imitates art, we should all maybe start a watch on her ex, you know, just to see if he falls off an roofs and then puts on inexplicable weight.
Paige Tamada - Then
ORIGINAL JUDY. I loved Judy the Elf (with her special hot cocoa recipe - shaken, not stirred) when I was a kid and even though I knew it would have to happen (she wasn't really a timeless elf), I was pretty bummed when she was recast in The Santa Clause 2.
Image: Walt Disney Pictures
Paige Tamada - Now
According to an IMDb thread of questionable authenticity, Tamada (who turns 30 in January) attended Berkeley. She hasn't acted since 1999, after a turn as "Girlfriend #2" on an episode of Ally McBeal. I wasn't able to find a current picture of her (the saddest news - PAIGE, IF YOU'RE OUT THERE, PLEASE LET US KNOW HOW YOU ARE!), so here's another shot of her being amazing in The Santa Clause. We could also assume she really is a timeless elf and still looks like this.
Image: Walt Disney Pictures