Janel and Val Gave the Fans What They Wanted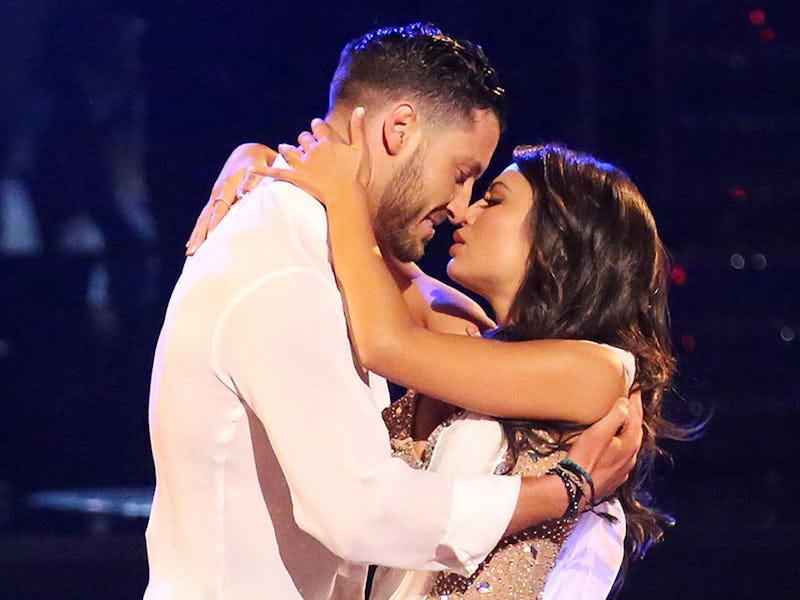 After a perfect score last week, the pressure was on for Team Janelskiy. But they rose to the occasion on Monday's Dancing With the Stars. Plus, Janel Parrish and Val Chmerovskiy finally kissed! Of course, they didn't kiss entirely of their own will. This week was fan choice which meant that the DWTS viewers got to pick everything from the style of dance, to the song, to the ending of the number. Three guesses what Janelskiy fans wanted to see? That's right, a kiss.
The should-be couple has almost kissed 21 times in their on-stage numbers, but never on the lips. This week changed everything, though, because fan votes poured in to end the dance with a liplock, and Janel and Val were plenty game. (They really, really need to date.) The whole dance was pretty romantic for the pair. They performed a quickstep to "Hey Boy! Hey Girl!" by Louis Prima and Keely Smith which is an upbeat ditty from 1959 about a couple madly in love. Add in the smooch in the end and it was perfect.
It would have been easy for Janel and Val to tease the fans with a quick peck, but they really went for it!
Val got so caught up in the moment he didn't even notice that he left Janel on the floor after their grand dip. But that didn't count against them and they scored an impressive 38/40. So yes, the fans may have picked the kiss moment, but Janel and Val delivered above and beyond. Now we just wait for them to kiss all on their own.
Image: ABC