Taylor Swift Now Has Her Own iPhone Game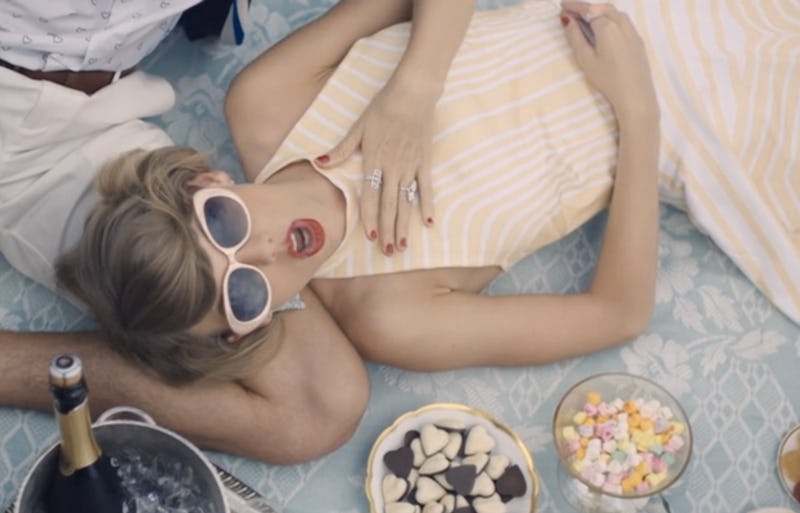 I would like to go on record as stating that I knew Taylor Swift had way more in store for us than just officially posting an already leaked music video for "Blank Space." Of course, I guessed that the bonus surprise would be more behind the scenes videos, such as done after "Shake It Off", but I've never been happier to be incorrect. On Tuesday morning, Swift announced the launch of a "Blank Space" app that allows fans to play the music video as if it is a video game — so think Kim Kardashian: Hollywood Meets Clue. Or perhaps Kim Kardashian: Hollywood meets Fatal Attraction?
The app follows the story of the music video, but, according to Mashable, it "lets fans dive deeper into Swift's fictitious world in which she transforms into a jealous lover who violently chases her fearful boyfriend away." All you have to do is tap your screen and/or move your smartphone in any direction and suddenly you can explore the mansion, stalk other characters, pick up objects, and gain insights into the plot behind "Blank Space" — such as what exactly set Swift off on her lover played by model Sean O'Pry. The American Express Unstaged Taylor Swift Blank Space Experience App is free and was created by the same man who directed the music video, Joseph Kahn.
Apparently, there are 41 objects to be collected within the game and users will be able to interact with one another and share items on social media to help find and collect them all. Apparently, it's easy to navigate and play and follows the cohesive plot of the story. Apparently, Taylor Swift has a video game out, you guys, so why do I even need to explain to you why you need to be downloading it right now? I felt like the only person in the world who wasn't playing Kim Kardashian: Hollywood, so the American Express Unstaged Taylor Swift Blank Space Experience App is right up my alley — even though it really needs a shorter name.
However, if you still need more reasons to download the app before you've even finished reading this article, there's also the fact that it comes with bonus behind the scenes videos and pictures. You know, the exact ones I was hoping Swift would release from "Blank Space". So if you want to see Swift being Swift when the cameras aren't rolling — so to speak — then it's in your best interest to get the app. Or you could watch this behind the scenes video released by American Express in which Swift explains her inspiration for both the music video and the app. Or, you know, do both.
Image: YouTube (2)