How To Do Thanksgiving On A College Budget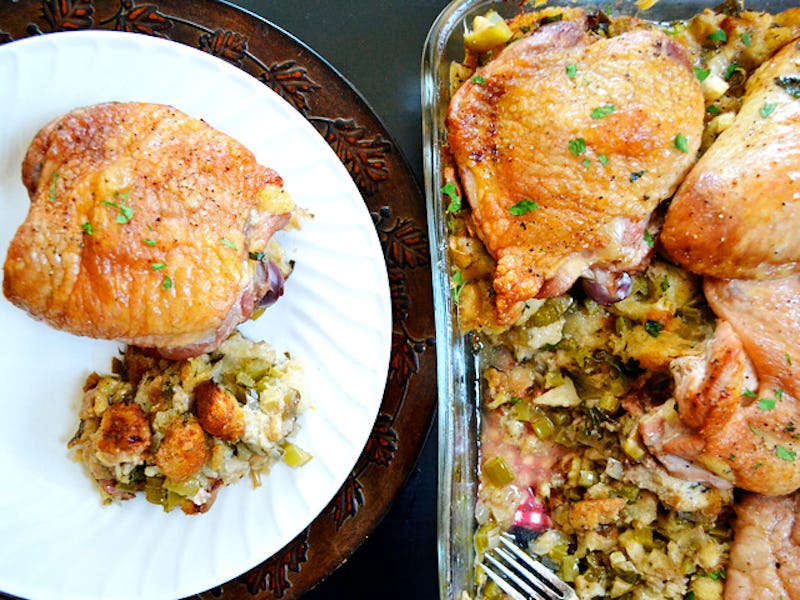 Thanksgiving is typically a feast prepared by your family, but sometimes heading home for the holidays just isn't possible. But that doesn't mean your turkey day has to be a total bust. You can still entertain some pals even if you're stuck in your dorm room or college apartment — thanks to our eight-course menu of budget friendly Thanksgiving recipes that will blow everyone's minds. From the appetizer to dessert, we've got you covered.
The first — and most controversial — part of a Thanksgiving on the cheap is nixing the full turkey. For one, you probably don't have room to cook a whole bird in your small, communal kitchen, and it's also an actual beast to handle. Instead, go for pre-cut pieces of turkey you can easily pop in the oven, or if that's not feasible, just buy a few rotisserie chickens — most grocery stores will even cut them up for you. All of the sides you're about to make are homemade to offset your guilt about buying your main dish pre-cooked, but even if you just dress up some boxed side dishes, don't feel ashamed. Thanksgiving is complicated!
Even if you're not still in school, this is the perfect inexpensive menu that can be as no-frills or as fancy as you want. These easy dishes can also be prepared a day or two in advance, and reheated just before your guests arrive, which is particularly helpful when you have a small kitchen. And feel free to split the work up with your friends, dividing and conquering the whole menu, one dish at a time.
1. Spinach-Artichoke Dip
Keeping hunger at bay is important during the hustle and bustle of making Thanksgiving dinner. This spinach-artichoke dip from Closet Cooking will do the trick, keeping you and your friends patient while everything is cooked and assembled. All you need for this recipe is some frozen spinach, a can of artichoke hearts, and a whole lot of cream cheese. Add some shredded cheese on top, and you're good to go.
2. No-Kneed Make-Ahead Rolls With Honey Butter
This is something you can easily make a day or two ahead without any big, fancy equipment. If you're a new cook who is afraid of baking, Averie Cooks' no-kneed, make-ahead rolls with honey butter look much more difficult than they actually are. With that being said, don't feel guilty for buying a can of Crescent Rolls, or hitting the local bakery for some bread instead.
3. Turkey and Stuffing Casserole
Take the easy (but delicious) road with Budget Bytes' turkey and stuffing casserole. I make this year-round, but it's great for an easy Thanksgiving dinner with no actual stuffing into a bird required. Everything cooks at the same time, the skin is insanely crispy, and the stuffing is way better than anything you'll find boxed. You can choose all white meat, all dark meat, or a mix. And if you can't get turkey cut up, feel free to substitute chicken. You can also always dress up boxed stuffing with chopped celery, onions, carrots, and turkey or chicken stock if you end up buying a rotisserie chicken.
4. Homemade Gravy
No matter what kind of poultry you end up using, this easy homemade gravy from The Kitchn will make it taste extra delicious. Whether you roast your own turkey or buy a rotisserie chicken, add some of the juices from the bird to flour and broth, and get ready for an extra punch of flavor.
5. Buttermilk Mashed Potatoes
You can always just throw some whole potatoes in the oven, but a slightly fancier (and almost as easy) option is these buttermilk mashed potatoes from Food Fanatic. If you don't have buttermilk handy, an easy trick is to add a tablespoon of white vinegar or lemon juice to a cup of regular milk to make your own. Just let it stand for 5-10 minutes.
6. Green Bean and Bacon Bundles
Here's one dish your mother would be proud of and your stomach will thank you for later. Try How Sweet It Is' green bean and bacon bundles. Bacon does make everything better, and look how cute they are!
7. Scratch-Made Cranberry Sauce
Sure, the canned stuff is a classic, but if you want to be a little more fancy, try The Comfort of Cooking's cranberry sauce. It has a hint of orange zest that will make your guests ooh and ahh. Plus, you can whip this up with just a cup of sugar and a package of frozen cranberries. Doesn't get any easier than that!
8. Pumpkin Doughnut Muffins
Go the non-traditional dessert route with these pumpkin doughnut muffins from Brown-Eyed Baker. They're a cinch to whip up and look decadent, but they're really just cupcakes rolled in cinnamon sugar. If you don't have time to bake these, you can always buy an apple or pumpkin pie at the grocery store — shh, no one will know!
Images: Closet Cooking; Averie Cooks; Budget Bytes; The Kitchn; Food Fanatic; How Sweet It Is; Comfort of Cooking; Brown-Eyed Baker