Why the 'Destiny Fulfilled' Album Cover Is Insane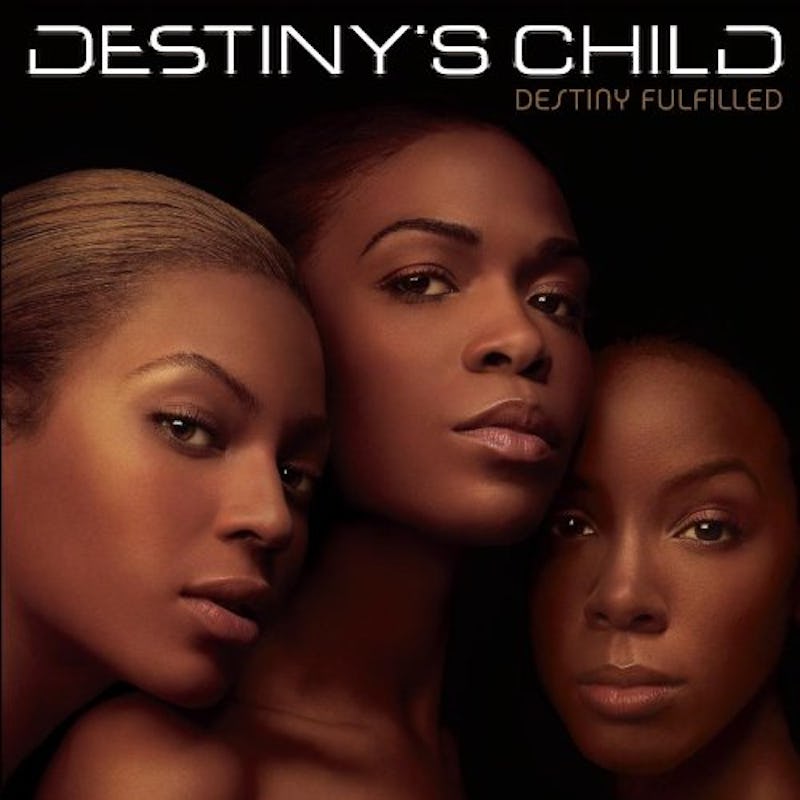 Being a Destiny's Child fan has a way of making a girl feel old. I mean, it's already been 10 years since Beyoncé, Kelly and Michelle agreed that their joint musical destinies were finally fulfilled. Unbeknownst to the public at the time, after the girls privately decided that a parting of the ways was in order, they headed to the studio to record the appropriately titled Destiny Fulfilled, an 11-track release that would be their final as a chart-topping trio.
On par with pretty much everything else Destiny's Child released during their reign throughout the 2000s, the music from Destiny Fulfilled was and still is pretty solid. It features the typical DC3 female empowerment jams like "Girl," along with plenty of sexy tunes like "Lose My Breath" and "Cater 2 U" to let the fellas know that they weren't too independent for romance—that is, if the guy could keep up. The music was basically DC3 business as usual, and an overall great way to end an era.
But...about that album cover. Sure it's a decade later, but there are still enough wonky elements about Destiny's Fulfilled that strike me as a little bit off (read: downright insane), as far as DC album covers go. For someone who doesn't know their Destiny's Child history (shame on you!) it may appear to be a normal album cover, but it's totally not.
Here are five insane things about the Destiny Fulfilled cover:
Michelle is in the middle
For many die-hard DC3 fans, the fact that Beyoncé isn't at the center of this photo probably feels like DC3 insanity at its finest. However, I'm pretty sure it was Beyoncé and Kelly's not-so-subtle way of thanking Michelle for keeping them from whittling down to a duo.
The solid black background
In hindsight, the blacked-out backdrop came off as an ominous sign that the end of DC3 was near. Despite the writing on the wall, we were all completely shocked when Kelly randomly announced DC3's breakup during a performance.
There are no coordinated outfits
LIKE, WTF MAN?!? This was so insane and totally NOT cool. Sure, they were all fulfilled and unified, but um...what's a Destiny's Child album cover without those terrible, coordinated looks?!
They all sport the same hairstyles
Within the rulebook for girl groups who've experienced the slightest inkling of success, there must be a decree that declares this style faux pas unacceptable, even for Destiny's Child.
Beyoncé's the only who doesn't really look sad...
...but Michelle and Kelly sure do. Meanwhile, Queen Bey's expression displays a hint of optimism. Seeing as how she's Beyoncé and all, I can totally understand why.
Images: Giphy (5)