Cara Delevingne Compliments Taylor Swift's Brows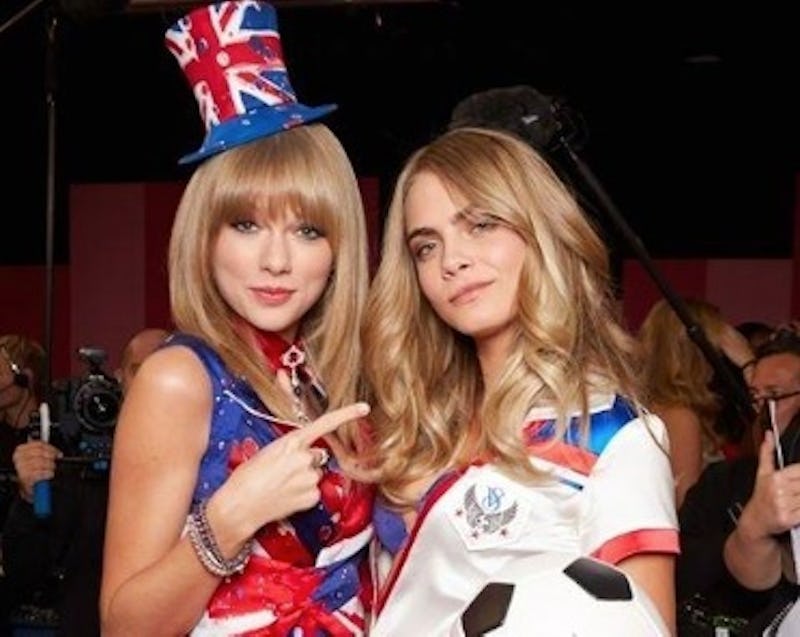 You already know that we're loving Taylor Swift's cover for Wonderland Magazine, and as it turns out, so does supermodel Cara Delevingne. She took to Instagram to pay tribute to T. Swift's newest shoot, and she pointed out one particular feature — her eyebrows. What else?
The Brow Queen herself captioned the photo, "Loving the strong eyebrow game @taylorswift @wonderlandmag #whereistheeyebrowemoji." Pause. Let's take a moment to discuss this hashtag real quick. Where is the eyebrow emoji? Because I'm pretty sure we need one stat, and obviously Delevingne agrees.
I digress. Delevingne is right — Swift's eyebrows are on point in this shoot. Although Swift's glowing skin and bronze smokey eye also deserve some notice, the photo does a lot to prove that well-shaped and filled brows can work wonders on framing your face. And not all of us have been blessed with perfect eyebrows like Delevingne, so this picture gives me hope that I, too, can someday achieve — pause for effect — the perfect brows.
For now though, I'll just lust over Swift's flawless set from the Wonderland cover. Side note: think this Instagram shout-out means that we'll be getting more chummy photos of the two again sometime soon?
Images: Instagram/@caradelevingne, Twitter/@EmiGirardi