'Song One' Trailer May Change Your Mind About Anne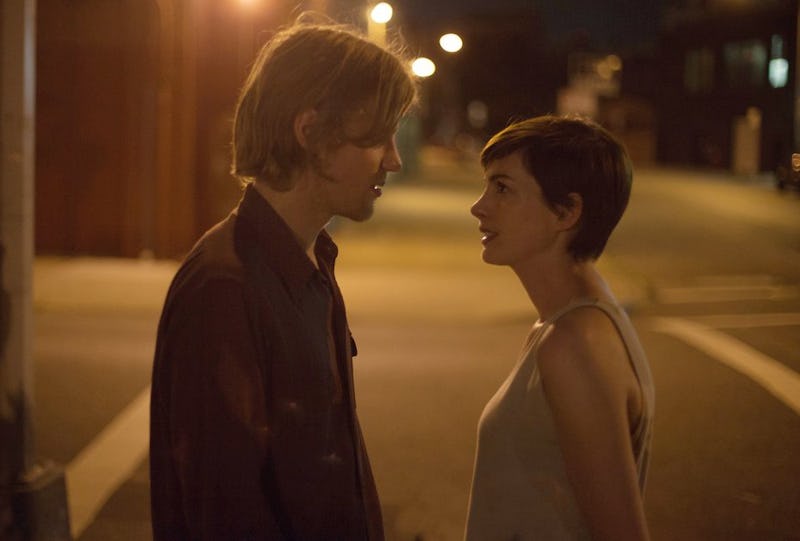 Anne Hathaway may not sing in the first Song One trailer, but that doesn't mean the musical film should be overlooked. In fact, her character Franny's romantic interest, James Forester (Johnny Flynn), and his smooth folk-rock is the highlight of the footage released by Yahoo. If I had to compare this movie to any of Hathaway's previous films, it would be a modern version of Les Misérables mixed with the goofiness she shared with Jake Gyllenhaal in Love and Other Drugs. But at the same time, this indie drama is a far cry from anything she's done before.
The Brooklyn-based film centers around Franny returning from Morocco to her estranged brother Henry's (Ben Rosenfield) side after he is hospitalized in a coma. She decides to use his notebook to see what she missed in his life, and along the way, she seeks out James, a musician Henry loved. Of course, she inevitably falls for the English singer, and their love story begins as Franny copes with the aftermath of her brother's tragic accident.
Although the trailer doesn't reveal any of Hathaway's singing, both she and Flynn recorded songs written by duo (and real-life couple) Jenny Lewis and Jonathan Rice. If the soundtrack alone is this good and Hathaway chopped off her hair again for the role, it seems worth the price of admission. Song One hits VOD and theaters on Jan. 23, 2015.
Image: Song One/Facebook