'Shark Tank's New Product Wants To Help You Poop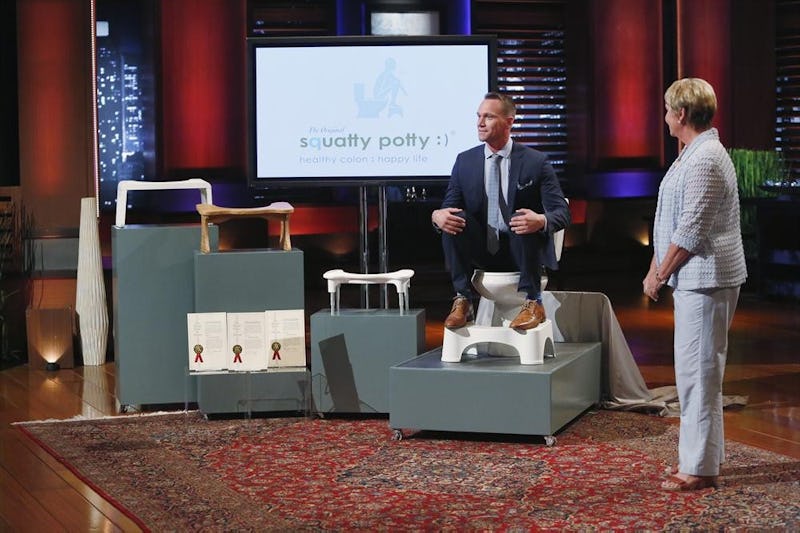 As we all know, half the battle when coming up with a new product is making a catchy, rhyming name. And the makers of Shark Tank 's Squatty Potty, who will appear on the Nov. 14 episode, have that down. They've also taken their product elsewhere and have been featured on The Doctors, so even if they don't get that coveted deal with a Shark or two, they're still on their way to making big business.
There's so much talk that's been going on about butts (and whether or not they're Photoshopped) lately, but the Squatty Potty experts are taking a different angle on the latest craze. It's a little hard to talk about a product called "Squatty Potty" without snickering like a third grader, but this company is as serious as their name is hilarious.
The company has been around for a few years now, and has even expanded from their original product to a whole line of products, including a bidet attachment for a standard toilet and sprays to freshen up the bathroom. But they'll be on Shark Tank to sell the sharks on their original: the Squatty Potty.
So, What Is It?
As with any embarrassing idea, it came from parents who weren't afraid to share TMI. The Squatty Potty was designed by the Edwards family of Utah, who have made customizable stepstools for people to place around their toilers so they mimic a squatting posture. Want the satisfaction of going to the bathroom in the woods except, you know, inside? That's what it's for.
And Why Do People Need it?
Supposedly, people with gastrointestinal issues are just sitting on the toilet at the wrong… angle? So says the Squatty Potty crew, who believe that a "squat" is more natural than the standard chair-shaped toilet. Rather than redoing the plumbing in every home across America, they've customized these steps tools to adjust individual posture.
Where to Get It
If the Squatty Potty geniuses have convinced you that you have to try their product, you can purchase it for $25 on their website. They come in two heights, seven inches and nine inches, and the price goes down if you buy three or more. They come in a variety of styles, from plain white plastic to polished wood, ready for anything from a train station public restroom to the stately private office bathroom of a Fortune 500 executive.
Soon, we'll see if any of the Sharks are willing to bite at this idea. But if you're one of those people who's just got to try it out, no matter what Damon, Mark, Robert, Barbara, or Mr. Wonderful says, it seems like the Squatty Potty will be here to stay.
Image: Kelsey McNeal/ABC