Aaliyah's Biopic Shows Her Married To R. Kelly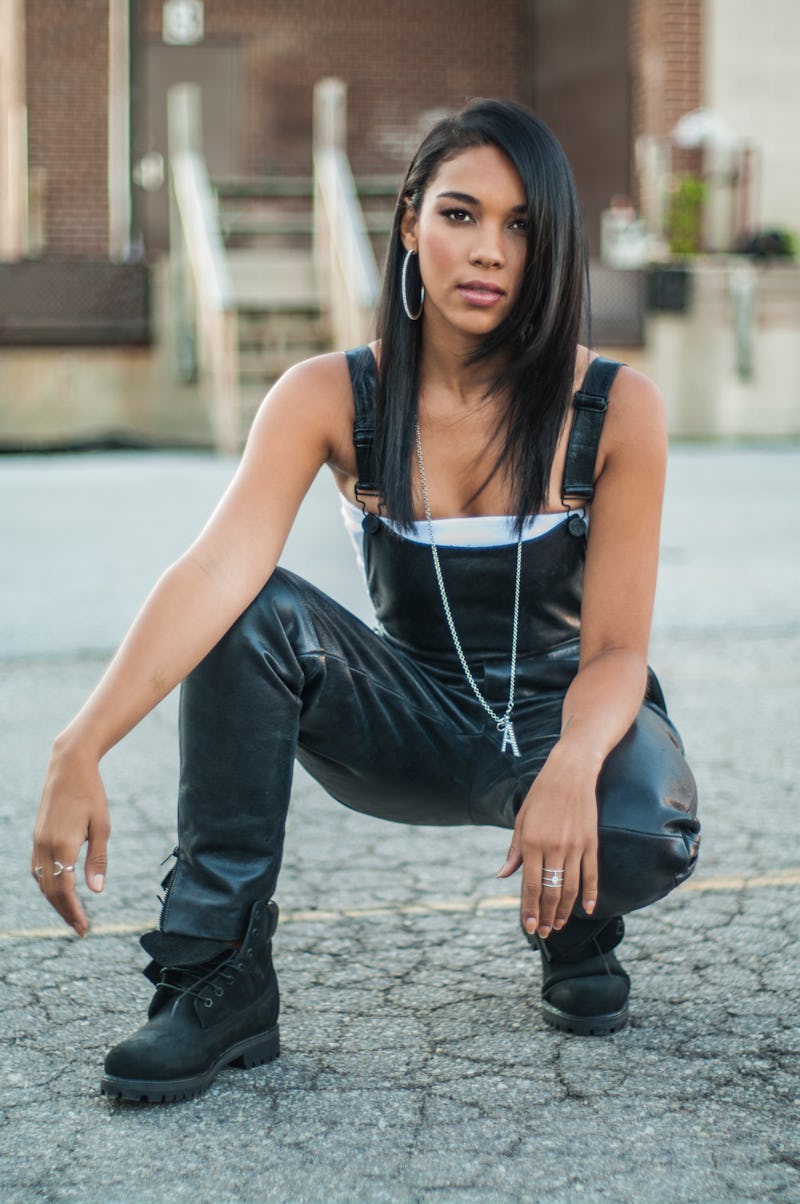 R&B songstress Aaliyah tragically died at 22, but you can't say she didn't live a full and interesting life before her passing. The Brooklyn-born and Detroit-raised singer got signed to Jive Records at 12 and put out her very first hit record Age Ain't Nothing But a Number at just14. She also started up an acting career in the films Romeo Must Die and Queen of the Damned. While her career was booming, Aaliyah went through some drama in her personal life. Early in her career, she worked with R. Kelly — and there were suspicions that as the duo got close, they had secretly tied the knot, which is depicted in Lifetime's TV movie Aaliyah: The Princess of R&B , premiering Saturday night. But is this portrayal true? Were Aaliyah and R. Kelly really illegally married? As Rolling Stone explains, she publicly denied it.
In addition to denying all allegations of a secret marriage, Aaliyah avoided questions about it. However, a marriage license for the pair listing Aaliyah as 18 was published in Vibe magazine. Here's what we know about the alleged romance and nuptials that will be featured in Aaliyah: The Princess of R&B.
Recording Age Ain't Nothing But a Number
Rumors swirled about Kelly and Aaliyah's romance as they recorded the hit album, but they both insisted their bond was one of friendship.
"If I got tired we'd go watch a movie, go eat or whatever, and then come back and work," she told Vibe in 1994. "Me and him we're really, we're rather close." But then people started wondering how close they became.
A Marriage Certificate Surfaces
It's hard to deny the cold hard fact that a marriage certificate exists, which Vibe uncovered and published in 1994. The document states that the 27-year-old Kelly married an 18-year-old Aaliyah — when she most definitely was still a minor at 15 — at the Sheraton Gateway Suites in Rosemont, Ill.
In 2000, the Chicago Sun-Times reported that once Aaliyah's family found out about the marriage, the couple rushed to have the it annulled. She and Kelly ceased contact and their relationship after that. The article goes on to say that Aaliyah later admitted in court documents that she did indeed lie about her age and had records of the marriage sealed in 1997.
Deny, Deny, Deny
Since the marriage mess, neither Aaliyah nor R. Kelly uttered much about it. The Princess of R&B refused to answer any and all questions regarding him and he's refused to talk about her as well, except for a few rare comments.
"I don't really comment on that because I know that's not true," Aaliyah told the Sun-Times in 1994. "When people ask me, I tell them, 'Hey, don't believe all that mess. We're close and people took it the wrong way.'"
As for Kelly, he let his publicist Regina Daniels do the talking. "It ended with, 'Maybe we're over our heads, maybe this is too much, maybe we need to go our separate ways. I love you, I always will, I wish you the best, but maybe we just jumped in way too deep into this thing.' And she went her way and he went his," she said.
Images: Bradley Walsh, Christos Kalohoridis/Lifetime; Getty Images